The most advanced HDR monitor/4K Recorder on the market – the Atomos Shogun Inferno is getting the much-awaited Sony FS high frame rate firmware update that was announced at product release. Atomos did say that initially their flagship HDR Inferno Raw recorder will be shipping with limited recording functionality with additional advertised functionality to be unlocked in a series of upcoming (free) firmware updates – such as the case with the latest AtomOS 8.1 for the Shogun Inferno.
If you own a Sony FS5 for example you can now record up to 2K/240p in Raw to ProRes/DNxHD. According to the latest Atomos support information from their website, CinemaDNG Raw support for Sony FS cameras (FS5/7/700) is 4K/30p and 2K/120fps, while 4K/60p and 2K/240fps are Raw to ProRes/DNxHD conversions only.
See the table for full list of supported frame rates below.
At the moment I don't have access to an Atomos Shogun Inferno so I can't confirm on my FS5, what frame rates are supported in CinemaDNG, hence why I am referring to the released support documentation. You also need to have purchased an installed the Sony FS5 Raw license on your camera, or attached the XDCA-FS7 extension unit to the FS7 to enable Raw output via SDI.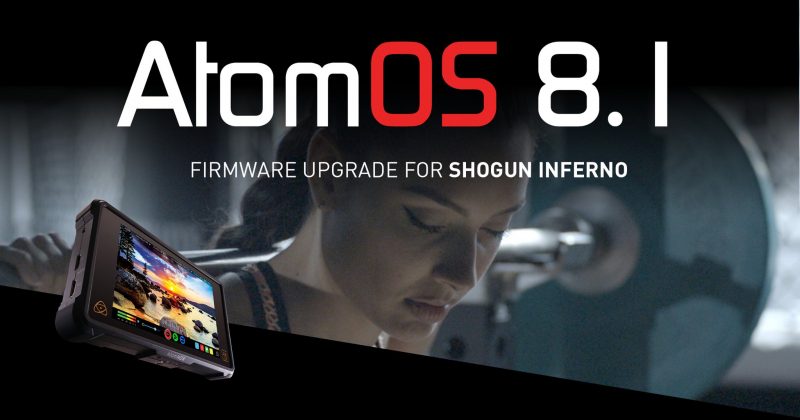 Atomos Shogun Inferno Firmware 8.1 Details
High frame rates for Sony FS5/FS7/FS700

1080p/2K Raw 100/120/200/240p for recording and playback

Hybrid Log/Gamma (HLG) in and out can now be accessed from the Monitor page
Further improvements to 3:2 pulldown functionality
Bug Fixes:
Sony FS7 DCI 4K 50/60p locking improved via HDMI
Waveform monitor added for all 2K modes
DCI 4K/60p synchronized audio playback improvements at DCI 4Kp30
Time lapse functionality improved
Occasional red flash frame issue improved while recording, this did not affect the recorded footage
If you are an Atomos Shogun Inferno user you can download AtomOS 8.1 from Atomos here.
Order Links:
Claim your copy of DAVINCI RESOLVE 16 - SIMPLIFIED COURSE with 50% off! Get Instant Access!