The Schneider Xenon full-frame cine primes have been around for a few years used on many productions worldwide. And now Schneider-Kreuznach upgrades them to include "dynamic tilt" built right into the back of the lens. A world's first at that too.
The new Schneider-Kreuznach Xenon FF-Prime Cine-Tilt lenses represent a groundbreaking new design that combine a similar form factor and capabilities as the company's popular full-frame primes with an added tilt function up to ±4°.
By sustaining the field of view during focus and tilt actions, the new cine-tilt design means you can move and tilt the focus plane to create unusual perspectives that you can't achieve otherwise with conventional lenses.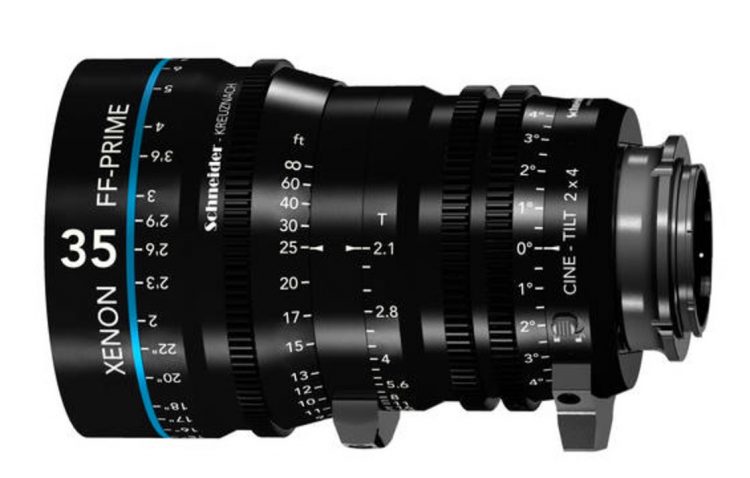 The new lenses make it possible to capture out-of-focus areas in the frame, especially when using tilt with a large aperture. A 4° tilt angle on the sensor plane corresponds to an 80° focal plane, which varies according to the selected focal length and aperture setting.
Like Schneider-Kreuznach's standard Xenon FF-Primes, the new version answers today's practical needs for full-frame imagery beyond 4K in a lightweight and compact, uniform housing.
The colour-matched lenses feature minimized breathing and a bokeh reminiscent of classic Hollywood. Designed and built in Germany, the new design incorporates sophisticated mechanics for smooth and accurate tilt action.
The homogenous set comprises focal lengths of 25mm, 35mm, 50mm, 75mm and 100mm – all with T2.1. Schneider-Kreuznach's Cine-Tilt FF-Primes will be available in a Sony E-mount this spring, either individually or as a set. This is great news for those who already have a Sony FS7 or planning on picking up the Sony FS7 II, which with its new locking-type E mount will be the perfect receptor for the new Xenon lenses.
The tilt of the lens is controlled via a high-precision ring with 120° rotation that is as intuitive to operate as pulling focus. Thanks to the common 0.8 module gear, the Cine-Tilt can be used with standard follow-focus systems.
Here is a demo shot on the original Non-Tilt Xenon's:
Schneider-Kreuznach's Cine-Tilt lenses offer the multifold benefits of standard Xenon FF-Primes plus tilt functionality, so there is no need to swap lenses during a shot. With the tilt set at 0°, the Cine-Tilt lenses provide identical images to the standard FF-Primes.
To see some examples head over to their Facebook page here. There is no word on pricing yet, but I am guessing around $4-5 grand a piece.
These Schneider lenses will be at the Schneider booth at the upcoming BSC EXPO in London on February 3-4th and I do intend to stop by and take some photos. If any of you guys has any questions for Schneider, post them in the comments below and I'll do my best to find answers for you at the show.
Disclaimer: As an Amazon Associate partner and participant in B&H and Adorama Affiliate programmes, we earn a small comission from each purchase made through the affiliate links listed above at no additional cost to you.
Claim your copy of DAVINCI RESOLVE - SIMPLIFIED COURSE with 50% off! Get Instant Access!