Just like many of you I am eagerly awaiting the arrival of the Panasonic GH5 (I do hope I get mine with the first shipment to my local dealer) and in order to prepare, I've been looking at some new options for LUTs and checking out various test that people have already shot with pre-pro models. I am not so great with LUTs and prefer to do my own grade, but when I am in a rush, or new to a system I prefer to use LUTs created specifically for the camera I am using. Problem is the GH5 is not even out yet, but that hasn't stopped the good folks at Neumann Films to create some custom LUT to help me get the best out of my GH5, when I get it in March, hopefully.
Here's the Summary from Neumann Films about their GH5 LUTs (get them here):
The GH5 LUT files are compatible with just about every video editing software under the sun, so you no longer have to worry about which pack to match with your software. Each LUT is customized to work with different shooting situations.
10 x Lumix GH5 LUTs (for VLog-L, Cinelike-D, Cinelike-V, Natural, and Portait)
16 x Conversion LUTs (to and from VLog-L)
12 x Neat Video Noise Profiles
Downloadable Footage for testing
Compatible with just about every NLE

Da Vinci Resolve
Adobe Premiere Pro CC+
Adobe After Effects CS6+
Adobe Speedgrade
Adobe Photoshop CS6+

Price: On Sale for $29.99 (Regular $39.99) – you can buy them via this link here.
For those of you wondering how the Metabones Speed Booster EF to MFT (ULTRA x0.71 version) works on the Panasonic GH5, check out this test below:
And for those who are still not convinced of the high ISO performance of the GH5, see this ISO test below by Martin Wallgren. The footage below was shot on a pre-production model, handheld at ISOs between 3,200 and 10,000!
LUMIX GH5 High ISO grading test [4K] from Martin Wallgren on Vimeo.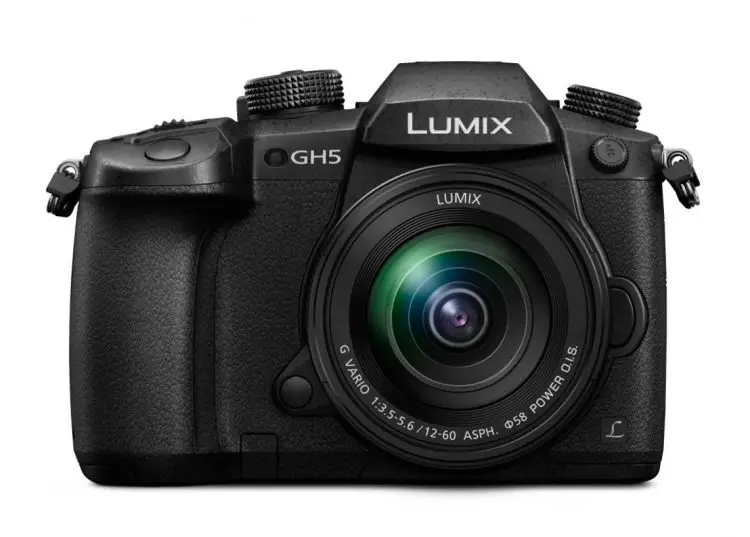 Panasonic GH5 Features
New 20.3 Megapixel CMOS (4/3 type) sensor
Micro Four Thirds mount
5-Axis Photo/Video Dual I.S. 2.0 up to 5 stops with compatible LUMIX MFT lenses
ISO 25,600 max
Eye viewfinder 3680k-dot OLED, 21mm, 0.76x.
V-Log L is an optional (paid) extra, same as GH4 – $98
Cinelike-V, Cinelike-D, and Like-709 Picture Profiles
Waveform and Vector Scope Built-in
Weather Sealed Body
Splash/Dust proof Rugged Design
Freeze-proof to -10 Degrees C
6K Photo capture at 30p for 18 Megapixel photos
4K/60p Photo capture for approx. 8 megapixel images
4K/60p is at 8bit 4:2:0 internally
No crop in 4K!
4K/24/25 and 30p 10bit 4:2:2 internal
4K/60p at 150Mb/s at launch
ALL-I (Intra) 10bit 422 1080p at 200 Mbps – free firmware update later in year
ALL-I (Intra) 10bit 422 4K at 400 Mbps – free firmware update later in 2017
Anamorphic mode (4:3) – free firmware later in year
1080p Slow-motion at 180fps
2 x SD card slots (UHS-II U3 compliant)
Full-size HDMI output (Type-A)
USB-C (USB 3.1)
225-Area Advanced Depth-From-Defocus AF System
Weight: 725 grams with battery and SD card
Same battery as GH4 – DMW-BLF19
DMW-XLR1 XLR Hot-Shoe Audio Expansion Unit – $400
Available End of March 2017
Price: $1,998
Pre-order B&H
Here is also some really cool new Super-Slow motion footage filmed in 1080p at 180fps on a Pre-production GH5 by Steven Clarey
All filmed at 180fps, conformed to 50fps in camera then slowed down 50% on a 25fps timeline in Adobe Premiere.

Profile : Cine D
Shutter Angle : 180d
Lenses: Lumix 12-35, 12mm Leica, Lumix 7-14

In post I added a bit of noise reduction to a couple of shots as I was having to use quite a high ISO because of the lack of light. I also lightly graded the footage in Adobe Premiere.

Similar to the GH4 the variable frame rate modes work much better in good light with good glass.
From the samples above, I am sure the Panasonic GH5 will be super popular with more budget oriented shooters and some not so much. Clearly there are lots of "1sts" in this camera – 4K/60p for mirrorless, 10bit 422 4K up to 30p, and of course 180fps super-slow mo in Full HD, that tick a lot of boxes for plenty of shooters.
For me – my main interest in the GH5 is the 10bit 422 codec and the internal sensor stabilization, as I tend to do lots of handheld work. The compact form factor, unlimited recording and dual UHS-II card slots are other major pluses. Of course, you don't get built-in ND's, but that's pretty much the only major difference that still separates the GH5 from becoming a full fledged pro camcorder.
This however is no big deal for me, as I always carry with me my trusty Genus Eclipse Variable ND filter 77mm that I can quickly screw on any of the lenses I own.
After seeing one recently (albeit for a few minutes) I was very impressed with some small things as well – you can move the Waveform around the LCD with your finger just by dragging it to any of the corners; the AF joystick is really cool too – it's not so stuff as on some DSLRs and whole thing feels a bit beefier compared to the trusty GH4.
One could almost say that I (like many) am totally drinking the "GH5 kool-aid" (which in this case ain't a bad thing at all) and was so impressed by the GH5 that I pre-ordered one with the XLR extension unit. You can do the same via any of the links below.
Pre-order links:
New Panasonic Lenses for GH5:
Claim your copy of DAVINCI RESOLVE - SIMPLIFIED COURSE with 50% off! Get Instant Access!