Besides the brand new URSA Mini Pro 4.6K camera, Blackmagic Design also announced two high-quality professional grade DaVinci Resolve panels. The DaVinci Resolve Micro Panel is an entry-level model with incredibly small and portable form factor that fits perfectly next to a conventional computer keyboard or a laptop for simultaneous editing and color grading in the studio or on the go.The device is fully powered over USB so it can be run directly from any notebook in the field, making it ideal for on-set grading.
The DaVinci Resolve Mini Panel, on the other hand, sports the same high-resolution trackballs, precision machined control knobs and illuminated buttons, but unlike its smaller counterpart features two color LCD screens that display menus, controls and parameter settings for the selected tool alongside an AC and broadcast industry compatible 4 pin XLR 12V DC power connections. Both units come equipped with multiple direct access buttons that let users swiftly navigate through menus for specific DaVinci features.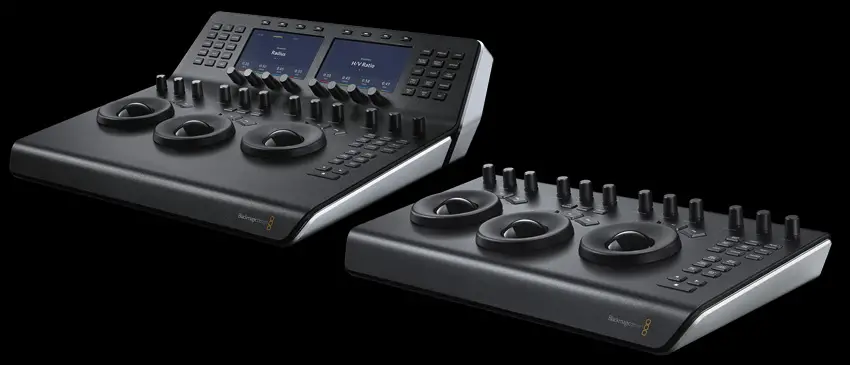 Moreover, both panels have controls in similar positions designed in a way to ensure flawless move between systems running different panels. The trackballs, for instance, provide RGB balance adjustments for lift, gamma and gain, each with a master level control set via a movable outer trackball ring. The other control knobs are custom designed and precision machined providing super fine control over adjustments and can be pressed for a quick reset of a certain parameter.
Each panel includes a row of 12 knobs that provide access to the most powerful primary correction features, making it easy to experiment and try new combinations. The primary knobs can be used to control Y Lift, Y Gamma, Y Gain, Contrast, Pivot, Mid-tone Detail, Color Boost, Shadow, Highlight, Saturation, Hue Rotation and Luminance Mix.
In addition, the new DaVinci Resolve panels have a range of transport and grading control buttons on the right side that put the most important and commonly used commands at the colorist's fingertips, so they can work faster without having to hunt through menus or palettes to change a certain setting.
The DaVinci Resolve Micro and Mini panels both feature USB-C whereas for computers with conventional USB 3.0 connections, users will be able to utilize a USB 3 to USB-C cable included in the kit. The Mini panel also offers built-in ethernet so users can connect it to their DaVinci Resolve workstation using either USB or their network.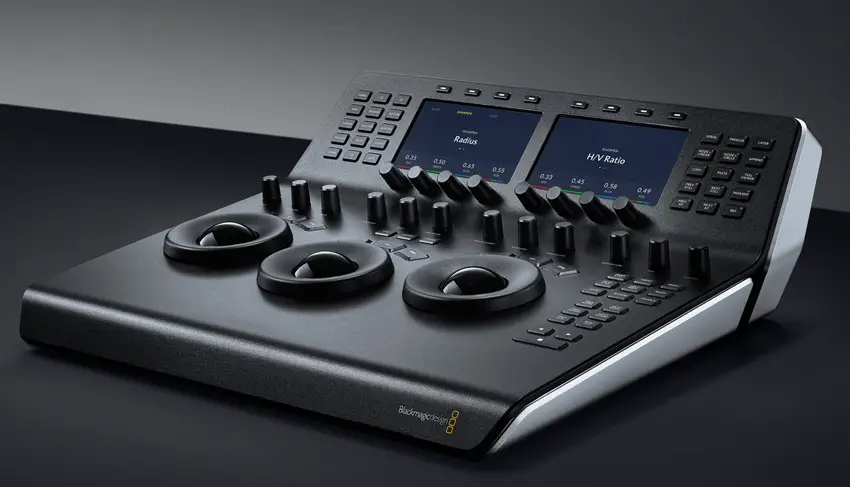 While being much smaller and compact than the more traditional DaVinci Resolve Advanced Panel, the new arrivals still provide exceptional build quality as well as premium performance and intuitive functionality at an affordable price. Both the DaVinci Resolve Micro Panel and DaVinci Resolve Mini Panel are available now from Blackmagic Design resellers worldwide for $995 and $2,995 respectively.
[source: Blackmagic Design]
B&H Pre-Order Links:
Claim your copy of DAVINCI RESOLVE - SIMPLIFIED COURSE with 50% off! Get Instant Access!