Billed as the biggest release in the history of the product, Blackmagic Design just unveiled to the world the latest iteration of its premium post-production suite Davinci Resolve 14. With its completely overhauled back-end, Resolve 14 adds major performance improvements alongside a whole new audio post-production suite and new powerful multi-user collaboration tools for editing, color grading and audio mixing from multiple systems, all in the same project at the same time. And the best part is that DaVinci Resolve 14 Studio now will cost you just $299 making the fully-fledged version of the platform more affordable than ever before.
In addition to extensive CPU and GPU optimizations, creative professionals will also get better threading and GPU pipelining, lower latency, much faster UI refresh rates, incredibly fluid performance and more precise editing, even on long timelines with thousands of clips. Scrubbing and playback are instantaneous and there is powerful new acceleration for processor intensive formats like H.264, making it possible to edit 4K videos on a laptop.
With the legendary Fairlight audio engine on board, Resolve 14 gets a massive set of professional audio tools for recording, editing and sweetening, professional bussing, mixing and routing, and multi-format mastering to 3D audio formats such as 5.1, 7.1, Dolby and even 22.2.
The super low latency audio engine is designed to work with 192kHz 96-bit audio and delivers up to 1,000 tracks with real time EQ, dynamics processing and plug-ins on every track when used with the Fairlight Audio Accelerator. In addition, the new Fairlight audio can record up to 96 channels while simultaneously playing back up to 150 audio channels, while mixing it all in real time.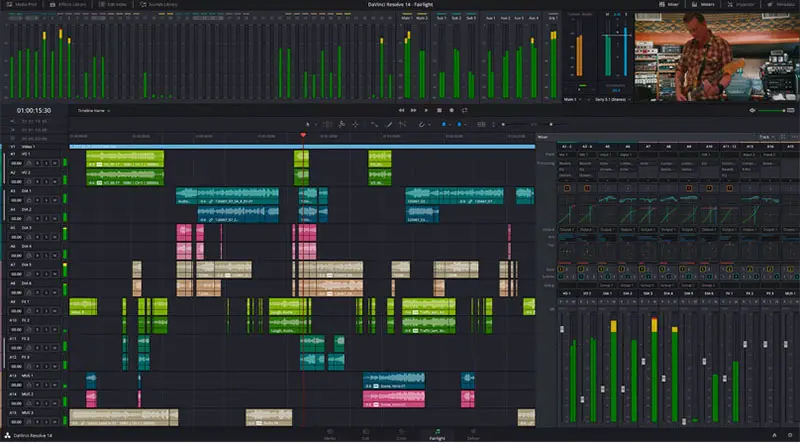 The new collaboration tools, on the other hand, completely redefines post-production workflows by supporting simultaneous editing, color correction, and audio post. New bin, clip and timeline locking lets users safely work on a specific part of the project without overwriting each other. There's also a built-in secure chat client that lets team members talk to each other from within DaVinci Resolve without the need for an external internet connection.
In addition to the incredible performance improvements, editors also get new slip and slide trim commands that make it easier to dynamically trim live on the fly during playback. They can now save interface layout presets, view multiple bins at once and open multiple bin windows. New marker overlays, audio only and video only edit tools, track colors, and subframe audio editing make it the world's most powerful creative editor.
Regarding color grading, there are over 20 new Resolve FX filters that make it easy to remove dust, fix dead pixels, warp images and more. The amazing new face enhancement tool automatically recognizes and tracks facial features so colorists can quickly smooth skin, adjust skin tone, brighten eyes, and even change lip color, all without having to manually select or rotoscope any part of the image.
The face enhancement tool is an indispensable feature that colorists will use every single day. In addition, there are new stabilization, match move, and other image processing tools that give colorists more creative options than ever before.
Here are some of the other newly added features to the platform that are also worth noting:
Fairlight audio engine
Multitrack timeline for subframe editing of audio, down to sample level
Work with up to 1,000 tracks with Fairlight Audio Accelerator Card
Mixer with several main, sub and aux buses for mastering and delivering
Every channel features real time 6 band parametric EQ
Clip time warping without shifting pitch
Parameter automation
Monitoring can handle buses up to 24 channels wide
Monitoring on up to 16 different sets of speakers
Multi-user collaboration tools for editing, color grading and audio mixing
Better threading and CPU pipelining
Lower Latency
Faster UI refresh rates
Support for Apple Metal
New slip and slide trim commands for editors
20 new Resolve FX filters for color grading
DaVinci Resolve 14 Studio costing just $299
The free version of DaVinci Resolve is also available with the same powerful new editing and audio post production features. The $299 DaVinci Resolve 14 Studio version adds the new collaborative multi-user tools, over 20 new Resolve FX including the advanced face enhancement tools, 4K and 120fps project support, stereoscopic 3D, optical quality blur and mist effects, film grain, de-noise tools and much more. DaVinci Resolve 14 Public Beta is now available for all major platforms, including Mac, Windows, and Linux here.
[source: Blackmagic Design]
Claim your copy of DAVINCI RESOLVE - SIMPLIFIED COURSE with 50% off! Get Instant Access!