Zacuto showed off a few new products they have been working on lately at the show floor at NAB 2017 in Las Vegas, one of them being their prototype Panasonic GH5 cage, and also their new Zacuto Control Grips. These new accessories have been designed as the ultimate complimentary accessories for the Zacuto Next Generation Recoil rigs, and allows users to relocate camera, lens and EVF controls to a comfortable handgrip, all controlled by a slim backpack.
Designed to streamline shoulder mounted rigs for fast-paced productions such as events, reality shows and/or broadcast where camera professionals are often running around with a zoom or two all day picking up shots. The Backpack and Control Grip can combine with Z-Motors and our E-Drive follow focus to create your ideal universal camera and lens control system.
According to Zacuto their new Control Grips are the final piece of the Next Gen Recoil puzzle. One of the major advantages of the Next Gen Recoil rigs is how well they sit balanced on the shoulder; this is achieved by moving the balance point directly over the operators shoulder.
Zacuto Control Grip Features
1 – Aaton style handgrip for comfort & ease to rest your hand
2 – Iris control
3 – Secure hand strap for relaxed button control
4 – Stop/Start button
5 – Gratical HD/Eye EVF control
6 – Camera control
7 – Programmable function button
8 – Retractable button to control speed of zoom
9 – 4-pin Hirose to connect Backpack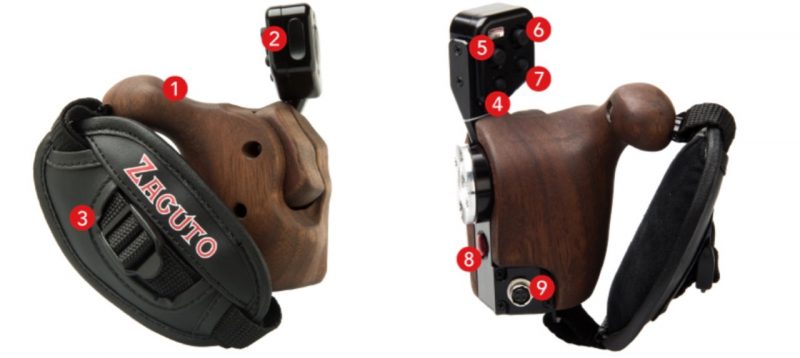 By relocating the focus, monitoring and camera controls forward and in your hands, Zacuto are aiming at creating a lighter and shorter rig saving operators time and effort of constantly reaching back to adjust controls whether be on the camera, lens or EVF.
The Zacuto Control grips are part of the Zacuto Control Grip System, which also includes a Z-Motor (lens motor), a Backpack power distribution box and the E-Drive follow focus.
Zacuto Z-Motor Features
Standard 15mm rod port
.8 pitch gear
High torque to drive all cine lenses
Interchangeable gears for either side of motor
Compact design
The Z-motor has the potential to turn any zoom lens, like the Fujinon MK 18-55mm E mount for example, into a servo zoom lens. You can also gain complete iris control through the camera control LANC cable using EF lenses or use a second Z-Motor for cinema lenses.
Users can also daisy-chain up to 3 x Z-Motors to control zoom via traditional rocker switch, iris, and focus with the Zacuto electronic E-Drive.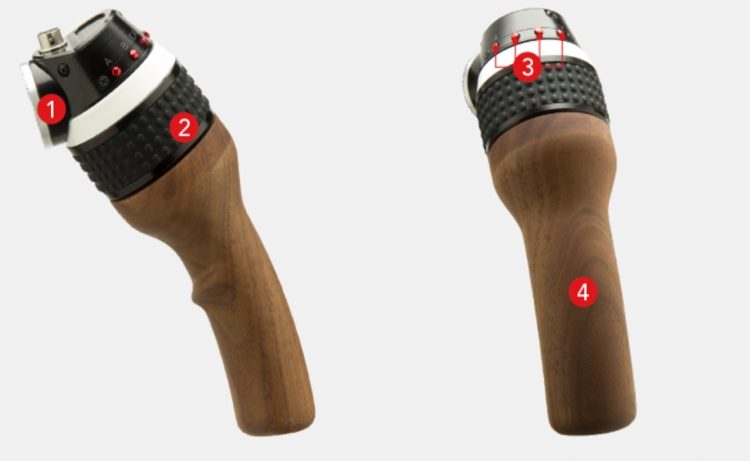 The new E-Drive is strikingly similar to the mechanical Z-Drive and Tornado grip, but this time it is the re-vamped electronic version that is designed with single-operator, shoulder-mounted rigs in mind. Via the Backpack, the Zacuto E-Drive controls a Z-Motor to smoothly and precisely pull focus. The E-Drive can automatically or manually calibrate.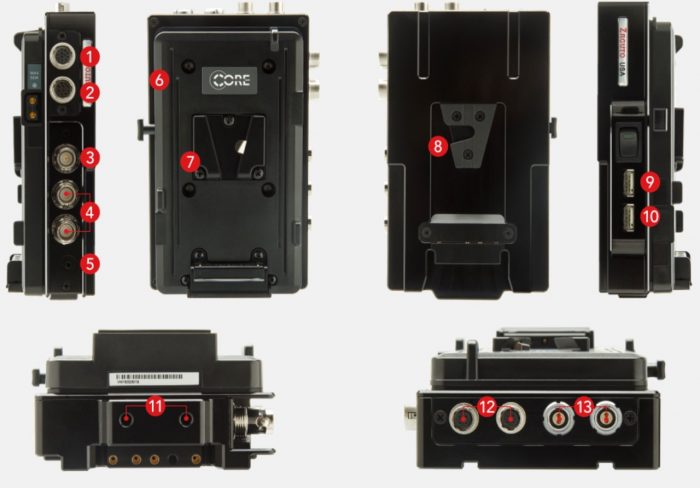 Zacuto Control Grip BackPack Distribution Box
10-pin Hirose serial connection for servo lens control
12-pin Hirose serial connection for camera control
SDI in / SDI out
LANC connection for camera control
Antenna – Connection with Z-Motor(s) & firmware updates
via WiFi
Power with V-Mount, 3-Stud/Gold Mount, or P-Tap
Mount on V-mount equipped camera with pass through power
USB Power
USB – To control Gratical or for Power
Mount behind your camera on 15mm lightweight rods
4-pin Hirose to connect E-Drive to Backpack
2-pin LEMO for power out or motor power
At the moment Zacuto are listing RED cameras, ARRI, Canon EOS Cinema series – C100 II, C300 II, Sony FS7, FS7 II, and Sony FS5/FS700 as compatible, with the caveat that different cameras may offer limited control over menus/functions/controls due to their built-in limitations.
Pricing has not yet been finalised, however Zacuto say they will announce it next month, with shipping estimated for late 2017.
Claim your copy of DAVINCI RESOLVE - SIMPLIFIED COURSE with 50% off! Get Instant Access!