Zacuto have a new and uniquely designed retractable "Scissor" lens support for the new Fujinon MK Series lenses for Sony E mount cameras. The popular US gear maker have come up with a truly innovative way of propping up any of the two MK Series Fuji lenses – whether it be the MK 18-55mm or the longer 50-135mm T2.9 given their uniform design.
The new Zacuto Scissor Lens support attaches to the bottom of the Fujinon MK Series lens and features two foldable "legs" resembling a scissor pattern, which clamp on to your 15mm extension rods that are presumable coming off your baseplate.
I saw the new Fuji MK Series zooms (mostly the 18-55mm T2.9 as the 50-135mm was sitting in a glass cabinet) at BVE 2017 for the first time and was quite impressed with their compact size and how lightweight they are – not even a kilo.
Sure, some may bulk at the fact that Fujifilm decided to go E mount only (well, Fuji X mount as well) so unless you are a shooting with a broadcast workhorse like the Sony FS7, the smaller FS5 or any of the E mount camera with S35 crop you are missing out on a very nice zoom.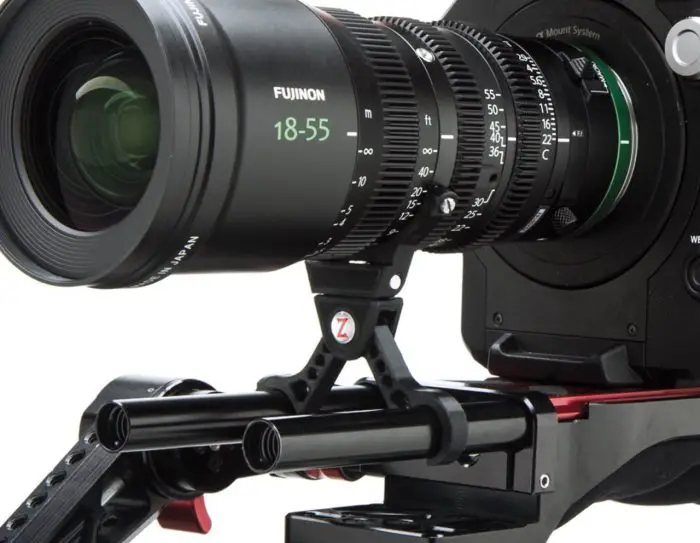 Nevertheless some of you, who shoot with or own the MK 18-55mm, may feel that the compact size and negligible weight of the lens may not be enough reason to get a lens support and that's fine.
However, just in case you are using a follow focus for example, the new design of the Zacuto Scissor Lens support all of a sudden makes a lot of sense – attach it to the bottom and forget about as it stays attached to the bottom of the lens even if you don't use 15mm rod support. This is something you can't really do with "normal" lightweight lens supports.
The Zacuto Scissor Lens support can be pre-ordered for $200 USD at the moment directly from Zacuto or for $190 from B&H if you want to save a tenner.
The price tag is a bit on the pricey side, but if you want a unique and neatly designed lens support that you can rest assured can always stay on the underside of your lens this is currently the only one. It looks like Zacuto are aiming to start shipping it towards the end of June.
Claim your copy of DAVINCI RESOLVE - SIMPLIFIED COURSE with 50% off! Get Instant Access!