Are budget Chinese lens maker Venus Optics becoming the next "Aputure" of lenses? That can only be a good thing, as Aputure make some of the best budget lighting gear on the market. Venus Optics have been getting a lot of traction lately with the Laowa 12mm f/2.8 we told you about in this post here as its Kickstarter campaign managed to meet the target in a split second after it was launched with more than whopping $400K raised. The company is also known for its wide-angle full-frame macro lesnes such as the Laowa 15mm f4 and the super-wide and compact Laowa 7.5mm f2.0, which is sure to please many Panasonic GH5 shooters and DJI Inspire drone operators.
In essence, the Laowa 12mm f/2.8 is currently one of the widest and fastest rectilinear lenses for full-frame cameras available on the market. The lens is available in multiple lens mounts including Canon EF, Nikon AI, Sony A, Pentax K and Sony E mount. The Laowa 12mm f/2.8 offers "close-to-zero" distortion, stunning optical quality and a small and compact form factor.
And now with the new Laowa Magic Shift Converter lens adapter, you can turn this lens into a real gem for architectural photography.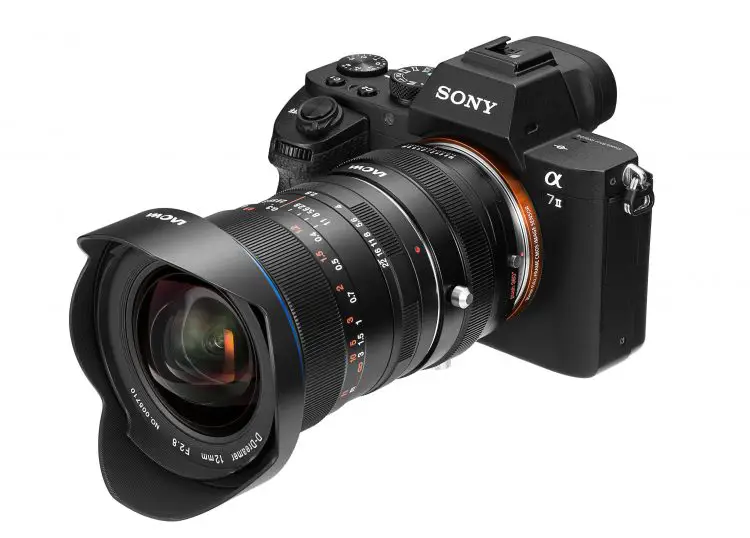 Laowa Magic Shift Converter (MSC) is an adapter specially designed to convert the Canon and Nikon mount versions of the Laowa 12mm f/2.8 Zero-D into a 17mm f/4 +/-10mm Shift lens and use it with the Sony full frame E-mount cameras such as the Sony A7R II or Sony a9. With the Laowa MSC, you can have absolute vertical lines rather than converging lines while shooting. This is a super useful feature in architecture and interior photography.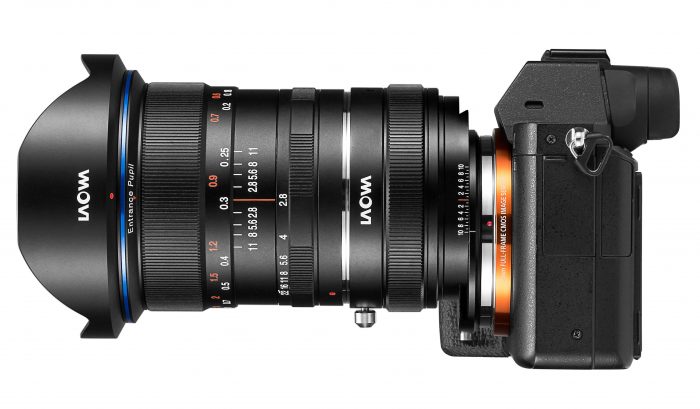 Laowa Magic Shift Converter (MSC) Specifications
| | |
| --- | --- |
| Lens Structure | 5 elements in 4 groups |
| Focal Length Multiplier | Increase by 1.4x |
| Aperture Impact | Reduce by 1-stop |
| Focus Mode | Manual |
| Dimensions | 69.6 x 44.1mm |
| Weight | about 360g |
| Mounts | Canon EF to Sony E / Nikon AI to Sony E |
The Laowa Magic Shift Converter (MSC) takes advantage of the short flange distance of mirrorless cameras and incorporates a patented optics system into the converter. The patented optical system in the converter, enlarges the image circle of the 12mm f/2.8 Zero-D from 43.2mm to 60mm in diameter and converts it a 17mm f/4 lens with +/- 10mm shift capability.
Check out an example of what this lens adapter can do:
For full size samples head over to Venus Optics here.
The camera can be rotated in a 360 full circle, allowing a quick switch between landscape and portrait framing or to change the shift direction.
The Laowa MSC is available in a Canon EF to Sony E & Nikon AI to Sony E versions. The Canon EF version is priced at $300 US and is currently available to pre-order directly from Venus Optics here, and is expected to start shipping in late July/early Aug 2017. The Nikon AI to Sony E version will be available at some point later.
Claim your copy of DAVINCI RESOLVE 16 - SIMPLIFIED COURSE with 50% off! Get Instant Access!