Vocas seem to be on top of their game lately. Recently the Dutch-based pro camera accessories manufacturer announced a new cage and viewfinder accessories for the Canon C200, and now they have a new Top Handgrip Pro in the works. The new top handle is designed for people who like to have a closed handle for extra security and safety when shooting with heavier setups, and especially when going handheld or when wearing gloves in challenging weather conditions. The new Vocas top handgrip is compatible with the ARRI Alexa Mini, Sony F55, FS7, Canon C700 and Varicam LT/35 and can be tailored to accommodate either a 15mm or 19mm rod setups.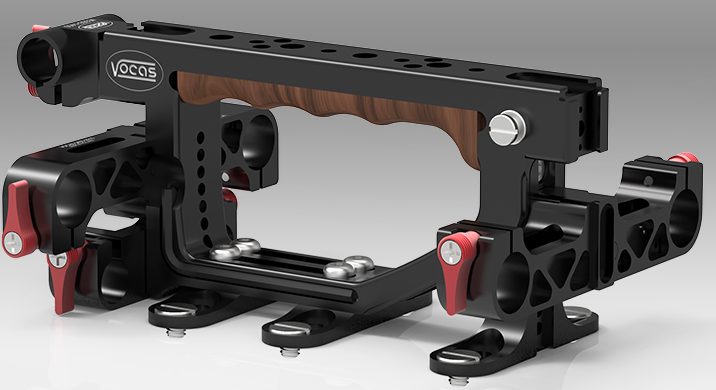 In addition to the added security and safety, the handle has many mounting options for 1/4 20-inch and cold-shoe mount accessories. One of the best features, in my opinion of this new top handle, is the ability to attach a carrying strap – something that can alleviate some strain when moving the camera from setup to setup.
The Vocas Top Handgrip Pro is, of course, a modular system presenting users with plenty of possibilities to use in different configurations with different camera setups. The core of the system is the closed handle itself, then you have a choice of base when mounting on smaller cameras, such as the Canon EOS C300 (0450-1405), or when mounting on big cameras, such as the Panasonic C700 (0450-1400) using a single or dual mounting point.
Check out the exploded view below of all the bits that are part of the new modular Top Handgrip Pro system.
It is worth to note that when using a single mounting the Top Handgrip Pro supports weight up to 40 kg; and with multiple mounting brackets the max payload increases to 75 kg.
When using a single mounting bracket, a clamping block can also be mounted so that 15 mm top bars can be used. The clamping blocks are available in 15 and 19 mm. If the case of two mounting brackets used, then two clamping blocks can also be mounted to provide more stability and carrying capacity.

New in this case is the 19 mm dividable clamping block (0450-2010). The 19 mm dividable clamping block designed for the top handgrip Pro can be split into two single 19 mm rod holders. In this way, a single 19 mm rod can be mounted on two mounting brackets (front and rear), whereupon lens motors can be attached.
Vocas have prepared a neat compatibility table with the various bits you need for their Top Handgrip Pro depending on the camera used.

Pricing start at €315 and you can check out more about the Top Handgrip Pro via the official Vocas website.
Claim your copy of DAVINCI RESOLVE 16 - SIMPLIFIED COURSE with 50% off! Get Instant Access!