Ricoh updates popular Theta 360-degree VR consumer camera lineup with new Ricoh THETA V now with 4K 360-degree video and spatial audio recording.
The new Ricoh THETA V camera shares the same compact and lightweight body design as the Theta SC and S models, making it portable enough to take anywhere, anytime in your pocket. Featuring the sleek design and handling THETA users have come to expect, it takes the 360° photo and video experience to a whole new level thanks to its two 1/2.3-type image sensors capable of providing high-speed image data readout for high-quality spherical video.
The new Ricoh Theta V is packed full of performance-enhancing features such as new Snapdragon 625 processor, immersive spatial audio (thanks to an optional 4-channel microphone TA-1 developed by Audio Technica) and high sensitivity ISO 3200 for stills and ISO 6400 for videos placing it at the cutting edge of 360° innovation.
The latest Theta V flagship model is also equipped with a new gyro sensor in addition to the conventional acceleration sensor. Tilt detection precision has been significantly improved, along with top/bottom correction precision enhancements and the ability for Remote Playback.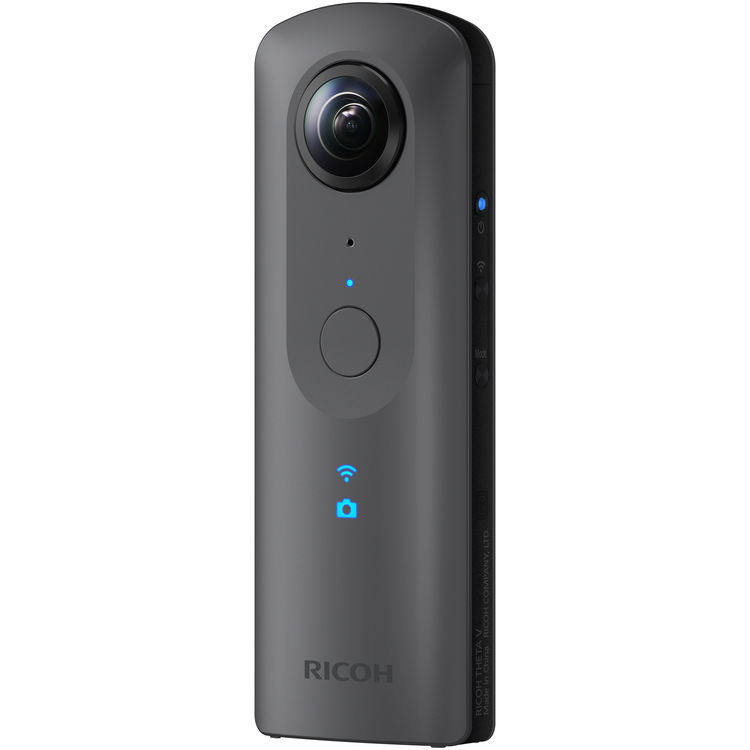 It is worth to note that the new Theta V shoots 4K (3840 x 1920) up to 30fps at 56Mbps, however as with all 4K spherical video, resolution varies depending on the monitoring interface – whether it is a mobile phone, tablet or a high-res display. Check out the audio sample from the Theta V below.
Ricoh THETA V 4K 360-Degree Features
Capture Immersive 360° Content & Audio
360° 4K Videos at 30fps and 12MP Photos
360 Live Streaming in 4K
Built-In 4-Channel Microphone
Dual 12MP Sensors and Twin-Lens System
19GB of Internal Memory
THETA iOS/Android App
Minimal Stitching Artifacts
3D Mic & Underwater Housing Supported
Another accessory for the Theta V is the TW-1 underwater housing. Thanks to this waterproof housing with JIS Class 8 equivalent protection class, the Theta V can shoot underwater at depths of up to 30 meters; the housing features AR anti-reflective coating and dirt-resistant coating. Recording is done on a 19GB internal storage capable of around 40 minutes of 4K video.
Furthermore, the Ricoh Theta V features high-speed data transfer, which according to Ricoh is now 2.5x faster, allowing the camera to comfortably exchange large volumes of data, high sound quality recording compatible with 360° spatial audio and 360° 4K video. Live streaming 4K 360 video is also supported.
The camera can also connect to a smartphone or tablet using either Bluetooth or Wi-Fi, for flexible operation. In addition, the Ricoh Theta V features an open source Android operating system, allowing for future performance enhancements through firmware updates, whilst also opening up the platform to even more developers.
The Ricoh Theta V is priced at $430 USD or £399.99 GBP and is scheduled to ship towards the end of September. The optional TA-1 3D microphone is priced at $269 / £250 and due to ship same time as the camera, while the underwater housing (TW-1) will be initially priced at at $199 / £180 and ship end of October.
For more details head over to Ricoh.
Claim your copy of DAVINCI RESOLVE - SIMPLIFIED COURSE with 50% off! Get Instant Access!