So much for the speculation about what the new Sony "F" CineAlta camera would be called. It's not a F75, or an F99, it is simply called VENICE. Earlier today, Sony officially announced their first Full-Frame 36x24mm digital cinema camera in the CineAlta lineup by releasing more details on available resolutions, codecs and new features.
A few months back in June, Sony did announce they were working on a brand new Full-Frame top-end CineAlta camera, and although details were scarce, Sony did lay it out – they are heavily focusing on the full-frame capabilities in their next-gen CineAlta, which they are billing as featuring a brand new "aspect ratio agnostic" Full-Frame CMOS sensor (6048 x 4032 / 3:2), which will support various resolutions from 6K all the way down to Full HD in just about every popular aspect ratio used today including 1.85:1, 2.39:1 and plenty more.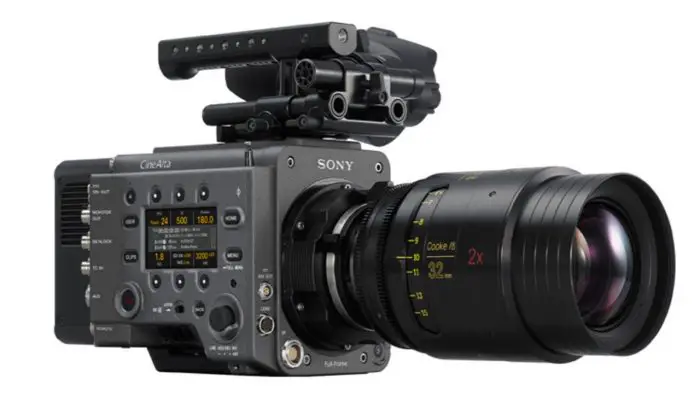 SONY VENICE HIGHLIGHTS
New Full-Frame 36x24mm CMOS Sensor
15+ stops Dynamic Range
Interchange-able Sensor Block – for future sensor upgrades (user serviceable)
6K Full-Frame 3:2 mode (6048 x 4032)
4K Anamorphic 4:3 and 6:5 (4096 x 3432)
4K Super 35 mode (window)
Support for FF & S35 spherical lenses
Support for FF & S35 Anamorphic lenses
8-step Mechanical Built-in ND filter (8 Stops ND)
PL mount (Cooke i technology supported)
Locking E-mount
Recording Codecs/Formats:

X-OCN Compressed Raw onto AXS-R7 Recorder
4K XAVC – Class480/300
ProRes HQ/422/LT
MPEG HD

Recording Media – SxS cards, AXS cards for RAW (external recorder)
Price: £37K/$45K Body
Available: February 2018
Compatible with existing CineAlta accessories:

AXS-R7 4K Raw recorder
DVF-EL200 viewfinder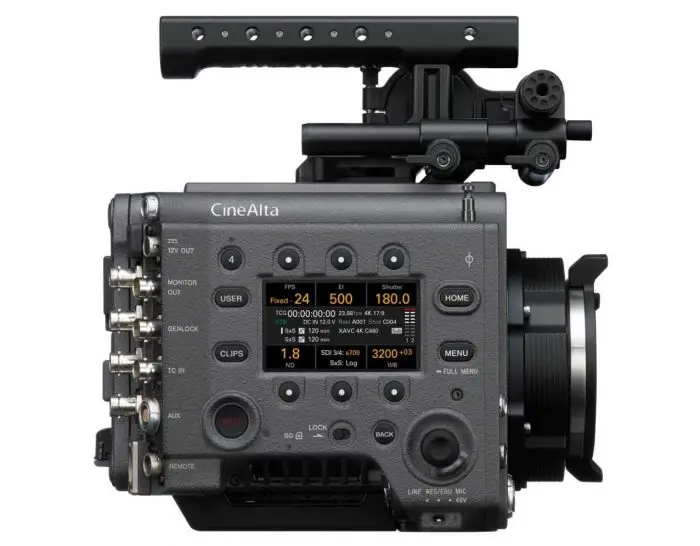 Some of the highlights include 6K Full-Frame 3:2 mode, which will utilise the full sensor, 5.7K, 4K DCI as well as 4K Super-35 mode, and a few 4K Anamorphic modes. It is worth to point out, that unlike the F65, which many believed the VENICE to be a replacement for (it turns out it isn't), the new VENICE sensor does not have a mechanical rotary shutter, or even an electronic global shutter.
However, Sony do claim the new sensor is seriously fast so RS shouldn't be much of an issue; as a reminder, the ARRI ALEV III sensor does not have a global shutter neither, but that hasn't prevented ALEXA cameras from being the world's most popular for high-end productions for the last few years.
VENICE's chassis is engineered to be amazingly robust and has been rigorously tested in the harshest conditions. Its ventilation system is completely isolated from all electronic components to prevent ingress of dust, sand and splash. The silent-running fan can be cleaned or even swapped out on set quickly and easily.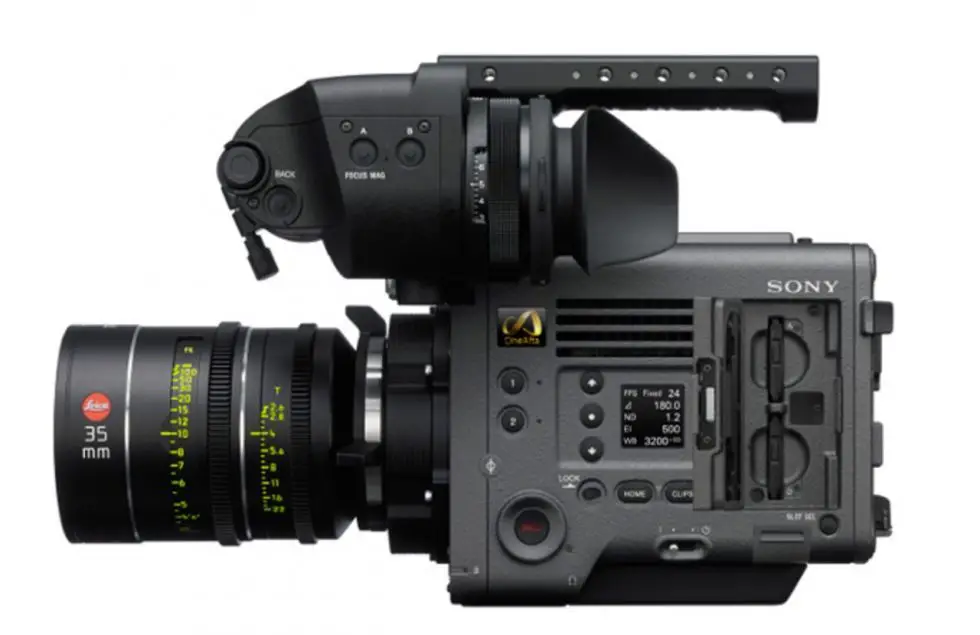 By switching imager modes, VENICE can natively support Super 35 24.9×18.7mm, 4096 x 3024 resolution (equivalent to 4-perforation motion picture film) and Super35 24.9 x 14.0mm 4096 x 2160 resolution (equivalent to 3-perforation motion picture film). In other words, VENICE's new full-frame sensor can capture in almost any format, including full 18mm-height Super35 Anamorphic and spherical and full-frame 24mm-height Anamorphic and spherical.
SONY VENICE FRAME RATES/RESOLUTIONS
Sony say the camera will start shipping in February 2018, with limited functionality – for example, the full-frame mode and Anamorphic modes will be a firmware update in August/September 2018, however those two will require paid licenses. Sony will have either permanent, monthly or weekly licences to enable FF and Anamorphic modes (one for each).
A new colour management system and wide colour gamut gives users more control and greater freedom to work with images during grading and post-production. VENICE can exceed Rec. 2020 colour space. This means the colour range is wider than DCI-P3 and can beautifully reproduce the true colour of the scene in front of your lens. This also provides the broad palette in the grading suite using the established workflow of Sony's third generation LOG gamma encoding – S-log3.
Sony Venice Firmware Roadmap (planned)
Version 2.0 Firmware (free – August 2018)
New Features & Improvements:
Imager mode
(FF and Anamorphic will require paid license)

4K 6:5 Anamorphic
6K 1.85:1
6K 17:9
6K 3:2

Supporting Lens mount

E-mount (lever lock type)

Recording format
Simul. Rec combination

RAW / X-OCN & Apple ProRes

Shooting function
Monitor Out function

Additional preset MLUTs
User 3DLUT

Shooting Assist function

Surround View
Dot by Dot Magnification
Auto White Balance
High-Lo Key

Hardware

Operator side CLIPS button
Version 3.0 Firmware (is free of charge – Early 2019)
New Features & Improvements:
Imager mode
Simul. Rec combination

XAVC 4K/QFHD & Apple ProRes Proxy
RAW/X-OCN & XAVC 4K/QFHD

Shooting function

Paint menu (Custom mode)S
Cache Rec. (AXS, SxS)

Monitor Out function
Shooting Assist function
Hardware

Remote S700 Protocol
12pin lens remote

Network function

Wired LAN control
Wireless LAN control (with CBK-WA02)
At launch, the camera will be able to record 4K in Super 35 mode and utilise just about any spherical PL or E mount lens. This brings us to the lens mount options – which will be Locking E-mount as well as PL.
VENICE has a surprisingly compact design which allows easier shooting in confined spaces or on drones. VENICE's control buttons reflect the requirements of camera operators, carefully positioned for intuitive operation. They even illuminate for easy use on dark sets.
On-set monitoring operation is further enhanced by the addition of an extra HD output alongside the standard 4K-SDI. VENICE can be powered by both 12 V and 24 V power sources that can be connected at the rear. A wide range of accessories are supported, including standard Fischer connectors. For enhanced durability in tough conditions, the viewfinder uses a LEMO connector.
Pricing (at this stage) has been stated at £37,000 GBP + VAT and/or $45,000 USD body only. Keep in mind that by the time the camera ships in February 2018, these may change slightly. Nevertheless, to make the camera fully functional, users will need to add the new OLED DVF-EL200 viewfinder and Sony AXS-R7 Raw recorder on the back in addition to a Full-frame and Anamorphic license, which are said to potentially cost in the $5-6,000 range each. For a top-end CineAlta camera, a $50K workable package is to be expected.
I am a bit surprised there is no mention of higher frame rates (nothing in the limited specs goes over 60p), but I suspect a firmware update or a new sensor block may remedy that. Footage is due to be released soon.
Sony has a dedicated VENICE page on their US site, which you can check out here.
Claim your copy of DAVINCI RESOLVE - SIMPLIFIED COURSE with 50% off! Get Instant Access!