Yeap, you've got it right! HP just announced their latest Z desktop workstations capable of editing 8K Raw video in real-time flawlessly. The brand new Z8, Z6, and Z4 computers seem to be indeed one of the most powerful PCs you can currently get boasting Intel Xeon CPUs with up to 56 cores, dual NVIDIA Quadro Pro graphics cards, as well as up to whopping 3TB of RAM and 48TB storage.
Other enhancements include a brand new internal design with improved air flow for cooling, optional Thunderbolt 3 connectivity, Dual 1GbE ports for blazing fast data transfers, USB 3.1 Type C ports, a 1700W power supply, and 9 PCIe slots.
The top-of-the-line Z8 offers 24 RAM slots that allow you to insert up to 3 TB of memory ensuring that you'll never run out of RAM while working in the editing bay. Of course, the machine offers plenty of storage space as the maximum internal capacity you can get tops out at 48TB. If that's not enough, the Z8 comes equipped with two Intel Xeon Platinum 8180s processors, providing 2.5 GHz base frequency, (up to 3.8 GHz with Intel Turbo Boost Technology), a 38.5 MB cache, and 28 cores each.
The HP Z6, on the other hand, offers up to 384 GB of memory as well as dual M.2 slots for HP Z Turbo Drive PCIe SSDs. The computer also delivers a highly-modular design experience allowing users to add a second processor and more memory in case they need to double the available computing capabilities. The HP Z4 seems to be limited to "modest" 256GB of RAM and a single Xeon CPU. Rather than that, all three newcomers include optional Thunderbolt 3 ports, Dual 1GbE, and at least a dozen USB 3.1 ports.
The HP Z8 Workstation should hit the market in October starting at $2,439. The Z6 and Z4 counterparts will be available in October and November with base prices of $1,919 and $1,249 respectively.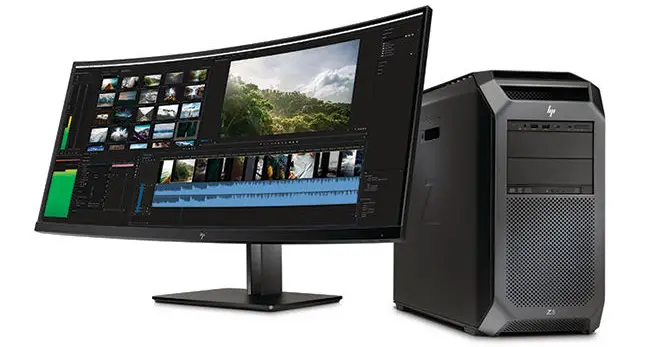 HP also announced seven new HP Z displays, including the most notable 37.5-inch HP Z38c selling for $1,199. The monitor features a curved 4K display with a wide 21:9 aspect ratio, a maximum resolution of 3840 x 1600 along with factory color calibration for optimal color accuracy, customer insights-based feature set and flexible connectivity for all devices. To learn more about the latest HP products, head over to HP's official website here.
[source: HP]
Claim your copy of DAVINCI RESOLVE - SIMPLIFIED COURSE with 50% off! Get Instant Access!