At IBC 2017, Canon announced they are working on developing a super compact "multi-purpose modular camera" system for a variety of applications from body cams and dash cams, to pro video use. This is sort of unusual coming from Canon, in the sense that they've been the sort of company that announces ready to go products instead of letting their competition know what they are working on. Or is it a sign that they are catching up to arch-rivals Nikon and Sony, who already have similar action camera based products?
Not much is known yet about the new Multi-Purpose Module Camera, but it will be called – Canon MM100-WS and mockups will be displayed at IBC 2017, which is currently running until Tuesday in Amsterdam; so if you are at the show, do stop by the Canon booth and check it out.
Canon are not calling their new camera an "action cam" per-se, therefore selling it more as a modular camera that even features an SDI module for more broadcast oriented use.
The Canon MM100-WS Multi-Purpose Camera looks very cube-like and "action cam-like", and will feature, according to Canon, a compact body size of approximately 1.57 in (w) x 1.57 in (h) x .85 in (d).
The camera will also be built around "a highly customizable body designed to accommodate various module solutions" and is to feature a high-level of dust and moisture resistance and durability needed for a wide range of applications, hinting that it could be used as GoPro style action camera.
According to the press release text, the upcoming Canon MM100-WS should be capable of capturing images in low-light environments with as little as 1 lux of illumination. This is no surprise, after all Canon have two other box cameras (which required external control and external recorders) such as the full-frame low light beast – ME20F-SH, which has a max ISO of 4 million, and the Super35 sensor based ME200S-SH, which are more than capable of excelling in extreme low-light environments.
From the size of the new camera, it is very likely that the sensor will be tiny – or maybe even 1-inch based, which is not a small size at all for these type of cameras.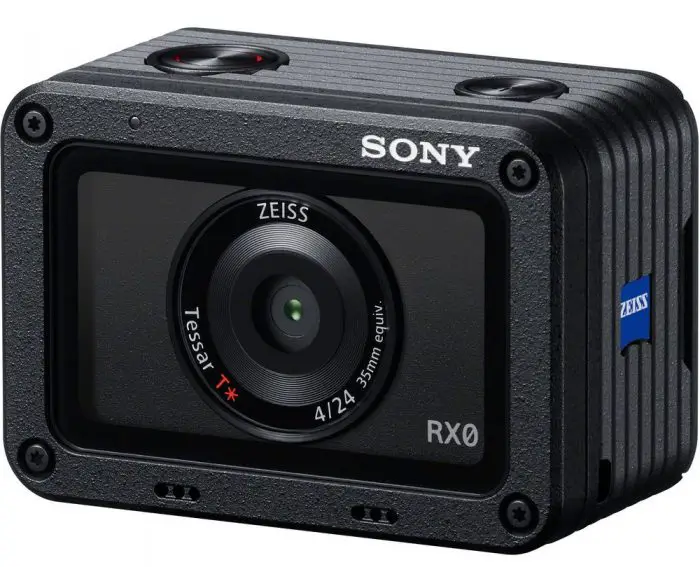 Sony already have announced their Sony RX0, which is a $700 action camera rather than a modular, multi-purpose cam, but nonetheless it draws comparisons to the new Canon or visa-versa. We posted about the new Sony RX0 here, which does have a 1-inch chip and a 4K output via HDMI.
The press info then goes on to say that "...upon request, Canon will make available the camera's Application Programming Interface (API), further expanding the customization capabilities of the MM100-WS for a wide range of solutions."
Due to its compact body and high scalability, Canon will be pushing the new MM100-WS is an excellent option for video content creation for professional and industrial applications, such as monitoring in narrow spaces, piping inspections, automotive industry, and as a support tool for numerous varieties of verticals.
In the future, to help support businesses utilizing the camera, Canon will develop various modules, accessories and software for the camera to be further customized, helping to meet the needs of end-users and a variety of applications.
There is no mention of frame rates, resolutions and/or codecs or further technical info (or pricing), however there is a good change the camera will offer some form of 4K recording, with an external output via SDI being the more likely scenario. Internal 4K would be logical and ideal, and I am hoping they see the light, but then again, this is Canon, so you know how these things usually go. Plus it won't be cheap. Probably.
What's your opinion on the latest Canon announcement? Care for it? Excited? Not bothered? Do share in the comments below.
Claim your copy of DAVINCI RESOLVE - SIMPLIFIED COURSE with 50% off! Get Instant Access!