Last week, Panasonic released the official promo films shot on the Panasonic EVA1 camera, the "Shot on EVA1" Iceland footage by Filippo Chiesa, then "Radio 88" (Johnny Derango) and "Near to Superstition" (Elle Schneider), both of which were more narrative oriented compared to the first footage that Filippo shot, which was designed to represent the camera in a more fashion/commercial oriented way. The films premiered at a few select launch events in New York and LA, and then were also exhibited at IBC 2017 in Amsterdam, and now they have been unveiled to the public in 4K on Vimeo on the official Varicam & EVA1 account.
If you have been following the marketing effort by Panasonic regarding their new EVA1, you've probably already seen these shorts, however, as they were originally posted to YouTube and even a version on Vimeo, which was only 720p (due to the limitation of the account it was originally posted on), they didn't really represent the footage in the best way possible. This is of course due to the inherent web compression, which tends to degrade the image to a degree. Not that Vimeo is perfect, no online platform is, but at least Vimeo's treatment of UltraHD is much better in my opinion.
Prior to this, Panasonic unveiled the accompanying "behind the scenes/making off" promos for each short – you can see those here.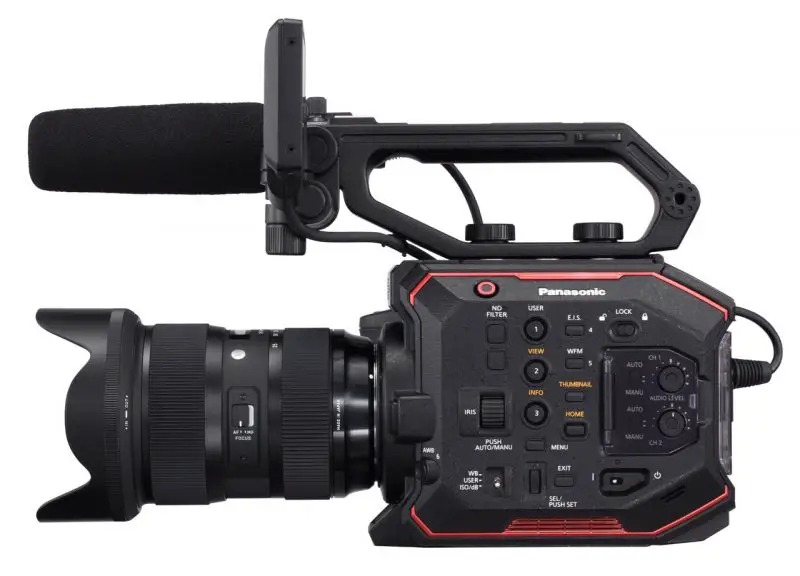 Panasonic have been pushing the EVA1 hard given their extensive marketing campaign, which started with a teaser all the way back at NAB 2017 in April, then continued with an official announcement at CineGear in June.
ICELAND footage by Filippo Chiesa:
Director of Photography Filippo Chiesa.
Colour grading done by Frédéric Savoir, Amazing Digital Studios.
"Radio 88", shot by Johnny Derango:
"Near to Superstition" Director of Photography Elle Schneider:
Panasonic AU-EVA1 Highlights & Features
5.7K Super 35 CMOS sensor
Dual Native ISO (800 and 2500)
Native EF Mount (non-interchangeable)
4K at up to 60p / 2K up to 240p
10bit 4:2:2 internal codec for 4K and Full HD
Up to 400 Mbps data rate for internal
V-log & V-gamut
Records onto SD cards
5.7K Raw Output (planned future update)
Electronic Image Stabilization (EIS)
IR Cut can be moved out of image path with a button
Built-in ND Filters – 2/4/6 stops
Dual XLR audio inputs
Tool-less design for top handle and side grip
Both HDMI & SDI can output 4K
Weight: 1.2 kg
Dimensions:

6.69″ x 5.31″ x 5.23″ (L x H x W)

Price/Availability:
To my eye, all three films look a lot better on Vimeo, but they are not perfect. As already discussed in this post here, the EVA1 footage is far from perfect – some exterior night shots (that campfire scene) in Near to Superstition still look a bit dodgy, but the well lit exteriors look even better compared to YouTube. One can't blame all artifacts to web compression, and from all three shorts so far I am yet to see solid ISO 2500 noise-free image (or at least one that has the same noise as ISO 800).
Sony A7s II the EVA1 ain't, and despite the broad generalization, and the fact that the EVA1 has never been developed (at least to my knowledge) as a super-low light camera. The well lit scenes look great, although I must say I am not a fan of the super-sharpness that the camera tends to exhibit in a few of the shots. I quite liked the heavily diffused interiors in Radio 88 and the naturalistic magic hour scenes in Near to Superstition. The camera has some pull for sure, it looks like Panasonic have really done great things with the sensor, colours look very Varicam-like, but I do think they need to work more on that Dual ISO, for it to be considered a USP worth talking about.
I am looking forward to seeing what many of you will create once the camera is finalized and start shipping towards the end of October.
Claim your copy of DAVINCI RESOLVE - SIMPLIFIED COURSE with 50% off! Get Instant Access!