Atomos have been at the forefront of HDR monitoring since the introduction of their Flame series 4K recorders. Then they super-sized their HDR monitoring technology and included it with the Atomos Sumo19 – a production class monitor that you can use both in your editing bay or in the field. And a such, Atomos has made creating and displaying amazing HDR content for YouTube easier than ever before – simply set your camera to Log output (regardless of whether you are using a Panasonic GH5 or a Sony FS5 or other supported models), record the footage to your Atomos 4K HDR recorder, then upload direct to the world's largest video platform in glorious HDR. Moments later you'll be able to enjoy the results on your HDR enabled smartphone, tablet or television.
Until now, delivering your video in HDR has involved complicated post workflows and professional training. To be properly displayed, Log footage needs to be transformed for display in HDR, and metadata must be added to allow it to be recognised as HDR. The Atomos system allows recorded Log clips to be converted to the PQ or HLG standards, then have correct Metadata flags applied for display on YouTube, all in real-time right inside the recorder. The clip can then be uploaded and no further file preparation is required by the user.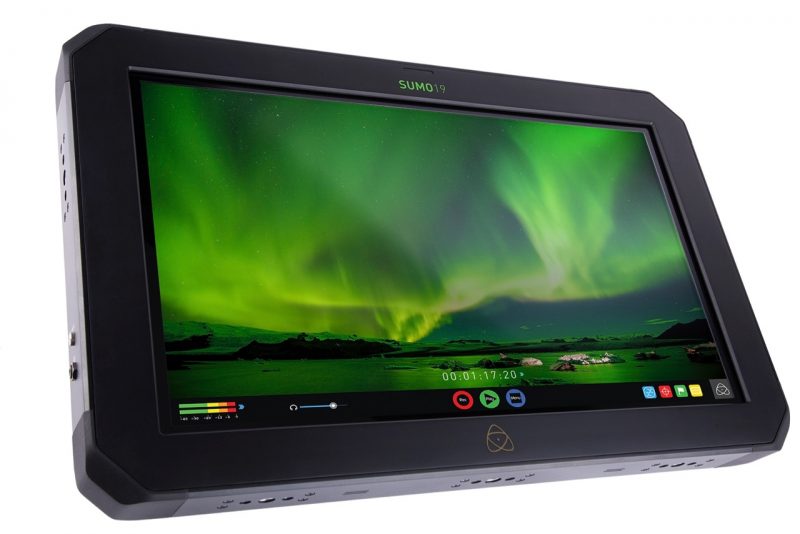 The functionality will come as part of a free AtomOS firmware update due later this year. After a quick initial setup for your camera and chosen HDR type, the Atomos system will take care of the rest.
"I'm delighted to bring our users the missing piece in the puzzle for quick and easy HDR. Working with the biggest partners in the industry has yielded amazing results that just can't fail to impress," said Atomos CEO Jeromy Young. "The time for HDR is clearly now, with this week's announcements of the iPhone X and Apple TV 4K, plus new 4K HDR devices being announced every day, HDR content is going mainstream. Our new end-to-end workflow with YouTube output makes HDR accessible to all."
Atomos Sumo Highlights and Features
1920 x 1080 Touchscreen Display
10-Bit FRC Monitor Processing
HDMI 2.0 and 12G-SDI Inputs/Outputs
1200 nits Brightness
HDR Mode with 10-Stop Dynamic Range
High Bright Mode for Rec. 709 Viewing
4K up to 60p
1080p up to 240 fps
10-Bit 4:2:2 ProRes & DNxHR Encoding
12-Bit Raw Recording from Select Cameras
Records to 2.5″ SSD media
Get a FREE Sunhood with Atomos Sumo19
There is also some great news for those on the look out for a new production monitor – Atomos are giving away a free Sunhood when you buy their Sumo19 HDR production monitor.
The Atomos SUMO19 Sunhood is a fully collapsible zipper design that securely attaches to the front bezel of the Sumo body via 1/4-20 screws. This design allows the collapsed hood to double up as a screen protector for safe transportation. The Sumo19 Sunhood reduces the effect of reflections onset improving your HDR experience and viewing environment, with a durable outer fabric and a soft velvet inner. The Sumo19 Sunhood is a must for onset monitoring.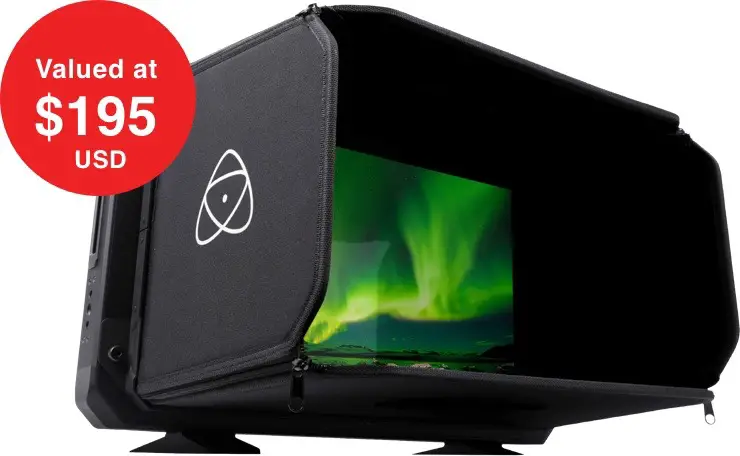 The offer ends November 10th, however it is worth to note that the offer does NOT include the Atomos Sumo19M monitor only version (currently priced at $1,995), and applies only to the Sumo 19 version with on-board 4K recording, which currently runs for $2,495 at B&H. The sunhood is valued at $195 and for those who need on-set HDR monitoring and also recording functionality, this seems like a really good deal.
Claim your copy of DAVINCI RESOLVE - SIMPLIFIED COURSE with 50% off! Get Instant Access!