One of the main concerns when flying a camera on a gimbal stabilizer is getting proper focus. With some cameras such as the Canon 5D mark IV or C300 Mark II, which have excellent DPAF assisted focus with compatible EF lenses, you can get away with not using a follow focus in most cases, however when it comes to manual lenses and more complicated moves where the subject does not hold the same distance from the gimbal operator or changes speed, you really need to think about pulling focus somehow.
When on sticks or handheld, you could also get away with using a traditional manual follow focus or just using your hand, if you are strapped for cash and your budget does not stretch for a follow focus, but once you put a camera on a gimbal stabilizer forget about touching the camera or using a manual FF. This is where a wireless follow focus system like the DJI Focus or the ikan PD Movie Live Remote II come in really handy.
Compared to more traditional wireless follow focus systems, which can cost in upwards of 3-4 grand, the ikan PD Movie Live is much more affordable, compact and easy to setup.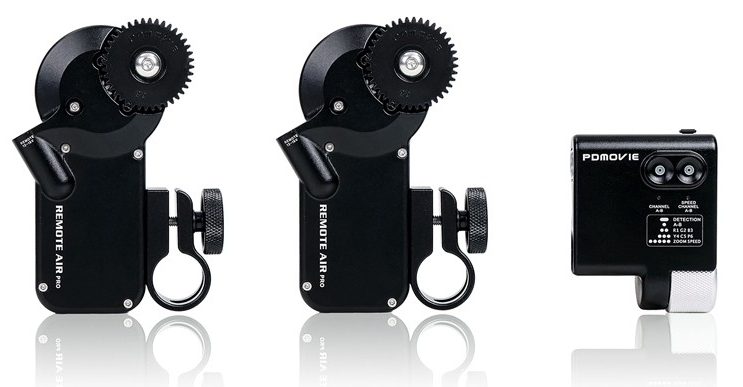 The PD Movie Remote Live 2 Compact Focus and Zoom Control Kit is perfect for traditional and stabilizing camera setups; the two precision motors can be attached to either 15 or 19mm rod setups and firmly lock their standard 0.8 pitch drive gears into the gearing of your lens. The 2 channel setup allows gimbal operators to adjust both the lens's focus and zoom for example.
The next step is to attach the lens control module to your rig mounting point of choice (less than 1″ in diameter), and provide power using the D-Tap to LEMO compatible adapter. After installing the hardware, users can easily assign the motors and the control to one of six individual channels (two of the six are set for the focus and zoom respectively) by simply tapping each unit's single button.
ikan PD Movie 2-Channel Follow Focus Features
Brings control of your lens' focus and zoom right to your fingertips
Automatically calibrates to the mapping of your lens
Simple, single button per channel, control system
Single focus and zoom unit can control multiple motors simultaneously
Compact yet powerful motors can handle both subtle and rapid lens adjustments with ease
Precision motors attach to both 15 and 19mm rods (with included sleeves installed)
Remote control attaches to most square / round handles less than 1″ in diameter
0.8 pitch gearing is compatible with most common cinema lenses
London-based camera and gimbal operator Stephan Knight recently got in touch with us and send in his experience with the ikan PDMovie Remote Live II 2-Ch Follow Focus (that's a mouthful), which he's been using on his DJI Ronin and Sony FS5/Fujinon MK 18-55mm gimbal setup lately.
Check out his review below:
For more of Stephan's awesome work check out his Instagram here and website.
ikan PD Movie Live II 2-Channel FF Specifications
Channels:
Controllable Channels: 2
Torque max: .0.5Nm
Gear Pitch: 0.8 (40 teeth)
Noise: < 28 db
Torque: 0.5 Nm Max
Gear Pitch: 0.8 (40 Teeth)
Motor: German imported, high-precision brushless motor
Cable Length: 39″, 19″ (Tether) 27″ (D-Tap)
Connection: 6-pin Lemo Compatible (Power and Tether)
Input Voltage: 6-pin 9-18V
Mount: 15-19mm Rods
Price: $1,599 at B&H
What you get in the box:
1 x 6-Pin To 6-Pin Cable
1 x Control To Motor Cable
1 x D-TAP To 6-Pin Power Cable
1 x Dual Channel Thumb Control
2 x 19 To 15mm Bushings
2 x PD3-M Motors
Using manual zoom lenses on larger gimbal setups, which can accommodate the weight usually associated with a zoom lens and cine camera (such as the case with the DJI Ronin), can actually save a lot of time on set as you don't have to manually swap between primes, which requires downtime for the gimbal, as it has to be re-balanced and usually calibrated after each lens change. For those of you shooting with zooms or thinking about it, the ikan PD Movie Live II 2-Channel FF is definitely one to check out.
Claim your copy of DAVINCI RESOLVE - SIMPLIFIED COURSE with 50% off! Get Instant Access!