Sony hit CamerImage 2017 with their latest Sony VENICE 6K flagship camera camera taking centre stage at their booth. According to Sony, conversations with and feedback from production professionals played an essential part in the development of VENICE and in the months after the camera's September announcement, the immediate demand for Full-Frame capture was clear.
Sony had planned to enable 6K Full-Frame image capture later in 2018 (with an optional paid license) as revealed in their initial firmware update roadmap, however, following increased demand from industry pro's Sony have decided to enabled 6K Full-Frame capture on the Sony VENICE from launch, which at this stage is estimated for February 2018. It is worth noting, that the FF capture will still require the paid firmware license to be purchased.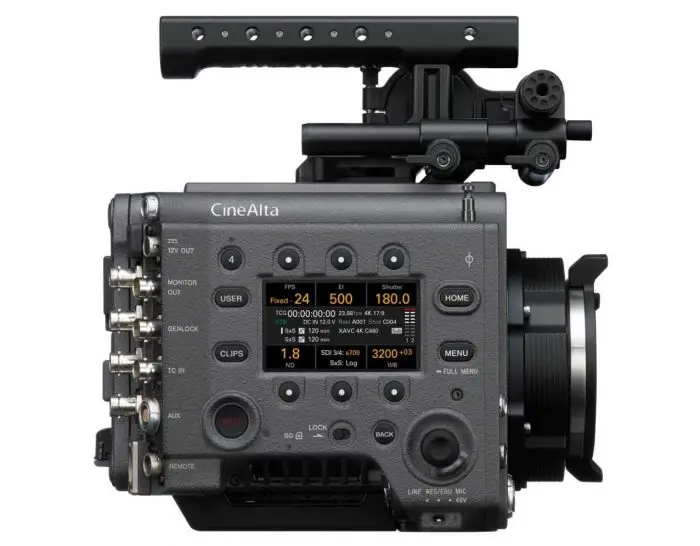 The Full-Frame 6K recording in the VENICE at launch will be in Sony's proprietary 16-bit X-OCN format, which requires the Sony AXS-R7 raw recorder. In addition to Full Frame image capture, Sony plans an extensive roadmap of features planned to be implemented in future firmware upgrades.
Sony VENICE 6K FF Highlights
New Full-Frame 36 x 24mm CMOS Sensor
15+ stops Dynamic Range
Interchange-able Sensor Block – for future sensor upgrades (user serviceable)
6K Full-Frame 3:2 mode (6048 x 4032)
4K Anamorphic 4:3 and 6:5 (4096 x 3432)
4K Super 35 mode (window)
Support for FF & S35 spherical lenses
Support for FF & S35 Anamorphic lenses
8-step Mechanical Built-in ND filter (8 Stops ND)
PL mount (Cooke i technology supported)
Locking E-mount
Recording Codecs/Formats:

X-OCN Compressed Raw onto AXS-R7 Raw Recorder
4K XAVC – Class480/300
ProRes HQ/422/LT
MPEG HD

Recording Media – SxS cards, AXS cards for RAW (external recorder)
Price: £37,000/$45,000 Body
Available: February 2018
6K Full-Frame – License Only – approx. €6,000 to buy
Anamorphic Mode – License Only – €4,000 (or around €10K for both)

There will be also rental options for day/week/month for both

Compatible with existing CineAlta accessories:
In Sony's words, the development of the VENICE motion picture camera platform represents an on-going commitment to the film industry, by furthering image capture in the key areas of dynamic range, colour rendition and large format aspect ratio freedom.
"VENICE demonstrates our commitment to developing tools that support Directors and Cinematographers in bringing their vision to the screen," said Peter Crithary, marketing manager, Sony Electronics. "This announcement reflects our strong relationship with filmmakers around the world and enables them to create Emotion in Every Frame."
The VENICE CineAlta digital motion picture camera system is scheduled to be available in February 2018. For more information about the VENICE platform, please visit www.sony.com/VENICE.
Claim your copy of DAVINCI RESOLVE - SIMPLIFIED COURSE with 50% off! Get Instant Access!