February is approaching fast and so is the promised delivery time frame for the "big-boy" Sony VENICE camera that boasts full-frame capture in 6K resolution. Well, just like any other camera, you'd need a few bits and pieces to make it production ready by getting it on and off sticks quickly and having a bit more robust ergonomic around when attaching accessories such as monitors and such.
That's why the good people at Netherlands-based VOCAS, have your back when it comes to high quality kit for a high quality camera. As someone who's used their follow focus (MFC-2S Limited Edition version I believe) in the past, and their compact clip-o MB-215 matte box I can honestly say their stuff is really well built and easy to use.
And now, prior to the launch of the VENICE, they have some new accessories for the big CineAlta such as a new top handle, a USBP Mark II dovetail adapter plate and a quick release dovetail spacer.
Vocas Top Handgrip Pro Kit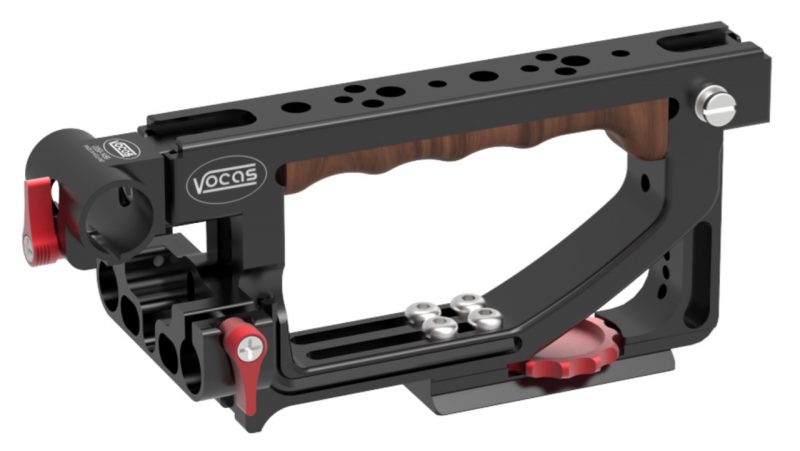 The top handgrip Pro kit from Vocas has a max payload of 40 kgs, and has been ergonomically designed to fit the Sony VENICE handgrip dovetail system perfectly. The handgrip can be adjusted forwards, and offers a better balance compared to the original Sony handle. The separate 19 mm viewfinder adapter (0350-1459) for top handgrip allows the user to mount the original Sony viewfinder and bracket.
The top handgrip Pro is completely closed which gives you more safety and security even when wearing gloves. The foot can also be moved both ways to find the right balance.
For full details and pricing on the rest of the VOCAS accessories for the VENICE see Vocas' website here.
And here is some new 4K footage (to me) shot on the Sony VENICE by Yoshihiro Enatsu
Camera: Sony VENICE
Lens: Angenieux Optimo Anamorphic 56-152mm

S-LOG3/S-Gamut3.cine + S709 LOOK (beta version)

AIDA VOLOSHINA
Camera:

Toshikazu Kaneto
Hiroshi Kurosawa

Production: Kanako Ishii
Assistant: Yasuhiko Tanaka
Hair Make Stylist: Kazuya Imamura
Alpha Models: Yoshiaki Uematsu
Flower Director: JOCA
SONY: Takashi Irikura
nac Image Technology: Kiichiro Iwashi
Music: Masaaki Enatsu
Director / Edit : Yoshihiro Enatsu
Sony VENICE 6K FF Features/Specs
New Full-Frame 36 x 24mm CMOS Sensor
15+ stops Dynamic Range
Interchange-able Sensor Block – for future sensor upgrades (user serviceable)
6K Full-Frame 3:2 mode (6048 x 4032)
4K Anamorphic 4:3 and 6:5 (4096 x 3432)
4K Super 35 mode (window)
Support for FF & S35 spherical lenses
Support for FF & S35 Anamorphic lenses
8-step Mechanical Built-in ND filter (8 Stops ND)
PL mount (Cooke i technology supported)
Locking E-mount
Recording Codecs/Formats:

X-OCN Compressed Raw onto AXS-R7 Raw Recorder
4K XAVC – Class480/300
ProRes HQ/422/LT
MPEG HD

Recording Media – SxS cards, AXS cards for RAW (external recorder)
Price: £37,000/$45,000 Body
Available: February 2018
6K Full-Frame – License Only – approx. €6,000 to buy
Anamorphic Mode – License Only – €4,000 (or around €10K for both)

There will be also rental options for day/week/month for both

Compatible with existing CineAlta accessories:
THE DIG: Official (original) Sony VENICE Promo Short
DP: Claudio Miranda, ASC
Behind the Scenes:
The Sony VENICE CineAlta digital motion picture camera system is scheduled to for delivery in February 2018, and I am eagerly awaiting BSC Expo in a couple of weeks time in London to get a chance to play around a bit with the VENICE at the Sony stand.
For more details on Vocas, and the neat kit they make, head over to their website here.
Disclaimer: As an Amazon Associate partner and participant in B&H and Adorama Affiliate programmes, we earn a small comission from each purchase made through the affiliate links listed above at no additional cost to you.
Claim your copy of DAVINCI RESOLVE - SIMPLIFIED COURSE with 50% off! Get Instant Access!