Filmpower have been releasing single grip stabilizers for a few years now, with the most recent introduction of the Nebula 5100 Slant, which gave operators a clear view of the back screen of the camera, thus transforming the the 3-axis single handheld gimbal experience. Not only that, but the Nebula 5100 Slant, boast a serious payload of up to 3.2kgs and Filmpower claim that users can safely balance a Canon C100, Canon 1DC, Nikon D810 and even Sony FS5.
The 'slanted' design has been all the rage in this gimbal stabilizer segment with rival companies such as Ikan, Tilta and ACR Systems releasing single grip gimbals of their own with a similar feature (and lots of other features too). In case you missed these you can check out the Ikan Pivot here, the ACR Systems BeSteady Mini here, and the latest Tilta Gravity G2x and G2 in this post here.
So, just a few days ago, FilmPower announced a variation of the Nebubal 5100 Slant that is designed for the Sony alpha 7 cameras.
In case you didn't get the hint from the name, the Nebula 5100 a7 has been specially designed for the Sony a7 III, A7s II, A7R II and A7R III cameras. The Nebula 5100 a7 features a cage designed for these cameras, allowing operators to attach necessary additional accessories such a compact top light and/or microphone. Filmpower say their cage in this gimbal is made out of "top grade, high tensile aluminium".
According to Filmpower, the integrated cage design will help users save time as they don't have to adjust the gravity center. The cage gives operators a total of 41 x 1/4″ screw holes and 4 x 3/8″ threads for adding other accessories onto the camera.
FilmPower Nebula 5100 a7 Features
New High-Torque motors with built-in encoders
Includes a cage for your Sony alpha camera
Compatible with the Sony Alpha 7 line-up

A7R II, A7RIII, A7SII, A7III

1/4″20 and 3/8″ threads on the cage for accessories
8-10 hours battery life, support direct charge
Hidden cable design
360° unlimited rotation for all 3 axes
Joystick design, one key recording, one key back to the midpoint
Integrated structure, no need for assembly
Special tactical cage design
Price: $699
Order via Filmpower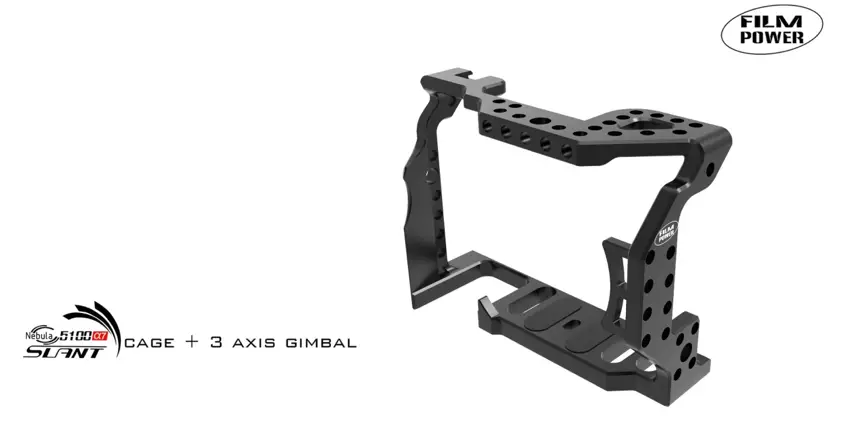 Beside the slanted design giving you an unobstructed view at the rear LCD screen, the new Nebula 5100 a7 also inherits most of the great features from the Nebula 5100 Slant, such as the all-metal body design, the energy saving encoder, the 8-10 hours long battery life, the 360° rotation, manual focus adjustment as well as useful functions such as "one key midpoint returning", time-lapse, roll follow mode and more…
Filmpower are also offering a few extra accessories for the Nebula 5100 a7 supports including a Nebula Monopod, expansion packs and dual handles. Pricing starts at $699. For more info head over to Filmpower.
Claim your copy of DAVINCI RESOLVE - SIMPLIFIED COURSE with 50% off! Get Instant Access!