When it comes to computer peripherals, blazing fast SSDs have always been in great demand among content creators. This is especially true for video editors working on the go who are constantly in desperate need of high-speed storage in the smallest form-factor possible. Unfortunately, more often than not, this balance between portability and performance comes at a high price tag.
Budget oriented hardware maker OWC hopes to change that by providing Thunderbolt 3 storage speeds at a more reasonable price than the competition with the introduction of the Envoy Pro EX Thunderbolt 3 external SSD. The product has recently hit the market, which seems to be good enough reason for Benjamin Mayo of 9to5Mac to take a closer look and give the drive a try.
In essence, the OWC Envoy Pro EX Thunderbolt 3 External M.2 SSD is latest generation SSD that offers sustained read speed of up to 1800 MB/s. It also conforms to MIL-STD-810G drop test standards and comes with an integrated Thunderbolt 3 cable. The SSD is compatible with both Windows and Mac operating systems.
In the video, the product reviewed is the 1TB version of the drive. If you require a different amount of storage, there are also 250GB, 500GB, and 2TB variations of the SSD available for purchase at varying price points. The 1TB model goes for around $500, which is rather modest as far as external SSDs sell for nowadays.
Inside of the box, there isn't much to look forward to. With your purchase, you get a box protectively padded with Styrofoam, a small slip with quick start instructions, and of course, the drive itself wrapped in a soft carrying pouch.
Other than that, the unit itself is small, portable, and well-designed. The black all-aluminum construction ensures durability, while the smart addition of ridges on the sides of the drive acts as a means to cool the product passively. Apparently, there's no need to use any loud cooling solutions, nor there is a bulky power supply to worry about. Furthermore, the size of the drive is comparable to that of an iPhone X, making it the perfect companion for video editing in the field.
In addition, the Envoy Pro EX also has a Thunderbolt 3 cable built-in. While this may be convenient for some, others may complain that this design makes the drive susceptible to damage if the cable is somehow mistakingly bent. Moreover, while the cable length of 0.15 meters may be generous for some, others may find it too short depending on their setup.
Performance-wise, this drive stacks up well against others in the market, such as the Samsung's T5 external SSD. In the Blackmagic Design Disk Test, the Envoy Pro reached write speeds of 740 MB/s and read speeds of up to roughly 1064 MB/s.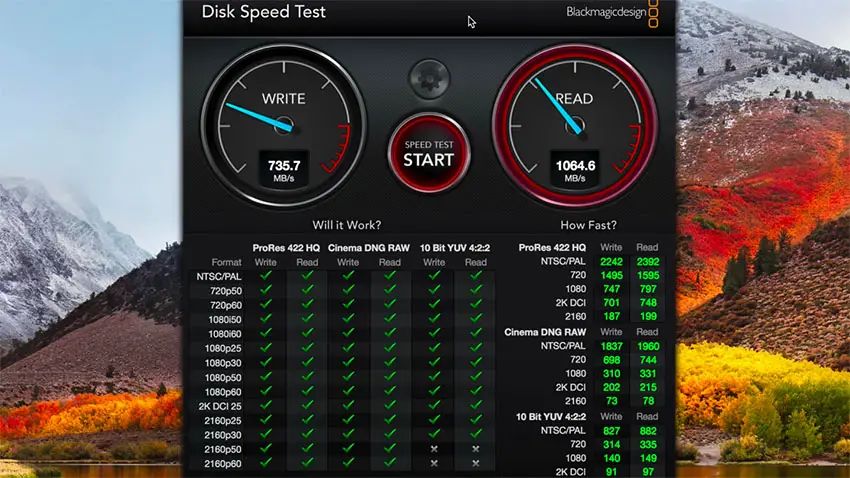 Another test conducted in QuickBench 4 revealed similar write speeds of 730 MB/s and read speeds of 1403 MB/s. Based on these results, there's no denying that this drive is reasonably fast which makes it perfect for video editors who need an efficient mobile storage solution for their video projects.
With a simple, yet elegant design coupled with performance numbers that impress, the Envoy Pro EX SSD from OWC is definitely a worthwhile purchase. This is especially true for video editors in need of a storage solution that is not only easy to carry around but is also perfect to work with mainly due to the impressive read and write speeds it provides.
[source: 9to5Mac]
Order Links:
Claim your copy of DAVINCI RESOLVE 16 - SIMPLIFIED COURSE with 50% off! Get Instant Access!