You may recall recently I posted about the EVA1 contest Panasonic is running as well as some really helpful tutorials by Panasonic guru Barry Green (link to post here), however his free e-book guide on the Panasonic EVA1 was nowhere to be found. Well, it looks like Panasonic people have been working hard on getting it up and ready for download; and the good news is that the web page for the e-book recently went live.
You can find link at the bottom of this post and download the free guide.
For those unfamiliar, Barry Green is an Emmy award-winning producer/writer who has authored many books on the operations of Panasonic professional camcorders such as the DVX200 and many prior to that. In addition, he is a technical moderator at DVXUser.com forum where you can pick his brains about Panasonic cameras if you ask nicely in the many Panasonic dedicated threads on the forum.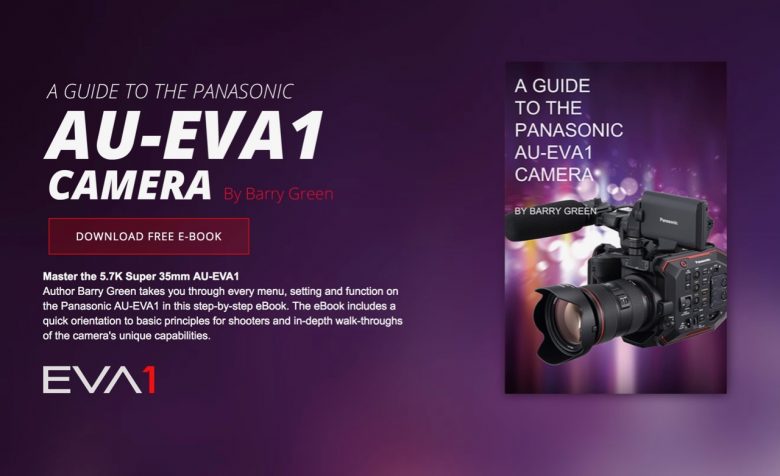 The 200+ guide is presented in a neat PDF package that you can read on your desktop or mobile device and goes over in detail about the various recording options in and out of camera, the detailed menus, various outputs, and every button and switch on this very capable compact Super 35 camera. Whether you own an EVA1 or thinking of renting on for your next project, this guide is a must and I wish other manufacturers such as Canon and Sony released similar for their CinemaEOS and popular FS5/FS7 cameras.
Of course it is free so there is no harm done in downloading it and learning a thing or two you probably didn't know about your EVA1.
As a reminder, Panasonic recently launched a "Share Your Vision" contest which will award €5000/$6000 for the best 5 minute or less Fiction or Non-Fiction videos shot on the Panasonic EVA1.
The submission period runs from beginning of June and closes on August 24th. The winners will be announced in early September during the IBC 2018 trade show in Amsterdam and will be published on the official EVA1 YouTube channel.
See all the details on the contest below:
Enter the EVA1 Video contest and get a chance to win €5.000/$6.000!

Submission Period: 1 June 2018 – 24 August 2018
Step 1.Fill in the form via this link. 
Step 2. Submit the link to your video* shot on the EVA1 to compete in one of two categories:
Step 3. Submit the evidence that the video was shot on EVA1 (BTS video or photo);
Step 4. Subscribe to our Varicam&EVA1 channel, where all approved videos will be published: youtube.com/c/VariCamEVA1 
Jury Screenings: 25 August 2018 – 10 September 2018 
A distinguished panel of judges, including cinematographers Matthias Bolliger, William Wages, ASC,  Elle Schneider, Johnny Derango will select two winners, one in the Fiction and Nonfiction categories.
Winners Announcement: 14 -18 September 2018
The winners will be announced during IBC 2018 in Amsterdam and published across Varicam/EVA1 YouTube channel and social media accounts.

Prize:
The winner from United States will be awarded $6000 and the winner from Europe €5000, respectively.
NOTE: *Participants can submit multiple videos, but each entry must be submitted separately.
People have already started to submit videos to the contest; you can enter the contest by visiting Panasonic's dedicated link here.
To download Barry Green's guide to the 5.7K Panasonic EVA1 camera head over to this link: https://info.panasonic.com/au-eva1-guide
Disclaimer: As an Amazon Associate partner and participant in B&H and Adorama Affiliate programmes, we earn a small comission from each purchase made through the affiliate links listed above at no additional cost to you.
Claim your copy of DAVINCI RESOLVE - SIMPLIFIED COURSE with 50% off! Get Instant Access!