The online streaming behemoth Netflix have added the top-tier Sony VENICE 6K CineAlta camera to their coveted approved camera list for 4K production of original content. Thanks to the recent release of Firmware 2.0 for the VENICE (which you can read all about in our post here), the top-end full-frame CineAlta camera can now be used to produce high-end 4K content for the streaming giant.
The illustrious Netflix Approved Camera list has also grown to include a huge list of RED cameras including the RED Epic-W with the 5K S35 GEMINI sensor, the RED Weapon 8K Monstro, Helium 8K S35 and even the least expensive RED – the Raven 4.5K camera.
However, what is even more important than the new camera additions to the Netflix Approved Camera list, are the new detailed production guides for each camera brand – Canon, Sony, Panasonic, RED, Panavision and Blackmagic Design that Netflix has included in the latest version of the approve list.
The handy guides are particularly useful as they list in Yellow the preferred resolutions, image sensor modes, and preferred codec/format for 4K capture depending on the model camera you are planning on using from the approved list. See some examples below for the Sony VENICE below.
Sony VENICE Production Guide for Netflix
Imager Mode / Resolutions:
3.8K 16:9 (S35)
4K 4:3 (S35 Anamorphic)
4K 17:9 (S35)
4K 6:5 (S35 Anamorphic)
6K 3:2 (Full Frame)
6K 17:9 (Full Frame)
6K 1.85:1 (Full Frame)
Colour Space/Gamut:
Raw Format:
And here is a screenshot of the actual guide (link to the Sony cameras production guide here)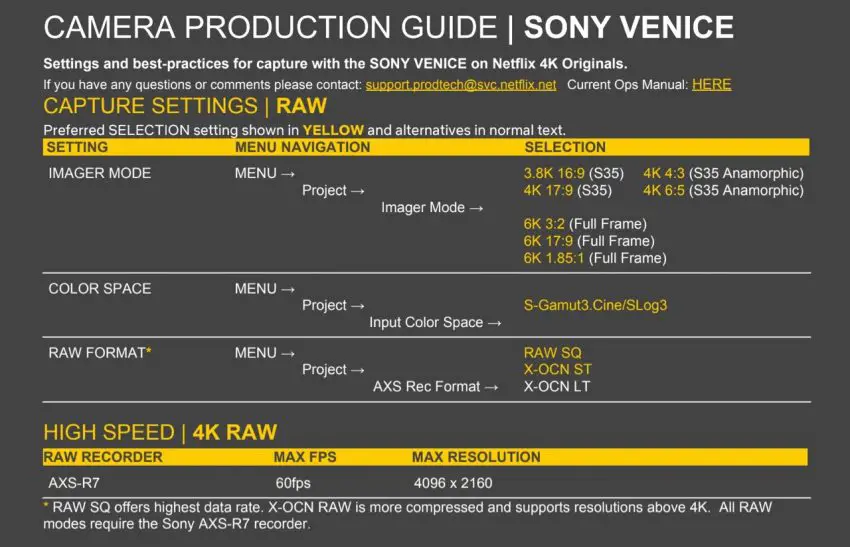 You can find links to the production guides for each camera brand by clicking the links below each camera brand list – here.
Of course, it is worth to note that this approved camera list is for Netflix commissioned original content, not necessarily for content they acquire – hence why there are quite a few titles on Netflix that have not even been captured in 4K.
Regardless, it is reassuring to see that Netflix are frequently updating their approved camera list and now even bringing more clarity as to the technical side of 4K acquisition since most cameras on the approved camera list are capable of acquiring 4K in different formats and codecs/gamma curves/colour spaces etc.
See the updated Netflix Approved camera list here.
In related news, Netflix is apparently testing a new "Ultra" pricing tier in various European markets according to TuttoAndroid.net, which apparently takes out the HDR streaming option from the current top tier plan – Premium (€13.99/$13.99) and moves it up to a new, more expensive "Ultra" tier for $16.99.
According to another report by Variety, the new Ultra plans is being tested in 2 versions – one offering 4 x Ultra HD streams, while the existing $13.99 Premium plan would drop from 2 to 4 UHD streams.
"In the second offer, both Premium and Ultra customers would have access to four concurrent Ultra HD streams but only Ultra customers would have access to high dynamic range (HDR) content, which provides more vibrant colour reproduction and higher contrast."
It is worth to note that this is all in a testing phase at the moment and nothing is set in stone yet; however, it is very possible that if you want the top-tier, maximum quality out of your Netflix subscription, you may have to shell out a bit more to get it in the upcoming months.
As a Netflix subscriber in the UK, this does not impact me (at the moment), as I am a cheapskate and don't even own a 4K TV (insert joke here), but I find that my 7-year old Sony BRAVIA does just fine in 1080p SDR, however I am sure there are quite a few of you out there with new generation 4K HDR TVs that are currently either Premium tier Netflix subs, or would be Ultra subs in the near future once the top HDR tier becomes a reality.
Claim your copy of DAVINCI RESOLVE - SIMPLIFIED COURSE with 50% off! Get Instant Access!