LED lighting technology in modern cinematography has been evolving rapidly over the last few years and we are at a point now where pretty much all the pro LED fixtures produce light of high enough quality to deem them as viable replacements for fluorescents, HMIs and even good old tungsten lights on any production. Sure, HMIs and tungsten lights are still widely used, and probably will be in the foreseeable future, however the advancements in LED technology and the speed such move at is extraordinary.
Many of you are familiar with the Litepanels Gemini – the popular LED maker' latest generation 2×1, RGB-WW soft panel, which features an excellent colour rendition that combines daylight, tungsten, and red-green-blue LEDs to deliver highly flexible and precise colour adjustment. The Litepanels Gemini's soft panel produces true, full-spectrum white light and an extensive choice of control options designed to suit any professional lighting application.
Back in April, the GEMINI LED panel received a firmware update, which added a Lighting Effects Mode for adding fully customizable effects such as emergency lights, fire, strobes, TV simulation, hue burst, fireworks, party lights, pulse and more.
And more recently earlier last week, Litepanels released a new GEMINI firmware update they call Rev. B or B2 for short, which adds new fan control mode and sodium vapor gels. You can head over to this link and download the firmware if you own a Litepanels Gemini LED.
Litepanels GEMINI Features/Highlights
Variable Color Temperature CCT Mode
Plus / Minus Green Control
Hue, Saturation, Light Intensity Control
6 Litepanels Presets, 6 User Presets
Integrated DMX, Optional Wireless DMX
Optional Bluetooth Control
AC or Optional Battery Power
CRI/TLCI:
25 x 6.5 x 12.5″ Fixture
Price: $4,299 at B&H
Back at CineGear Expo this year, Anton Bauer announced their new Dionic XT cine batteries, which replaced the cube-shaped Cine Batteries. The Dionic XT's are charger-agnostic and can be used with a variety of 3rd party chargers – a huge benefit when you are on set dealing with batteries and charges from different manufacturers.
Designed to power modern cine cameras such as the ARRI Alexa MINI, Amira, RED DSMC 2 as well Sony FS7 or equivalent, the Dionic XT batteries can delivery sustained power of up to 12Amps, boast longevity (1000+ cycles) – great for rental houses, and of course a robust construction designed to withstand the rigours of field production.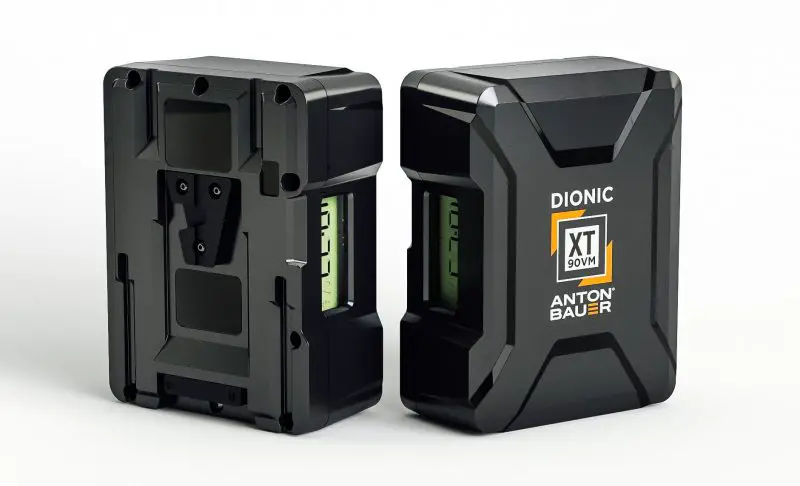 The side LCD display can also show not only battery levels, but also diagnostics and status info, a feature that was only available on AB chargers with the previous generation "Cube" Cine batteries.
DoP/ Filmmaker Paul Cook used the AB Dionic XT batteries on a recent shoot in Scotland.
The new Dionic XT series are available in both Gold mount and V-mount in either 99Wh or 156Wh capacity and are compatible with various camera systems, LED lights, as well as other accessories requiring high-voltage portable power.
Anton Bauer Dionic XT Features
Next generation Li-ion cell technology for optimal longevity and performance
Higher current delivering up to 12A of sustained power
A new robust case design to complement cine-style cameras
Form factor designed to fit existing flight cases
100% compatible with 3rd party chargers
D-Tap and USB power outputs on side
Available in both Gold Mount and V-Mount
99Wh (Dionic XT 90) and 156Wh (Dionic XT 150)
Dionic XT replaces the current AB Cine 90/150 "Cubes"
Price:
For more information and detailed specs on the new Dionic XT batteries head over to the Anton Bauer Dionic XT website here.
Claim your copy of DAVINCI RESOLVE - SIMPLIFIED COURSE with 50% off! Get Instant Access!