GoPro just announced, not one, but three new cameras. Not even close to a year since their latest flagship, GoPro is announcing the HERO7 Black flagship at $399, followed by a Hero7 Silver at $299, and the Hero7 White at $199 at the bottom of the food chain.
It's been hard times at GoPro for a while now, the company was recently looking for a buyer after a tumultuous 2+ years plagued with the Karma Drone debacle and strong competition from Asian manufacturers with better and cheaper tech. However, GoPro is giving it one more shot with a brand new HERO7 Black, (which looks exactly as the Hero 6) but with a few new features that may just help the company dig itself out of the grave.
4K/60p is a given here, but the big new features in the GoPro Hero7 Black is the internal video stabilization. Or more accurately said, the internal electronic image stabilization, which GoPro calls HyperSmooth.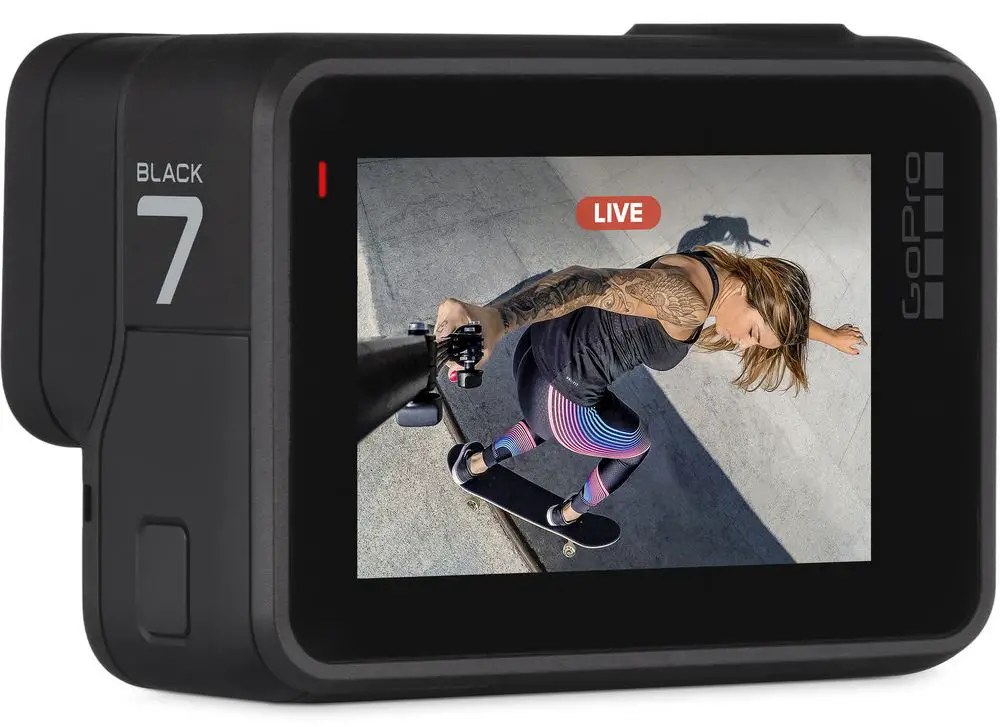 They even go as far as referring to this feature as "…HyperSmooth is the best in-camera video stabilization ever featured in a camera. It makes it easy to capture professional-looking, gimbal-like stabilized video without the expense or hassle of a motorized gimbal."
According to GoPro, HyperSmooth also works underwater and in high-shock and wind situations. Whether it needs a gimbal or not, remains to be tested, but from the demo footage, the EIS looks impressive to say the least. And the good thing is that it also works in 4K/60p. Still no optical image stabilisation though, the sensor assembly is not moving.
"HERO7 Black is the GoPro we've all been waiting for," said GoPro founder, Nick Woodman. "With HyperSmooth video stabilization, HERO7 Black is a camera anyone can use to capture amazingly smooth, professional looking shots of their favorite activities. And they can do it live."
HERO7 Black with HyperSmooth video stabilization demo:
With HERO7 Black, GoPro is also introducing a radical new form of video called TimeWarp (or as me and you know it – Hyperlapse).
TimeWarp Video applies a high-speed, 'magic-carpet-ride' effect to your videos. Transform your walk, run, bike ride into a super-stabilized, sped-up version of itself, with the entire experience playing out in seconds. TimeWarp Video transforms longer experiences into short, flowing videos that are compelling to watch and easy to share.
Another big feature of the HERO7 Black is live streaming. The HERO 7 Black is the first GoPro to live stream, enabling users to automatically share in real time to Facebook, Twitch, YouTube, Vimeo and other platforms internationally (you will still need your smartphone though). The lower end models do not get the live streaming feature, nor HyperSmooth stabilization (although they are advertised as having electronic image stabilisation).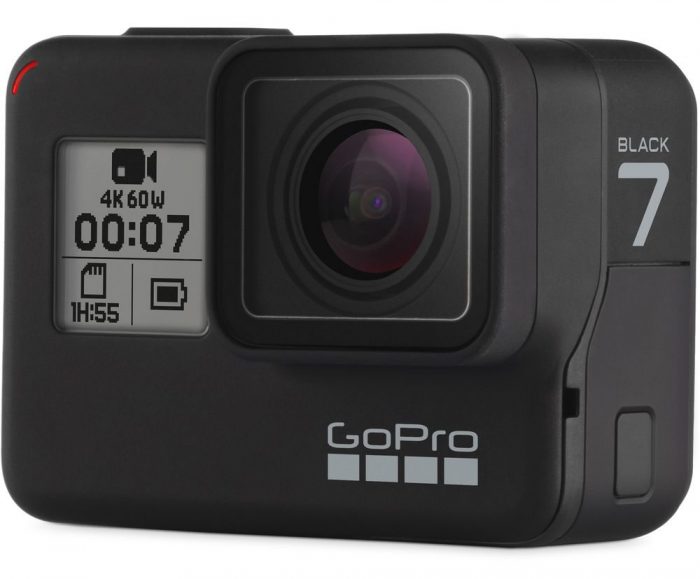 GoPro Hero7 Black Features
4K/60p H.265, 4K/30p, 2.7K/120p, 1080p/240
HyperSmooth Stabilization

Gimbal-like stabilization without the gimbal

Live Stream

Automatic sharing as you live it while saving your streamed videos to your SD card in high definition

TimeWarp Video

Super-stabilized time lapse 'magic carpet ride' videos of your experiences, up to 30x speed

SuperPhoto

Intelligent scene analyzation for professional-looking photos via automatically applied HDR, Local Tone Mapping and Multi-Frame Noise Reduction

Portrait Mode

Native vertical-capture for easy sharing to Instagram Stories, Snapchat and more

Enhanced Audio

Re-engineered audio captures increased dynamic range, new microphone membrane reduces unwanted vibrations during mounted situations

Intuitive Touch Interface

2-inch touch display with simplified user interface enables native vertical (portrait) use of camera

Face, Smile + Scene Detection

HERO7 Black recognizes faces, expressions and scene-types to enhance automatic QuikStory edits on the GoPro app

Short Clips

Restricts video recording to 15- or 30-second clips for faster transfer to phone, editing and sharing. Great for new users and kids.

Photo Timer

Countdown timer for convenient selfies and group shots

Rugged and Waterproof

Waterproof without a housing to 33ft (10m), goes everywhere your phone can't

Voice Control

Verbal commands let you go hands-free in 14 languages

Auto Transfer to Phone

Your photos and videos move automatically from camera when connected to the GoPro app for on-the-go sharing

GPS Performance Stickers

Track speed, distance and elevation, then highlight them by adding stickers to videos in the GoPro app

Touch Zoom

Frame your photos and videos with just a touch
Here is how the new GoPro Hero7 line-up looks like: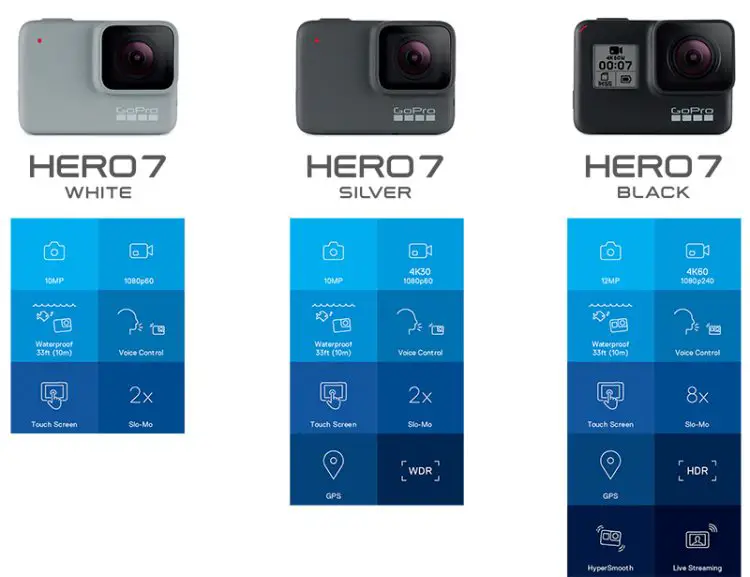 The $399 HERO7 Black is available for pre-order on Sept. 20 at GoPro.com and authorized dealers such as B&H.
The HERO7 Black will be in-store internationally beginning Sept. 27, and in the U.S. on Sept. 30.
Pre-order links: 
Claim your copy of DAVINCI RESOLVE - SIMPLIFIED COURSE with 50% off! Get Instant Access!