In addition to the freshly announced Insta360 ONE X, just yesterday, Insta360 announced at the Adobe MAX conference that it will add support for 180 degree 3D capture and editing with its leading professional VR cameras, the Insta360 Pro and the recently announced Insta 360 Pro 2, which I wrote about recently here. Offering both 180 and 360 capture in a single VR camera system is kind of a big deal, as 180 degree video is less work-flow intensive to produce, and to some viewers easier on the eyes, not to mention more aesthetically pleasing.
Insta360 say this upgrade will be released as a free software update, available both for the Insta360 Stitcher software and for Insta360's integrated editing extension for Adobe Premiere Pro CC.
"There's a huge overlap among the creators who are innovating in 180 and the ones innovating in 360," said Max Richter, Insta360 Head of Marketing. "For the first time ever, they can capture pro-quality content in both formats with one camera and one seamless workflow. Even better, they can shoot both 180 and 360 at the same time from a single vantage point."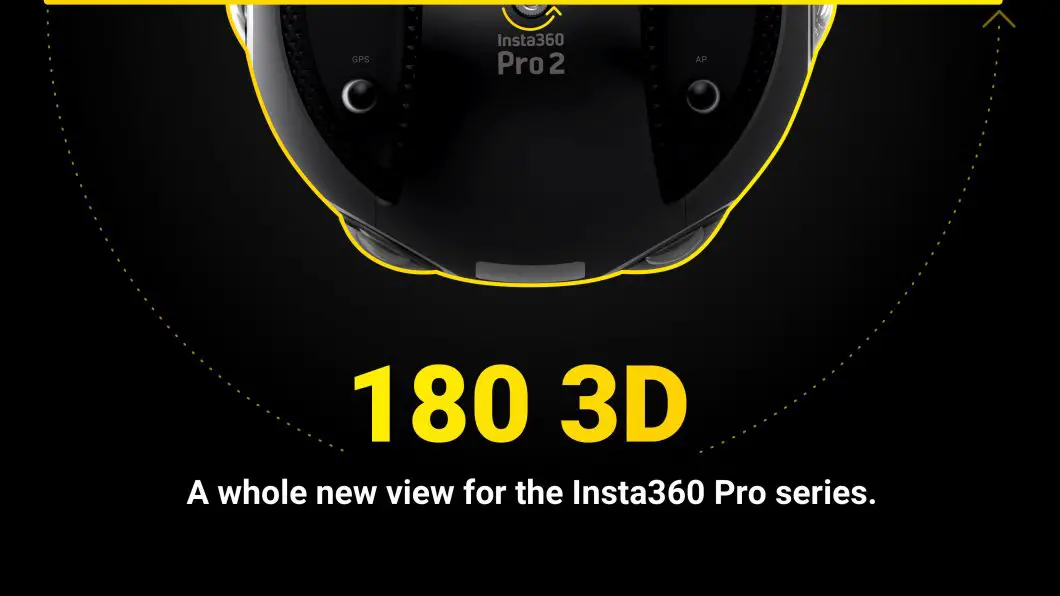 With the upcoming 180 degrees 3D feature, Insta360 Pro and Pro 2 users will have the option to isolate the footage captured by only the lenses necessary to capture a 180 3D video. This footage can then be used to easily create a high-quality stereoscopic 180 video for playback in a VR headset, at a resolution of 4K x 4K per eye.
All you do is simply point their camera in the direction that they want to capture a 180 3D video (the front is the direction the camera's display screen is facing) and then start a recording as normal. The cool thing about 180 degree capture, is that you are still recording a full 360-degree video, but with the added freedom to choose either format 180 or 360 after the fact in post production.
You can edit the footage either by using Insta360 Stitcher software or Insta360's dedicated extension for Adobe Premiere Pro CC. You are given the option to toggle on or off a 180 3D setting in import. When toggled on, the software will grab only the video files needed for a 180 3D video.
Insta360 Stitcher workflow

Automatically stitches and converts selected footage to a standard format for 180 VR, before carrying out further editing in an NLE

Adobe Premiere Pro CC workflow

The new 180 3D functionality has been added directly to Insta360's existing "No-Stitch Editing" extension, and the workflow is as easy for 180 video as it is for 360.
After importing, you will be able to immediately carry out a full edit on a proxy version of their video, allowing you to see exactly how the finished 180 video will look without stitching or conversion saving you time; after the video is trimmed, polished and ready to export, the extension will stitch only the footage that made it into the final cut of the video and convert it into a standard 180 3D format.
Insta360 Pro 2 Features/Highlights
Capture up to 8K 3D 360 Videos & Stills
1000′ FarSight Remote Viewing & Control
Record 8K while Live-Streaming 4K Video
No-Stitch Editing in Adobe Premiere Pro
9-Axis FlowState Image Stabilization
Records to 6 x MicroSD & 1 x SD Card
Six 200° Fisheye Lenses (Selectable)
Built-In GPS Supports Google Street View
Auto Proxy File Creation
2 x USB, 1 x Ethernet, 1 x Audio In
Price: $4,999.95 at B&H
Available: October, 2018
The 180 degree 3D firmware update for the Insta360 Pro and Pro 2 is set to be released later in October.
Claim your copy of DAVINCI RESOLVE - SIMPLIFIED COURSE with 50% off! Get Instant Access!