Pomfort LiveGrade Pro version 4.3 adds ACES 1.1 support and new LUT presets for ARRI, RED and Sony cameras
Earlier in the year, Pomfort had a massive update to their industry favourite DIT/on-set grading software LiveGrade Pro. This was then followed by an incremental update to 4.1 and more recently LiveGrade Pro version 4.2, which also added further support for the Panavision DXL2 camera.
For those unfamiliar with Pomfort LiveGrade Pro, in short, it is sort of an industry standard software that DITs all over the world work with on a daily basis on set to provide on-set look management. This is mainly in part due to the software's extensive scalability and superior integration with various pro camera workflows and setups, which has enabled Pomfort LiveGrade Pro to become an integral part of film, TV and commercial shoots.
Pomfort also have a PocketControl app that allows users to remotely monitor and control their ARRI Alexa Mini and ARRI AMIRA cameras via iPad and iPhone.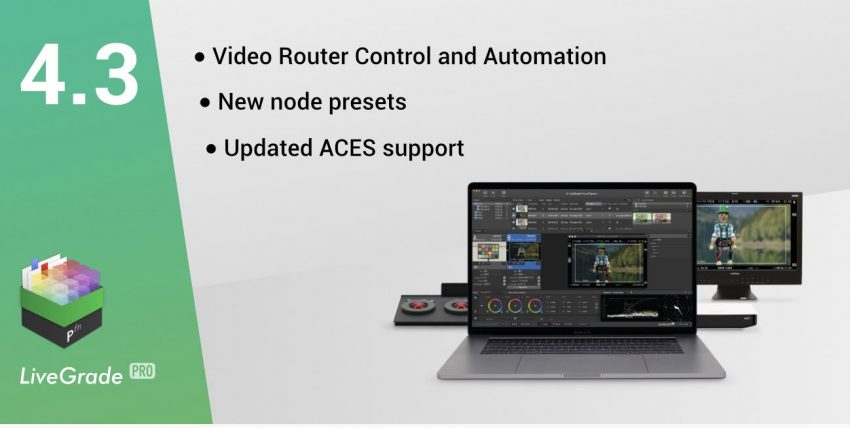 Version 4.3 adds video router control and automation among other features. Video routers are often used to route camera signals to the devices controlled by LiveGrade Pro. DITs can now setup routing configurations within the application, and trigger these configurations either from the application when needed, or automate them on certain events within the application such as slot changes.
With this feature the entire video setup can now be operated from LiveGrade Pro.
What's New in LiveGrade Pro 4.3
Updated ACES Support:
Downloading:

Improved mechanism for downloading ACES transforms

ACES 1.1:

New ACES 1.1 version available
New Features and Improvements:
Wildcards:

More wildcards for file names for look and still export

Still export:

Export of stills without look applied ("log" still export)

Reference Mode:

Compare in split screen as well as overlay mode

LUT presets:

New LUT presets for ARRI, RED, and Sony cameras

Non-interactive mode:

New for ARRI CAP and Sony F65 cameras
Video Router Control and Automation
Router Control:

Support for Blackmagic Design Smart Videohub

Configurations:

Create routing configurations for selected router connections

Apply:

Apply routing configurations on certain actions (e.g. slot changes) or menu / custom keyboard shortcuts

Automation:

Custom automations for in-application events and actions
New NODE Presets:
Selected Nodes:

Save selected grading nodes

Look Library:

Build your library of "node presets", e.g. for filter corrections

Apply:

Only update nodes with same name
Getting Started with Pomfort LiveGrade Pro
To download LiveGrade Pro version 4.3 and more info and pricing head over to Pomfort.
Claim your copy of DAVINCI RESOLVE - SIMPLIFIED COURSE with 50% off! Get Instant Access!