Ever wanted to turn your FS7 into a Betacam SP? Well, thanks to the new Sony ENG kit you can go back in time and re-live 80's glory.
For all you ENG fanatics out there, Sony has got your back. Literally. At NAB 2019, Sony is further optimising the ubiquitous PXW-FS7 and PXW-FS7 II XDCAM camcorders for news gathering thanks to the introduction of a new ENG-style kit and a B4 lens to E-mount adapter.
The ENG kit is of course eloquently named the Sony CBK-FS7BK, and it enables extended shoulder mount usage, making the camcorders ideal for further applications from news production, interviews, documentaries and reality television shooting. Combined with the LA-EB1, a new lens mount adapter, both E-mount and B4 lens assets can be used on either an FS7 or FS7 II, allowing users to capture images with deep and shallow Depth of Field (DoF) – all with a single camera.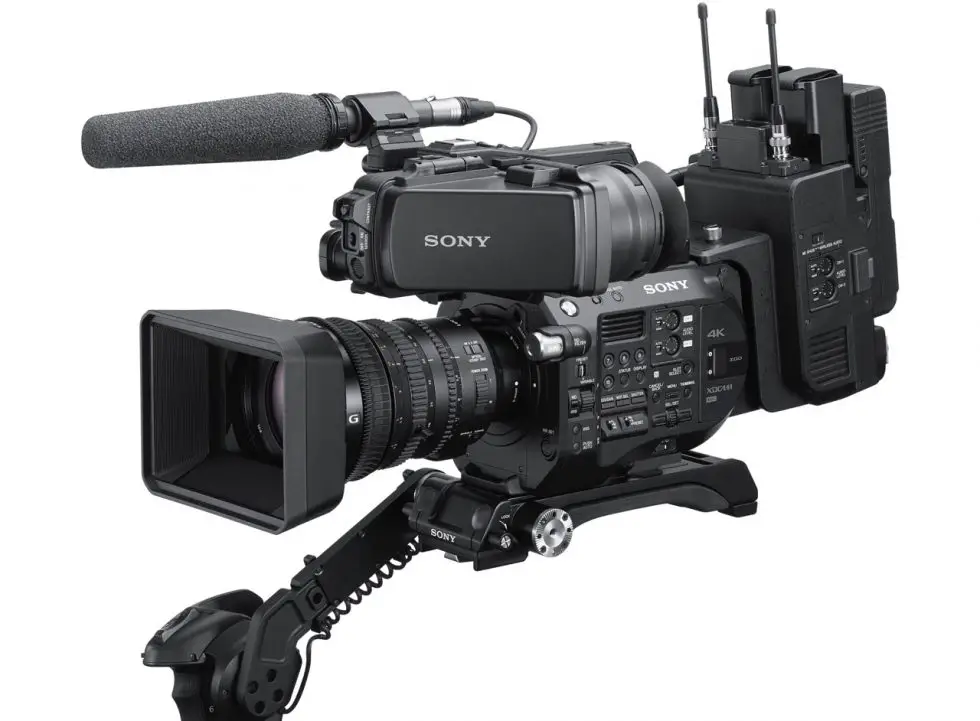 "The new build-up kit and lens mount adapter give the FS7 and FS7 II camcorders the ergonomics, networking features, and zoom ratio of a traditional run-and-gun shoulder mount camcorder – allowing crews to quickly adapt their shooting capabilities with minimal equipment," said Norbert Paquet, Head of Product Management at Sony Professional Solutions Europe.

"As video production evolves, the demand for cinematic-style shooting has permeated into every corner of the industry, including broadcast news. FS7 shooters will be excited by the possibilities and adaptability that the new build-up kit and lens mount adapter provides to power today and transform tomorrow."
The new CBK-FS7BK ENG-up kit includes the following: an extension unit with a wireless audio receiver slot and built-in network capability providing advanced network operation for broadcast usage; a viewfinder and a cheese plate with enhanced robustness, and an adjustable shoulder plate designed to achieve optimal weight balance.
Streaming and file transfers are possible via a wireless LAN or a 4G/LTE connection and QoS performance streaming is provided through the camcorder's Dual Link connection that enables the multiplexing of two cellular networks.
With the new LA-EB1 mount adapter, a B4 lens can be attached to FS7 and FS7 II camcorders. (Do note that this means that this only works in HD or 2K centre scan mode.) With it, the camcorder can shoot deep Depth of Field (DoF) with the high zoom ratio necessary for traditional news production.
Through DC supply from the CBK-FS7BK or FS7 extension unit XDCA-FS7, compatibility with the B4 mount's communication interface enables start/end recording using the lens REC button. Additionally, information such as iris and focus are displayed on the camera's viewfinder and recorded as metadata – streamlining efforts in post-production. The adapter also works as a hub for the power zoom of the lens, enabling one-hand operation via the servo zoom.
SONY CBK-FS7BK ENG build-up kit and LA-EB1 mount adapter Highlights
Various interface support including Genlock/TC and RAW output
Compatible with Sony BP-GL and BP-FL series batteries
Newly-designed shoulder plate with an extended slide mechanism

– allowing users to find the optimum weight balance with their choice of lenses

ENG-style LCD viewfinder included
Exchange lenses on location with no tools required
Image circle is expanded to 13.5mm by magnifying the optical system.

The F drop is as small as 0.6 capable of capturing bright images*

ALAC (Auto Lens Aberration Compensation) decreases chromatic aberration caused by the lens*
*By Version 1.1 planned for early 2020
*Need to supply DC from CBK-FS7BK or XDCA-FS7
The ENG-style build-up kit and mount adapter for FS7 and FS7 II will be available in December 2019. No pricing info yet.
Disclaimer: As an Amazon Associate partner and participant in B&H and Adorama Affiliate programmes, we earn a small comission from each purchase made through the affiliate links listed above at no additional cost to you.
Claim your copy of DAVINCI RESOLVE - SIMPLIFIED COURSE with 50% off! Get Instant Access!