This week is going to be loaded with Sony news and we start off with some new media and accessories. Sony has just announced a new Tough SF-M SD card range with support up to 256GB, as well as a new USB reader/USB hub designed to satisfy the needs for a ultra-high-speed, reliable and efficient workflow for video professionals and photographers. With the introduction of the new Sony MRW-S3 – the world's fastest UHS-II SD/microSD card reader and USB Hub featuring USB 3.1 Gen 2 and up to 100W USB Power Delivery. The USB hub also features an HDMI output for expanded connectivity.
Professional photographers and video creators, who often have to travel with a few card readers will no longer need to worry about carrying numerous adapters and dongles to utilise their various pieces of kit they have to hook up to a laptop. The new Sony MRW-S3 is a one-stop solution for fast and reliable data transfer in the form of a handy USB Hub based around the latest USB Type-C standard connection.
Dubbed "the world's fastest UHS-II SD and microSD card reader" has been designed to handle everything from high-resolution RAW image files to date intensive 4K video files. The MRW-S3 is also the fastest USB Hub supporting USB 3.1 Gen 2 and provides ultra high-speed data transfer of up to 1000MB/s. The reader supports MicroSD and SDXC II cards, and in addition to the USB-C connectivity you also get a normal size USB Type A connection.
In addition, the MRW-S3 can receive up to 100W USB Power Delivery (USB PD) to ensure stable and reliable connections with USB devices. Users can be notified by the USB power level indicators if each port is ready to be connected at max power supply levels, eliminating worries of sudden disconnection due to poor power management.
The MRW-S3 has a HDMI output with 4K/30fps capabilities, to connect to external monitors without the hassle of carrying extra adaptors or sacrificing limited ports on your PC.
The powerful USB Hub has a durable aluminium body with a wave surface to prevent scratches, while the grip makes handling easier than ever, especially when connecting and disconnecting devices. The Sony MRW-S3 is quite lightweight – it weighs just 95g and comes with a detachable USB-C to USB-C cable for connecting to the host PC and helps prevent cable damage. This cable also can be used for connecting to USB 3.1 Gen 2 devices or to a USB PD AC adapter up to 100W, thanks to its embedded eMarker.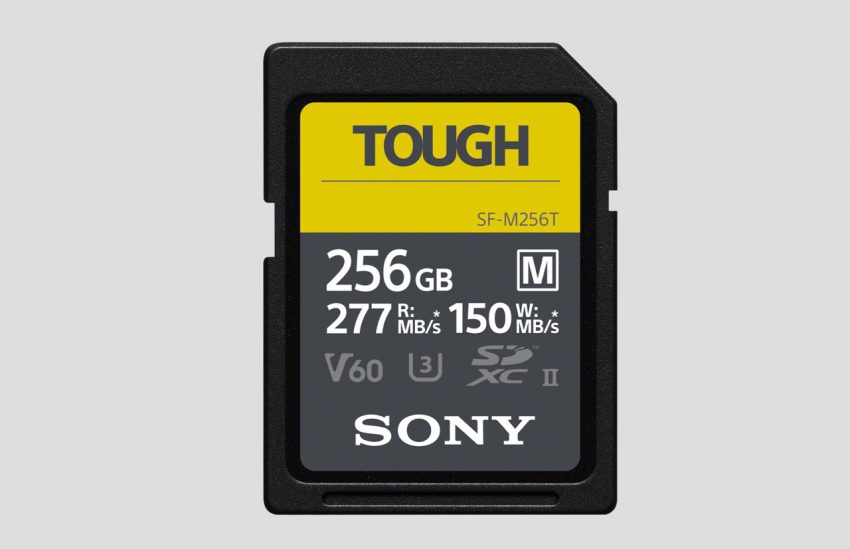 Some of you may be already familiar with the Sony SF-G TOUGH series of cards, and now Sony are expanding their TOUGH SD range with the release of the SF-M TOUGH and SF-E TOUGH specification SD cards. The Sony TOUGH series are pitched as "the world's toughest UHS-II SD cards" that are shockproof and have the highest-grade waterproof and dust-proof levels.
The new Sony SF-M TOUGH SD cards offer ultra-high-speed data transfer rates of up to 277MB/s read speed and 150MB/s write speed allowing photographers and videographers to enjoy the speed benefits of the SF-M TOUGH SD cards, whether shooting high megapixel RAW photographs or recording 4K video. When used with the MRW-S3 USB Hub, backups are swift and buffer times reduced, resulting in a highly optimised workflow.
As mentioned above, the new SF-E TOUGH USH-II SD cards sit below the SF-M series offering slower, but still fast transfer speeds of up to 270MB/s read and 120MB/s write. Both the SF-M TOUGH specification SD card and SF-E series include file rescue software to recover accidentally deleted data and photos.
Both the SF-M and SF-E TOUGH series will be available in 64GB, 128GB and 256GB capacities. No pricing yet, however the Sony MRW-S3, SF-M series and SF-E series are expected to become readily available sometime in Fall 2019.
To learn more about the Sony MRW-S3 and the new TOUGH SF-M/SF-E cards head over to Sony.
Claim your copy of DAVINCI RESOLVE - SIMPLIFIED COURSE with 50% off! Get Instant Access!