MASV, or more easily pronounced MASSIVE, the world leader in cloud delivery of enormous video files, just announced a their new integration with Adobe Premiere Pro. This extension simplifies the delivery of large video projects by embedding MASV's accelerated cloud transfer technology directly within Premiere Pro. And since there are still plenty of editors, creators, production companies and agencies based around Adobe Premiere Pro and the CC suite, this integration can solve some major headaches.
The new extension is available for free at www.massive.io/premiere or the Adobe Exchange.
The new MASV Panel for Premiere Pro reliably renders, uploads and sends enormous (20GB and higher) files that are typically too large for conventional cloud transfer services. MASV delivers files over a high-performance global network, exploiting users' maximum Internet bandwidth.
2019 has been really busy for MASV, which launched a new version of the service in February, followed by a chain of significant updates, such as a new MASV Desktop app for Windows/MacOS offering the same resiliency and transfer performance as the MASV Panel for Premiere Pro.
Then came the MASV Slack App last month providing notifications through Slack to keep production teams apprised of deliveries and stop waiting and worrying about deliveries.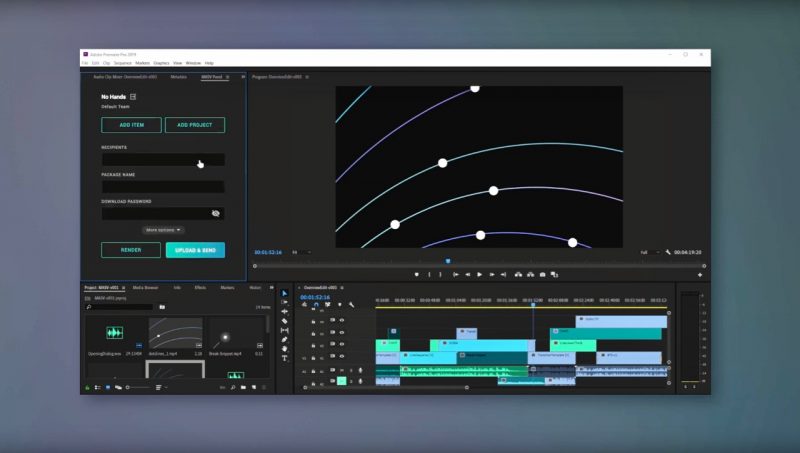 A service such as MASV displaces the shipping of hard drives, the cost and complexity of on-premise, server-based transfer tools, and the pain inflicted by the file-size limits of conventional cloud services. Transferring large files to clients can be a massive pain, which I am sure that anyone involved with creative video has experienced at some point in time, and services like MASV can really make the process much easier, faster and more reliable.
"Today's video professionals are increasingly independent and distributed globally. They need to deliver huge projects faster, often from home studios or remote locations, while collaborating with teams that can change from project-to-project," said Dave Horne, VP Growth at MASV.io.

"This new production paradigm has broken traditional transfer methods, namely the shipping of hard drives and use of expensive on-premise transfer tools."
MASV Premiere Pro Integration Key Features
The new MASV Extension installs in a dockable panel, integrating perfectly into Premiere Pro CC 2018 and higher, and is compatible with MacOS and Windows computers.
Upload full projects, project sequences, files and folders from within Premiere Pro. The MASV Panel retries aggressively, sending your files successfully even in poor networking conditions.
Render projects to any Adobe Media Encoder export preset, then send, in one easy process. Favourite export formats can be stored for quick use on future uploads.
When exporting to Media Encoder, choose to automatically upload and send after rendering. Alternatively, opt to review your export before uploading.
Monitor export and transfer progress, plus upload performance stats, in real time.
Distribute transfer notifications via email and Slack.
Password Protected Transfers
Secure deliveries by adding a password. Transfers are fully encrypted at rest and in flight and comply with GDPR standards.
Easily set your storage duration based on your project requirements. Set a nearer delete date for maximum security or longer for convenience.
Set download limits to protect sensitive content and manage transfer costs.
Manage and Track Deliveries
Send files from Premiere Pro, then use the MASV Web Application to review delivery status, delivery costs, and manage active deliveries with ease.
MASV simplifies your client deliveries and enables you to send terabytes of data, at ridiculously fast speeds, without ever having to manage storage or deal with file size limits.
For a full list of features and a free 100GB trial, please visit www.massive.io.
Disclaimer: As an Amazon Associate partner and participant in B&H and Adorama Affiliate programmes, we earn a small comission from each purchase made through the affiliate links listed above at no additional cost to you.
Claim your copy of DAVINCI RESOLVE - SIMPLIFIED COURSE with 50% off! Get Instant Access!