Filmmaker Hasraf 'HaZ' Dulull recently chose the BMPCC 4K, DaVinci Resolve 16 and Blackmagic Raw as his main format on a short segment he directed the new horror anthology from the producers of V/H/S.
Those of you that know me, know that I am a huge horror fan and a big fan of the original V/H/S anthology, so naturally, when I learned that the mighty Blackmagic Pocket 4K camera was used to shoot a horror film, I just had to tell you about it.
"Portals" is a new sci-fi horror anthology produced by Brad Miska ("V/H/S") set during a series of worldwide blackouts when millions of mysterious cosmic anomalies have appeared across the planet.
Short film anthologies in the vein of VHS and the ABC's of Death (and the countless others that followed through the years) usually rely on shoe-string budgets per segment, so each filmmaker tasked with their own segment has to do with very little and stretch his creativity to the max. And the schedules are super-tight to add some extra difficulty to the task of producing and executing such anthology segment.
HaZ explains some of his reasoning for going with the BMPCC 4K/BRAW/Resolve combo, which is quite fearsome when you have very little money to work with.
"The film was pretty near complete and in its final stages of post when Liam O'Donnell (director/producer of the hit sci-fi action film Beyond Skylines and one of the directors of Portals) called me up asking if I would like to get involved. The producers needed someone to direct some bookend sequences to add more scope and setup. I loved the premise which has a 'Black Mirror' element to it, so I jumped in to help out.

"When I pitched an idea for the film's ending it quickly evolved into an additional segment of the anthology story which I directed.

"The overarching idea of Portals is to examine the one post-apocalyptic event from different perspectives, so therefore each segment has different characters and scenarios and locations.
For HaZ's segment, they had only five days of prep and shot it over two days, which is a super-tight schedule! HaZ and his cinematographer Colin Emerson had been following the big advancements Blackmagic Design was making in 4K acquisition and streamlining post-production workflows with their latest Blackmagic Raw codec, hence why the pair decided to shoot their segment on the Blackmagic Design Pocket Cinema 4K.
This also meant they'd have access to BRAW, the latest raw format from Blackmagic, which makes editing a breeze, bringing the speed of a ProRes-like format, while retaining the colour fidelity and post-production flexibility of Raw.
HaZ also adds:  "I had always avoided RAW because of the huge file size and data transfer and I have to admit, we were hesitant about using BRAW at first because I was so used to shooting and capturing Log in QuickTime ProRes 4444. But the team at Blackmagic has always been so supportive and provided us with support right up till the end of the shoot. After testing BRAW – I was impressed."
To keep consistency between the cinematography of the segments, HaZ and his DP decided to keep the "loose nature to the cinematography" and decided to fit the Blackmagic Pocket Cinema Camera 4K to a Manfrotto FigRig, which is somewhat of an old school device, but time and time again has proven very useful.
His DP, was able the stills lenses he preferred, including the amazing Sigma 18-35mm f/1.8 Art, which they mated to a Metabones Speed Booster in order to mount it to the Micro Four Thirds mount of the camera. The other two lenses used were the Olympus 12mm f2 and the Lumix 35-100mm f2.8 both in the native MFT mount.
To get a live view from the camera on set, the DP used the camera on board screen, while the director used a tethered Ikan DH5e external LED monitor.
In post, HaZ utilized the "autosync" features in Resolve 16 to sync up all the picture rushes and the sound rushes, which enabled him to start editing in Resolve right away.
The director also added that he preferred natural skin tones in this short, due to the intimate nature of the drama and horror, and thanks to the quality of Blackmagic Raw he was able to get some great footage. BRAW offers an extensive control over ISO, white balance, exposure, contrast, saturation – and with all that information easily accessible within Resolve, he was able to set the temp look during editing and the colourist then worked from there.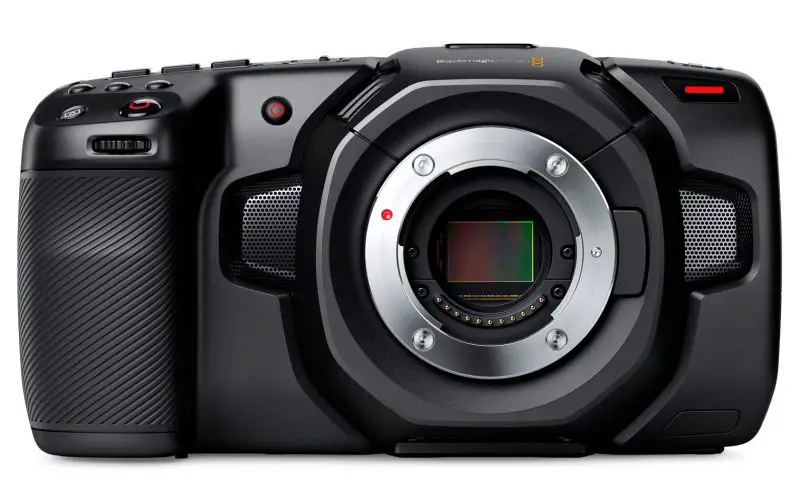 "In fact, it worked out so well that when we showed the footage to the LA team they couldn't believe how cinematic it was, particularly when they learned we had shot using the BMD Pocket Cinema. All the other segments were shot on cameras like RED but the film is designed so as not to blend as one look. Each segment stood on its own in terms of look to give them their own identity."
See the trailer for PORTALS here:
You can also learn  more about HaZ's filmmaking process in detail, with a masterclass series he recently launched: https://vimeo.com/ondemand/filmmaking101
[via Blackmagic Design]
Claim your copy of DAVINCI RESOLVE 16 - SIMPLIFIED COURSE with 50% off! Get Instant Access!