Oh, boy it's starting; 2020 is nearly here and with it an incoming 8K frenzy is quite likely to occur within the industry. Canon has been making HD and 4K broadcast lenses for some time now, and the leader in broadcast lenses just announced the launch of its first two Canon 8K broadcast lenses: the massive Canon UHD-DIGISUPER 51 (SP51x15.5B), a long-zoom field lens, and the Canon 7×10.7 KAS S, a portable 8K zoom lens.
These two new zoom lenses are compatible with 8K broadcast cameras equipped with 1.25-inch sensors. While still in its infancy and very early stages of adoption, 8K broadcast for sports, would require a move from the traditional 2/3rd inch sensors to 1.25-inch sensors setup in broadcast cameras capable of broadcasting in 8K. More on the new format below.
"8K broadcasting equipment is the newest frontier for covering sporting events and documentary productions around the globe," said Kazuto Ogawa, president and chief operating officer, Canon U.S.A., Inc. "Through the addition of our first 8K broadcast lenses, Canon is cementing our position on the cutting edge of the latest ultra-high resolution digital imaging solutions."
Canon UHD-DIGISUPER 51 (SP51x15.5B)
The UHD-DIGISUPER 51 8K field zoom lens provides high-quality optical performance for 8K broadcast cameras from the centre to the periphery of the screen. The lens is built with the world's highest 51x zoom, as well as the world's longest focal range from the wide-angle end of 15.5mm to the telephoto end of 790mm.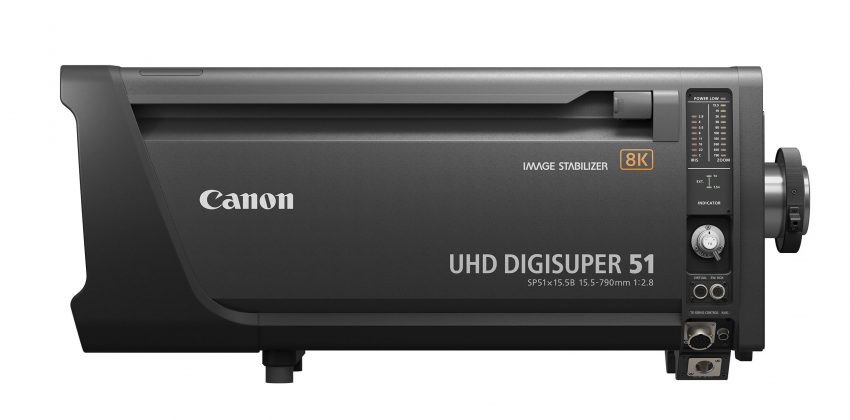 In addition, the lens also features a built-in 1.5x extender that increases the maximum focal length to the staggering 1185mm. With its incredible high magnification ability, this lens provides users the same operability as a conventional 2/3-inch HDTV or 4K field zoom lens, allowing them to switch to 8K video shooting and production without changing the shooting style
Canon 7×10.7 KAS S
8K

 Lens


On the more compact style broadcast zooms, Canon has announced the 7×10.7 KAS S 8K lens, featuring a 7x zoom that covers a focal range of 10.7mm to 75mm, thus making it ideal for a variety of broadcasting applications including shoulder camcorders. From the centre of the screen to the corners of the periphery, this lens has the resolution and contrast compatible with 8K broadcast cameras, while also having the same operability as a conventional 2/3-inch HDTV or 4K portable zoom lens.

The 7×10.7 KAS S is equipped with key features designed to provide camera operators with a high-quality, user-friendly experience, including the mobility required for on-the-move shooting.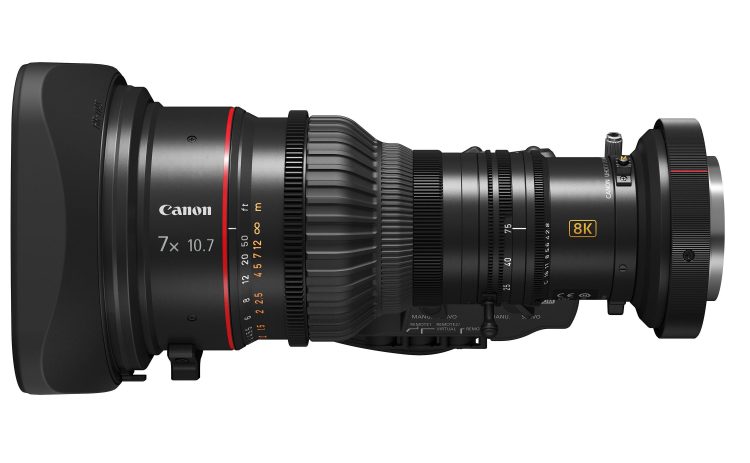 1.25-Inch Sensors for
8K

 UHD Live Television


The early experimental 8K UHD live television coverages of sporting events proved critical to determining the image format size that could deliver the essential depth of field while also ensuring an individual image sensor photosite size that could sustain 8K MTF, adequate dynamic range, and luma signal to noise.

A new, larger 1.25-inch image sensor size balances those imaging parameters in triple-sensor cameras for 8K UHD live television. The 1.25-inch image format has a diagonal of 18.5mm as compared to the smaller 11.0mm of the 2/3-inch format and the larger 28.2mm of the Super 35mm format.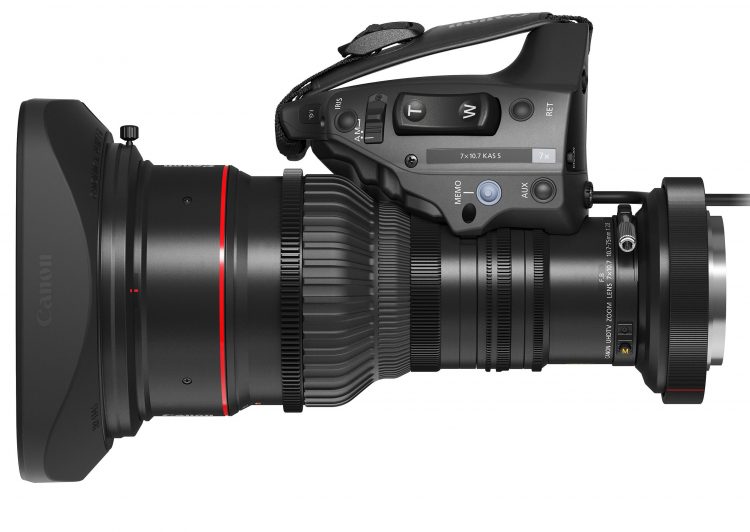 Both the Canon 7×10.7 KAS S and the UHD-DIGISUPER51 are special order lenses; the 7×10.7 KAS S will be available to order in January 2020, and the UHD-DIGISUPER 51 will be available to order in May 2020.
Pricing info has not yet been released, but give their specialty nature and niche market, expect five figures each; best to get in touch with your local authorised Canon broadcast lens dealer to get the particulars. To learn more about Canon broadcast lenses head over to Canon.
Claim your copy of DAVINCI RESOLVE - SIMPLIFIED COURSE with 50% off! Get Instant Access!