The Chinese budget-oriented lens maker Meike has recently expanded its cine lens lineup with the inclusion of a brand new fully manual 35mm T/2.2 lens for mirrorless cameras. The newcomer is available in various lens mounts, including MFT, Sony E-Mount, and Fujifilm X Mount and sells for $359.
With this lens, the Meike Cine lineup now consists of a 12mm, 16mm, 25mm, and 35mm, all with a maximum aperture of T/2.2. All lenses are available in Sony E-Mount, Fujifilm X Mount, and MFT except for the 12mm and 16mm which are only available in Micro 4/3 Mount.
As for the Meike 35mm T/2.2 itself, it's entirely made out of metal and the focus/aperture rings have standard 0.8 mod/32 pitch gears. The focus ring has a focus throw of 270 degrees, plus there are focus distance and aperture marks on both sides of the lens.
Furthermore, the focus gearing of the unit lines up perfectly with the other members of the line which makes swapping any of the Meike cine lenses a breeze, especially when used in conjunction with a manual/wireless follow focus system along the way.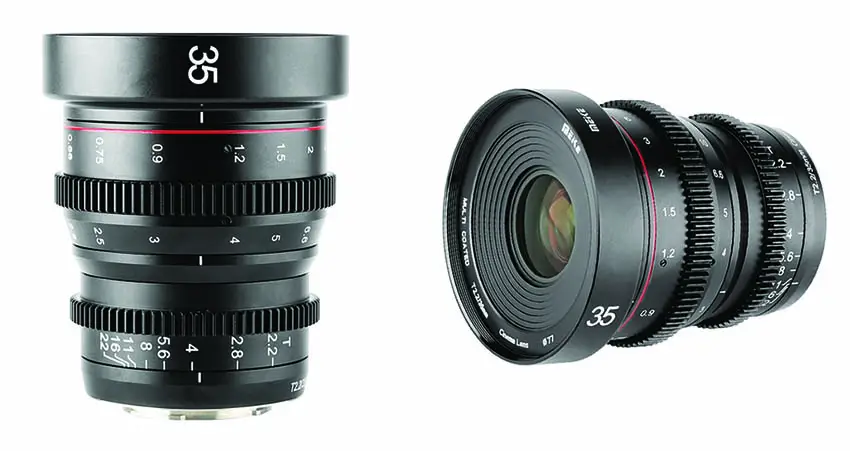 The optical design of the new cine lens consists of ten elements arranged in eight groups producing sharp images and smooth, circular bokeh when wide open. The Mieke 35mm T2.2 also has excellent focus breathing with a minimal movement even during long focus pulls.
The unit is relatively compact with a total length of only 80mm (slightly longer than the 16mm and 25mm siblings) while weighing in at just 1.45 lbs/660 grams. The minimum focus distance is 42cm. There's also a 77mm filter thread on the front.
Meike 35mm T2.2 Cine Lens Highlights
Fully Manual Lens
Super 35/APS-C coverage
All metal
Available in MFT, Sony E, and Fujifilm X
Equivalent focal length on M4/3 bodies – 70mm
Wide aperture of T2.2
Focus ring rotation: 270°
Minimum focusing distance of 42cm
Very long focus throw, perfect for accurately pulling focus
Filter thread size – 77mm
Weight: 1.45 lbs/660 grams
Lens view angle: diagonal 37°, horizontal 30°, vertical 22°
Meike are also planning to add more focal lengths to their Cine lineup of lenses in the upcoming months, with a 50mm, 65mm, and 85mm all at T/2.2 currently in the making.
[source: Meike]
Order Links:
Meike 35mm T2.2 Manual Focus Cinema Lens (B&H, Amazon)
Claim your copy of DAVINCI RESOLVE 16 - SIMPLIFIED COURSE with 50% off! Get Instant Access!