You asked for it and Zacuto listened – the new Kameleon Pro EVF is now available with waveform, vectorscope, new software, and a new display interface with enhanced features!
The newly announced Kameleon Pro EVF, "powered by JTZ", inherits the much needed professional monitoring features of the original Kameleon EVF, including 3D LUTs support, and also adds the much requested Waveform and Vectorscope feature, in addition to a new display interface. The lack of waveform was one of the main criticisms the original Kameleon EVF received upon its release.
It's good to see Zacuto and JTZ work towards getting this resolved, however, some will frown upon the fact that this could not have been done with a firmware update. More on that and how Kameleon EVF users can upgrade to the Pro version below.
Unlike the Zacuto Gratical EVFs, the Kameleon EVF and the Pro version support 4K HDMI signal (downscaled to 1080p) and also offer 3D LUTs support. The Kameleon also features a 4-pin Lemo power jack and a single SDI and HDMI input.
The Kameleon as an EVF is more suited towards those using mirrorless and DSLR cameras and sometimes swap between cameras with SDI outputs such as the Canon C300 Mark II or Sony FS7. This way you can use the same EVF on cameras in a different class, very useful, as most of us own more than one camera.
Just like on the Gratical EVFs however, the new Kameleon Pro EVF (and the original) features a built-in -1 to +4 diopter range and Zacuto's patented essential anti-fog coating formula. This prevents fogging in humid or very cold environments. An auto-closing eyecup door helps prevent your display from getting burned by the sun.
Kameleon EVF Pro Monitoring/Software Features:
Custom Scaling/Frame lines
Calibration Settings
Center marker/crosshair
Anamorphic/4:1 Zoom
Image Flip
False Color
Red Line Peaking
Edge Enhancement Levels 1-3 Peaking
Zebras/Waveform/Vectorscope/Histogram
Audiometers/4 programmable hotkeys
3D LUT import
SMPTE Color Bars
Price: $1,950 at Zacuto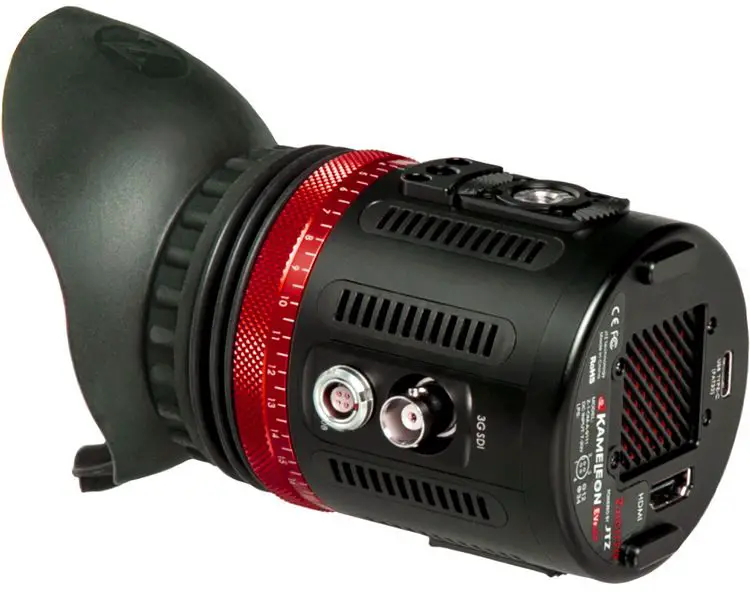 Zacuto Kameleon Pro EVF Tech Specifications
Dimensions: 4.9"x 2.75" x 2.83"
Weight: 15 oz
Micro-OLED Display:
Dimension: 0.71" diagonal
Contrast: 10,000:1
Color depth: 24-bit RBG
6.5 million pixels for a hugely expanded
Pixel Info – 3103 PPI
Power Consumption and IO:
Power input: 7-20V
Power input port: 4 pin LEMO 0B
Power consumption: 5W
Connections and Resolutions:
1 x HDMI
1 x 3G-SDI
1 x USB-C for LUT imports & Firmware updates
HDMI input:

4K DCI, 4K, 1080p, 1080i, 720p

SDI input:

3G SDI, 1080p, 1080i, 720p
Ergonomics and Physical Features:
Joystick menu/function button
Adjustable diopter ring
Drop in diopters for additional correction (+1, +2, +3, +4)
Auto Closing Eyecup
2-step anti-fog shields
ARRI Rosette on both sides
Cooling fan
As mentioned prior, unfortunately for Kameleon EVF owners, it is not possible to do a firmware update and give the original EVF the new Waveform and Vectorscope features. Zacuto expain that the reasoning for this is they had to change from an Overlay to a 16:9 image with space underneath to accomodate the new Waveform and Vectorscope into the new interface. The benefits according to them, from moving the data under the image are that this allows for a brighter, more colourful image and helps prevent burn-in.
Zacuto are offering two ways for original Kameleon EVF owners to upgrade to the Pro version (should they wish to do so) – a $250 path to upgrade (you have to send your original Kameleon EVF back to Zacuto) or a gift of $350 store credit.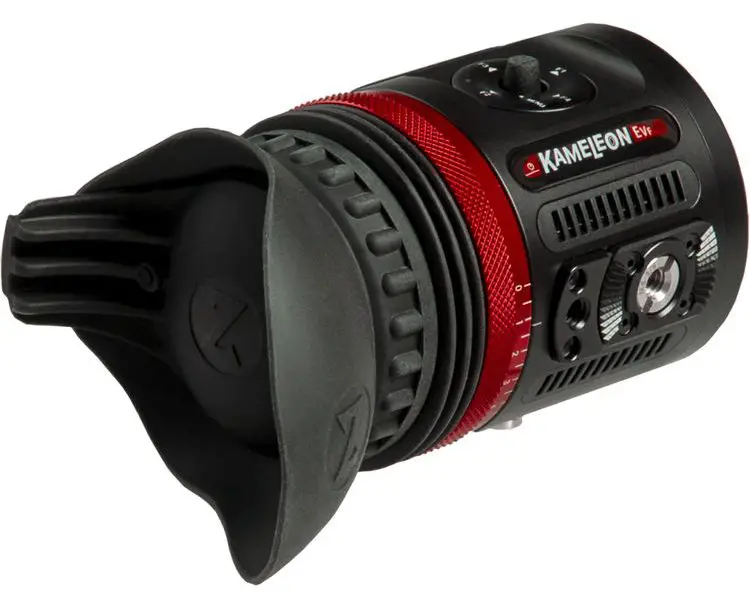 The second option may not be so desirable, given that the Kameleon Pro costs $2K, but nevertheless you have options. Here's more details from Zacuto:
Upgrade to a Kameleon EVF Pro
Pay $250 and Ship your Kameleon EVF back to Zacuto
Fill out a form on Zacuto's website and ship your current Kameleon EVF to them before January 6th, 2020 + pay a $250 upgrade fee. May take 2 weeks for you to get a new Pro model, and you have to send your old EVF before they ship you out the new Pro version.
Take $350 Credit Instead and keep your Kameleon
Zacuto will give you a $350 store credit (to be emailed to you within 2 business days). This credit does not expire but must be used all at once; it cannot be divided between multiple orders. It is valid only through the Zacuto store directly and cannot be used with any dealer.
The Kameleon EVF Pro is priced at $1,950 and you can explore the Kameleon EVF Pro in more details over at Zacuto.
Do you own the Kameleon EVF? If so, are you considering upgrading to the new Pro model, or are the added new features not enough to sway you? Let me know in the comments below.
Claim your copy of DAVINCI RESOLVE - SIMPLIFIED COURSE with 50% off! Get Instant Access!