There's a Canadian filmmaker on YouTube that claims he's got the inside scoop on the next-generation Panasonic S1H II, which promises a huge amount of professional features.
And the leaks suggest that along with Panasonic's new autofocus technology, the S1H II will also capture in 8K. But is that really doable in a compact full-frame mirrorless camera? Well, it depends.
A list of specs was leaked by the Ordinary Filmmaker on YouTube, who seems pretty confident in his inside source to mention a complete list of specs, with his own analysis on how Panasonic plans on updating the original S1H platform.
And what's even more surprising is that while OF says that an announcement may be imminent by the end of this month, it's also very likely that due to conditions in the industry right now, the official drop of an S1H II could be delayed.
Regardless, here's what the S1H II is rumored to sport specs-wise. The camera will be a full-frame mirrorless camera, capable of capturing 8K video at up to 60 frames per second from a 50-megapixel sensor. Other resolutions include 4k at up to 120 fps, oversampled from the 8K sensor.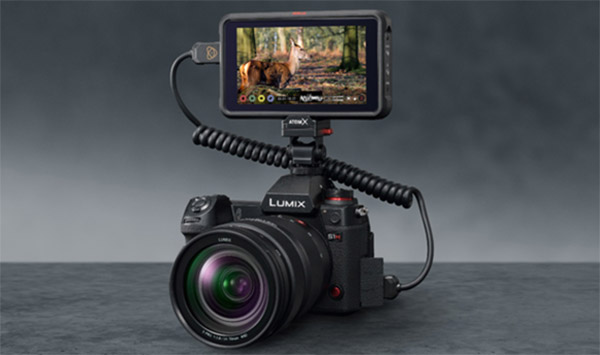 The 8K format will be captured in UHD/DCI and will also offer a RAW output in both 8K and 6K resolutions.
There is, however, no word on if this is an internal spec, but it's likely not, if the camera will be writing to UHS-II SD cards, rather than a faster and more reliable CFExpress card array.
Part of the rumor does suggest that the camera will have at least one CFExpress card slot and one UHS-II SD slot, which is more likely than a dual CFE configuration.
This would enable the camera to capture a limited amount of 8K ProRes Raw video, but more likely that option would need to be output to an external drive like the Atomos Ninja V+. This support is already functioning on many cameras on the market, including the S1H in 6K.
Panasonic is also believed to be incorporating its new Phase Detection Autofocus into the S1H II, much like it did with the S5 II. This makes a lot of sense since the PDAF in the S5 II has been well received and points to Panasonic being so confident in the new scheme, that the camera company has decided to move forward with the technology and never look back.
There are no other specs mentioned, however, looking at the S1H, we can also expect that the new generation model will at least support internal 4:2:2 10-bit recording, V-Log, Dual Native ISO, at least the same 14 stops of dynamic range, and still image burst modes of at least 9 fps.
Other S1H features that will likely remain the same will be keeping the 5.76m-Dot 0.78x-Magnification OLED LVF and the 3.2″ 2.33m-Dot Tilt/Free-Angle Touch-LCD. Also, look for Panasonic to stand pat on the 5-Axis Sensor-Shift Image Stabilization, and keep the tally lamps for talent to know when the camera is recording.
The leak report also falls short in suggesting what an MSRP of an S1H II will be. However, the Panasonic S1H is currently selling for around $3450 at B&H, so one would expect to lay out at least that much, or closer to $4,000 for a mark II variant.
Only time will tell. In the meantime, if you fancy picking up an S1H, it may be a good idea to keep your powder dry for the next 30 days. Otherwise, there's a link below.
[source: DIYP/The Ordinary Filmmaker]
Order Links:
Disclaimer: As an Amazon Associate partner and participant in B&H and Adorama Affiliate programmes, we earn a small comission from each purchase made through the affiliate links listed above at no additional cost to you.
Claim your copy of DAVINCI RESOLVE - SIMPLIFIED COURSE with 50% off! Get Instant Access!