DJI has dropped a teaser for a new drone, which will be announced on May 18th, 2023.
The news was leaked by DJI's Enterprise Solutions division, which leads many to speculate this could be a follow-up to the DJI Matrice 300 RTK.
Fully Powered to Forge Ahead

May 18, 2023 | 9 AM (EDT)

Learn more: https://t.co/PV7Ww7jRKt pic.twitter.com/2fWZOmjkg5

— DJI (@DJIGlobal) May 15, 2023
The promo for the new drone has been entitled "Fully Powered to Forge Ahead," and could indicate that the DJI Enterprise division is poised to launch the next-generation Matrice M350 with improvements to advanced AI capabilities, six-direction object avoidance and navigation, and the potential to crack the one-hour ceiling in flight time thanks to its proprietary drone health management system.
The current model
The current M300, which was DJI's first-ever enterprise UAV with many of the features that have made the more consumer-oriented drones so attractive, utilizes the OcuSync transmission protocol, which can support three-channel encrypted 1080p video transmission from ranges as far as 15KM away (although FAA rules require a drone to remain within line of sight at all times).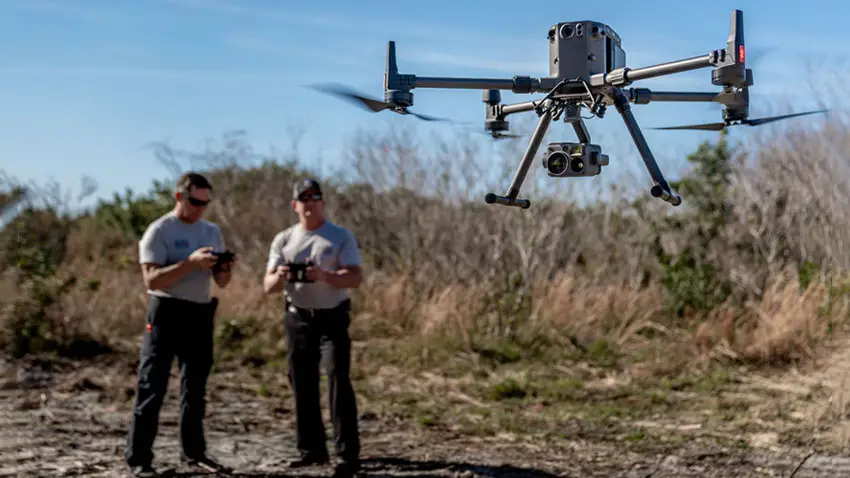 A variety of Zenmuse gimbaled cameras can capture all missions live in 4K, with image stabilization and gimbal orientation straight above and below while it identifies and tracks subjects within the camera frame. The drone can also maintain a maximum payload of up to 5.95 lb / 2.7 kg.
With an AI-powered onboard algorithm, the drone can identify and remember points of interest for recognition during future flight operations, as well as create nearly 70,000 waypoints for hyper-accurate mapping and navigation along a preprogrammed flight path.
A New Model
That's the current model. So what could DJI have in mind for an upgraded version? We could speculate that the M350 may have some compatibility with DJI's new RC Pro remote controller, as well as maybe the latest Goggles Integra.
Looking at the silhouette, though, one can see the so-called hanging propellers and standard DJI RTK antennas. The outline also heavily indicates a Matrice M300 series, but insiders stop short of calling it an actual new design since the tik-tok development cycle would suggest that's still a few years away.
So at best, this new Matrice could just be a moderate improvement with few groundbreaking new features.
Expanded flight times are not out of the equation though, but with the current model already knocking on the 60-minute door, from dual intelligent flight batteries kept on board, just how much longer is anyone's guess.
There is talk that an M350 will use newly designed TB65 batteries, which will deliver 5880 mAh capacity of power for a total system voltage of 44.76 volts. The designation would seem to hint that maybe a flight time of 65 minutes could be achieved.
Pricing and availability
Rumors are also suggesting a potential retail price of around $14,300 (about 13,200 euros). Availability? Well, that's a good question. We can always hope it'll be available right away. We'll just have to wait until Thursday to find out.
[source: DroneDJ]
Order Links:
DJI Matrice M300 RTK Commercial Quadcopter (B&H)
DJI RC Pro Remote Controller (B&H)
DJI Goggles Integra (B&H)
Claim your copy of DAVINCI RESOLVE - SIMPLIFIED COURSE with 50% off! Get Instant Access!