Digging around through the hundreds of options for DSLR gear these days can be frustrating as there is just so many choices out there. From wireless follow focus options to sliders and gimbals, there're tons of gadgets for all sorts of budgets. I was recently doing some research for a follow focus, and I came across an interesting budget option from Camtree/CineCity.
If you are in the market for an inexpensive and quality follow focus system you should consider the Camtree Solid Gear Follow Focus as a viable option. Regardless of its extremely competitive price of only $145 this budget follow focus is built of quality materials and high-grade aluminium moving parts providing fluid and smooth precision focusing.
Furthermore, as part of the kit they include a very flexible adjustable gear ring and speed crank with universal fit for even more diversified and flawless workflow. Alan Besedin from Budget Filmmaker reviewed this follow focus below:
Three things sold me on the Camtree Solid Gear Follow Focus right away. The system is insanely cheap, indeed, has little to no amount of play which is essential for every follow focus system and the clamp's design allows you to mount quickly or remove the unit from the rig without disturbing any other accessories attached to the rail system.
Keep in mind we're talking about a follow focus unit that costs less than $150, and not an ARRI or Bright Tangerine FF, which cost over $1,000, or a Tilta Follow Focus (which is really awesome by the way), and has been my favourite follow focus' I've used in the past year. But for the price, the Camtree FF is looking pretty good.
To mount the follow focus you just need to loosen the horizontal knob and release the clamps allowing you to remove the system in seconds. It is also equipped with a removable magnetic white ring for marking, which is standard accepted by most of the other manufacturers.
Regarding flexibility, there is room for improvements and the Camtree Follow Focus leaves more to be desired, however you still have the option to accurately adjust the gearbox sliding it in and out in order to fit it perfectly to any lens diameter. Also, both side drive gear mounting allows right and left-hand operation for even more flexibility and further adjustments.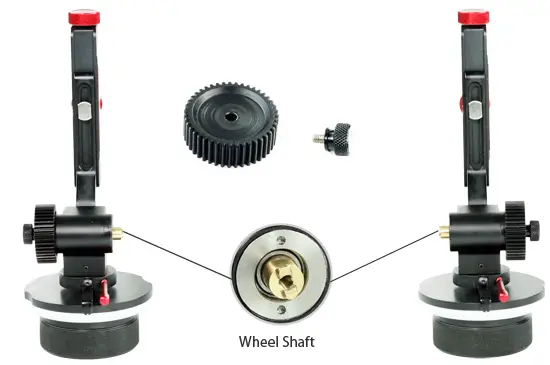 These are some of the feature highlights of the system:
Unbeaten price point and robust build quality, high-grade aluminum construction
Gear driven design for slip-free, accurate movement.
Adjustable locking system Mounts on 15 mm Rod Support (60mm center to center).
Follow focus industry standard 0.8 module.
Fits most lenses with proper focus gear drive (Interchangeable gear drives (currently shipping 0.8/2.51mm pitch)
Follow focus gear ring with Unique locking method to prevent loose rack, works on any prime or zoom lens.
Comes with a 13" flexible gear belt and Speed crank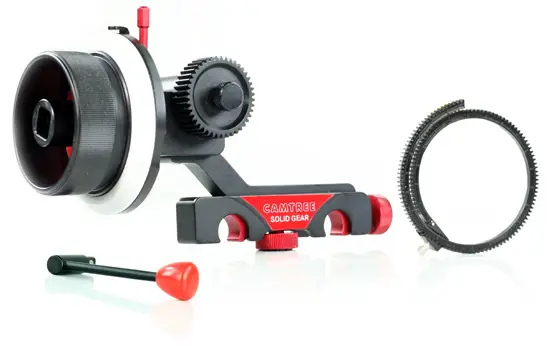 Overall, the Camtree Solid Gear Follow Focus is an excellent and affordable follow focus solution for many shooters looking for gear on a very tight budget providing most of the bells and whistles of much more expensive high-end systems and it's a decent bargain.
[via wolfcrow.com and www.thecinecity.com]
Claim your copy of DAVINCI RESOLVE 16 - SIMPLIFIED COURSE with 50% off! Get Instant Access!