The lightweight 3-Axis stabiliser market segment is quickly getting populated with smaller and lightweight versions of existing stabilisers from companies like DJI, Came TV, Letus, DEFY and now Gudsen are coming out with their own lightweight version of their MOZA gimbal – called the MOZA Lite. DSLR and mirrorless shooters should be particularly excited about this new option as it offers support for camera/lens combos of up to 3 kg/6.6 lbs, full 3-axis stabilisation, various operating modes such as – Upright, Underslung and Briefcase – very similar to the DJI Ronin M, as well as solid but lightweight construction. In addition, the new stabiliser features a quick and easy setup, no need for a separate stand, wireless thumb controller and built-in wireless capabilities with the Premium and Pro versions.
The MOZA Lite will come in three versions:
BASIC – including the gimbal, charger, intelligent battery and a camera mounting plate, or in other words just the bare bones minimum required to run the unit.
PREMIUM – this version ups the ante by adding a wireless thumb controller and a built-in 5.8G Wireless Video Transmitter.
PROFESSIONAL – this version adds a monitor and a waterproof case to the above.
The Moza Lite is designed for mirrorless cameras and popular DSLRs, and weighs only 1.9kg.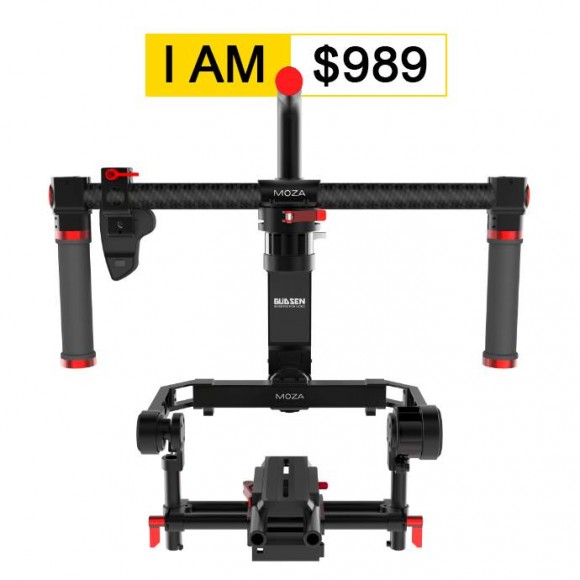 Features
Free-Standing & Easy Set-up
Huge Carrying Capacity
Versatile Wireless Thumb Controller
Wireless Video Transmitter
Flexible Operation Modes
Quick release system
Tech Specs
Weight: 1.9 kg
Maximum Payload: 3.0 kg
Ambient Temperature: -10C°~50C°
Battery Life: 2.5 hrs +
Supported cameras
Sony A7s
Canon 1DC
Canon 5D Mark II / Mark III
Canon 6D,  7D, 60D, 70D
Nikon D800, D600
The company recently released some sample footage shot with the Moza Lite. Check it out below and see for yourself what this stabiliser can do.
Prices for the Basic version start at just $989 (10% off the regular $1,099 for pre-orders). The Premium and Pro versions are $1,299 ($1,169 pre-order) and $1,599 ($1,439 pre-order), but at the moment Gudsen are accepting pre-orders at 10% off and offering free shipping.
The Moza Lite is expected to ship 20 working days after payment confirmation. To place your pre-order and learn more head over to Gudsen.
Claim your copy of DAVINCI RESOLVE - SIMPLIFIED COURSE with 50% off! Get Instant Access!