I've always been a huge fan of SmallHD and their monitors and EVFs. Their DP4 was at one point my go to monitor for my Canon DSLR's and it got me through some rough shoots and never let me down. That's the thing about SmallHD monitors – rugged, well designed, with great features and they just work. A week before NAB this year at the end of March, SmallHD rocked the house by announcing a new line of 5-inch monitors – dubbed the 500 series, and namely the SmallHD 502 was the first one out the door.
The SmallHD 502 is the size of an iPhone and features some really impressive specs such as a Full 1080p resolution LCD with 441 ppi, 3D LUT support, an easy screen navigation with a joystick, HDMI/SDI cross conversion, and best of all it is powered by readily accessible and affordable Canon LP-E6 batteries commonly used in the 5D Mark II/III and EOS 7D and 7D Mark II cameras.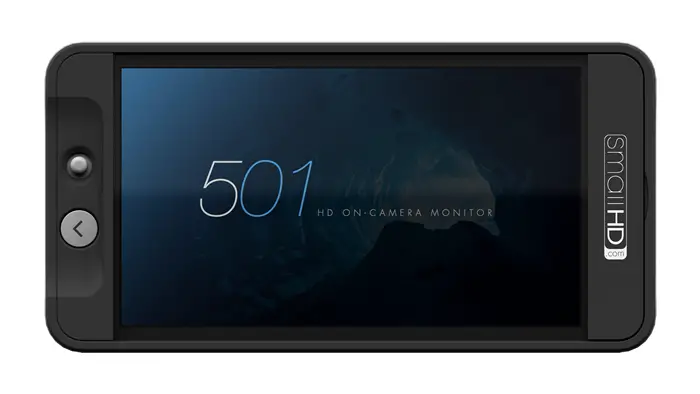 And earlier today, SmallHD announced the latest addition to their 500 series monitors – the SmallHD 501 HDMI monitor. The new 5-inch monitor retains the basically the same features (for the most part) and loses the SDI ports in lieu of HDMI In and Out only, however comes at $300 less than the 502, which costs $1,199 without the Sidefinder attachment.
Speaking of the Sidefinder attachment, which basically turns the 502 and the 501 into super sweet EVF's, will be fully compatible with the SmallHD 501 as well and available for an extra $300 optional accessory to both models.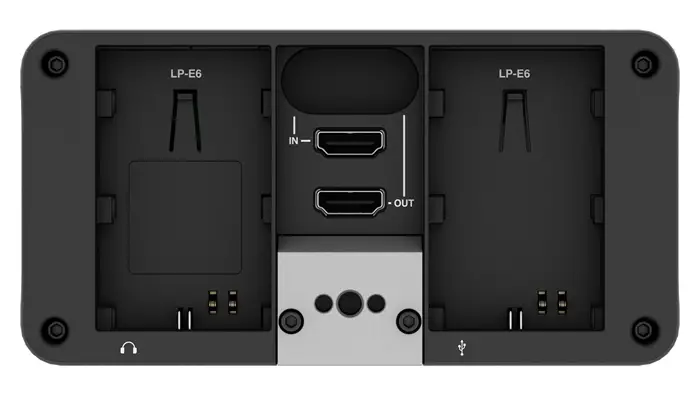 The SmallHD 501 will start selling for $899, which is a more affordable option for most shooters with HDMI based cameras such as the Canon EOS C100 and pretty much all DSLR's and mirrorless cameras out there like the Panasonic GH4, Sony A7s, and Samsung NX1 to name a few.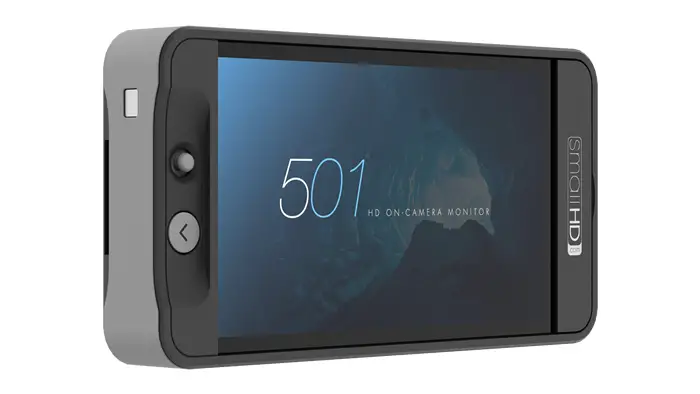 The basic difference between the two monitors remains the HDMI In/Out Pass-through on the 501 and lack of SDI I/O, which is present alongside cross conversion between the two connections on the more expensive SmallHD 502.  I think the new 501 monitor from SmallHD is a step in the right direction and DSLR shooters and Canon C100 owners for examples will benefit the most, as they can now save $300 on not having SDI ports and probably use the money towards a Sidefinder.
Here is a comparison chart between the 501/502 provide by SmallHD: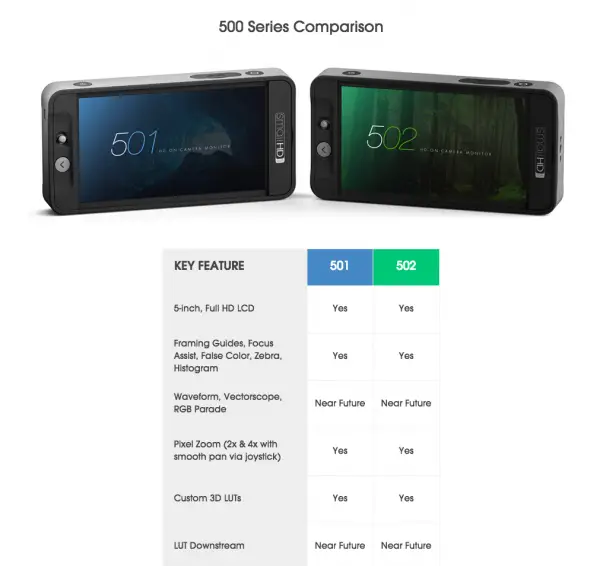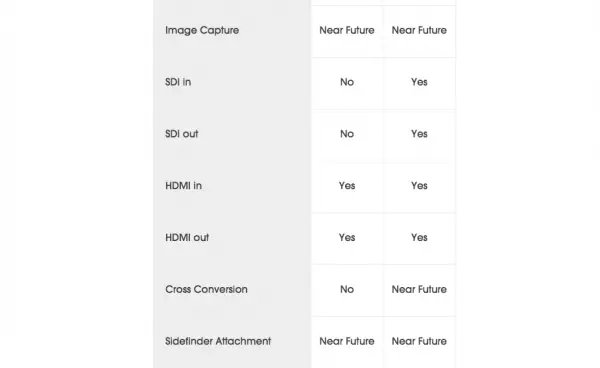 The SmallHD 501 is estimated to ship this Summer, however no concrete dates have been given at this point. We'll be sure to keep you updated on when those get released. What do you guys think of the new SmallHD 501 monitor? Let us know in the comments below.
[via SmallHD]
Claim your copy of DAVINCI RESOLVE - SIMPLIFIED COURSE with 50% off! Get Instant Access!