The AJA Cion was announced and made its debut at last year's NAB trade show in Las Vegas and was a surprise move to many. The 4K camera was to be AJA's first ever, and sported a solid, but lightweight and ergonomic body design with professional I/O, PL Mount, 4K APS-C CMOS chip with global shutter, and on-board ProRes recording in various flavours up to 4K/60p in addition to 4K/120p AJA RAW option out via SDI to an external recorder.
However, production delays and work on optimising the inner-workings of the camera continued throughout most of 2014, and the camera started actually shipping towards the end of December.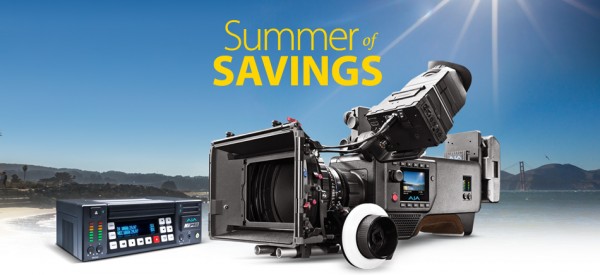 AJA is starting off the summer with a one of a kind of a promotion slashing the price of their first ever 4K camera by nearly half! The 4K CION, the company's first venture into the world of camera making, up until yesterday was available to buy for $8,995 from authorised resellers, but from now until the end of Summer 2015, you can buy an AJA CION for only $4,995 (link to order from B&H), which is a whopping $4,000 off the MSRP.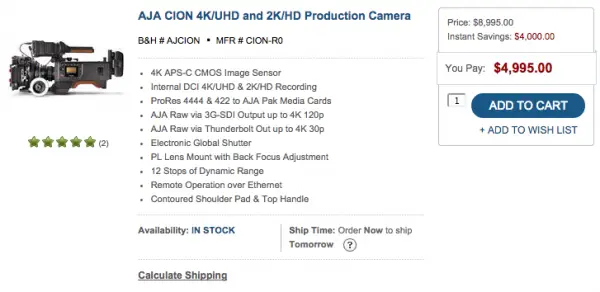 The AJA CION looked great at least on paper upon announcement, but towards the end of the year when the CION started shipping, the camera landscape had changed significantly. With the release of the Sony FS7, which offered significant in-camera flexibility and 14 stops dynamic range plus Sony's XAVC 4K codec, a more efficient option than ProRes, and the next NAB looming, the prospect of shooters warming up to the CION seemed elusive.
AJA did release some demo footage, which to some didn't look too convincing and some pointed the lack of smooth highlight roll-off, lack of LOG gamma and built-in ND filters as significant shortcomings. AJA reps were also quick to point out that the whole concept behind the CION is to get the best images in camera but also allowing for some headroom in post with Expanded gamma, which does give a flat (albeit not a true Log image) image for post work.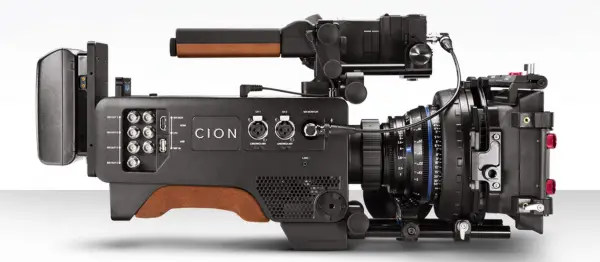 The CION makers are also running a #TryCION program in North America giving away 100 cameras (on trail basis) to qualified cinematographers/students/freelancers who would want to get a feel for what the CION can offer before they buy. For more information head over here.
With the imminent release of the URSA Mini by rival camera maker Blackmagic Design, with a brand new 4.6K sensor (as well as the option to use the version 1 4K sensor, which  is arguably the same sensor as in the CION) it would be interesting to see if the CION finds its audience in an already very crowded sub $10K 4K camera market.
At least there's some good news for prior CION owners as well, AJA customers who have purchased the CION production camera before May 26, 2015 will receive 2 x AJA Pak 512 SSDs for free, directly from AJA (valued at $2,495 MSRP) – although the PR does not specify how long before the promo prior purchases are eligible.
Features
4K APS-C CMOS Image Sensor
Internal DCI 4K/UHD & 2K/HD Recording
ProRes 4444 & 422 to AJA Pak Media Cards
AJA Raw via 3G-SDI Output up to 4K/120p
AJA Raw via Thunderbolt Out up to 4K/30p
Electronic Global Shutter
PL Lens Mount with Back Focus Adjustment
12 Stops of Dynamic Range
Remote Operation over Ethernet
Contoured Shoulder Pad & Top Handle
Latest AJA CION Showreel
B&H Links:
AJA CION 4K/2K Production Camera – $4,995
Ki Pro Portable Field Recorder – $2,495
PRESS RELEASE
Grass Valley, CA (May 26, 2015)—AJA Video Systems today launched the "Summer of Savings" promotion, reducing pricing for the CION production camera, Ki Pro Quad, Ki Pro Mini and Ki Pro recorders. The price for CION is now $4,995 US MSRP, which reflects a $4000 price reduction. Ki Pro Quad is now $2,995 US MSRP, Ki Pro Mini is $1,495 US MSRP, Ki Pro is $2,495 US MSRP, and Ki Pro ND is $2,295 US MSRP. AJA customers who purchased the CION production camera before May 26, 2015 will receive two AJA Pak 512 SSDs for free, directly from AJA (valued at $2,495 MSRP).
"CION already offers so much in terms of cinematic image quality, functionality, workflow flexibility, and with this new lower price we're completely removing the barrier to entry for so many in the indie and commercial filmmaking market," said Nick Rashby, President, AJA Video Systems. "Our Ki Pro products were the first to deliver hardware ProRes recording in a portable device, and this price promotion is designed to get this proven performance into even more customer's hands."
AJA's "Summer of Savings" begins today through the end of summer 2015. Current CION owners can submit their request for the free Pak media drives to [email protected]. For more information about AJA products please visit www.aja.com
About CION
Ergonomic and lightweight in design with unparalleled connectivity, the CION production camera is capable of shooting at 4K/UltraHD and 2K/HD resolutions. In-camera recording directly to the Apple ProRes family of codecs, including 12-bit ProRes 444, enables incredible image quality capture to cost-effective AJA Pak SSD media at up to 4K/60p, and offers compatibility with a wide range of post production applications. CION can also output AJA Raw at up to 4K 120 fps via 4x 3G-SDI or up to 4K 30 fps via Thunderbolt™.
Ki Pro Quad
Via the efficiencies of Apple ProRes 444 encoding from baseband or RAW data into a compact, solid-state recorder, Ki Pro Quad seamlessly enables 4K/UltraHD/2K/HD workflows. Ki Pro Quad can bring camera signals in and simultaneously create edit-friendly 4K ProRes files, output to 4K and HD monitors and pass Canon RAW data directly to a Thunderbolt-enabled computer/storage system.
Ki Pro  
Portable and tapeless, the Ki Pro records files directly from a camera in full raster edit-ready Apple ProRes 422 – eliminating the process of re-rendering to an editing codec. It fits seamlessly into an edit bay or between a camera and tri-pod, records hours of media to a removable storage module with built-in FireWire 800 and facilitates on-set monitoring through multi-display access.
Ki Pro Mini 
A smaller, lighter version of Ki Pro, the Ki Pro Mini captures native Apple ProRes 422 QuickTime files directly from the camera onto CF cards, which are formatted as HFS+ volumes that are instantly connected to a Mac via off-the-shelf card readers. With two CF card slots, Ki Pro Mini users can switch from one card to the next at the push of a button for non-stop, run-and-gun recording. Bridging production and post, Ki Pro Mini eliminates log and capture, and supports SDI & HDMI cameras. Its small form factor makes it easy to mount on a variety of digital cameras and accessories.
About AJA Video Systems, Inc.
Since 1993, AJA Video has been a leading manufacturer of video interface technologies, converters, digital video recording solutions and professional cameras, bringing high-quality, cost-effective products to the professional, broadcast and post-production markets. AJA products are designed and manufactured at our facilities in Grass Valley, California, and sold through an extensive sales channel of resellers and systems integrators around the world. For further information, please see our website at www.aja.com.
Disclaimer: As an Amazon Associate partner and participant in B&H and Adorama Affiliate programmes, we earn a small comission from each purchase made through the affiliate links listed above at no additional cost to you.
Claim your copy of DAVINCI RESOLVE - SIMPLIFIED COURSE with 50% off! Get Instant Access!