Video Devices announced a brand new line of 4K ProRes recorders at NAB 2015 back in April, check out our write up here, and have been working hard since then to get the PIX-E line of 4K recorders/monitors out to market. In a recent press release, the company just announced their HDMI based PIX-E5H 4K recorder ($1,195) is now shipping. The PIX-E line of 4K recorders consists of the PIX-E5H (HDMI only), the PIX-E5 ($1,395 / 3G-SDI) and the 7-inch PIX-E7 ($1,595) flagship 4K recorder/monitor. The PIX-E line of 4K recorders enable 4K ProRes recording in various flavours from 10-bit ProRes 422 on the PIX-E5H and ProRes 4444 XQ 12-bit on the PIX-E5 and bigger PIX-E7.
The recently announced competing product from Atomos – the Ninja Assassin is a direct competitor to the PIX-E5H, both units being similarly priced (with the Ninja Assassin just $100 more) and HDMI only. However, the screen on the Assassin is a bit bigger at 7.1 inches, while the PIX-E5H settles for a 5-inch display.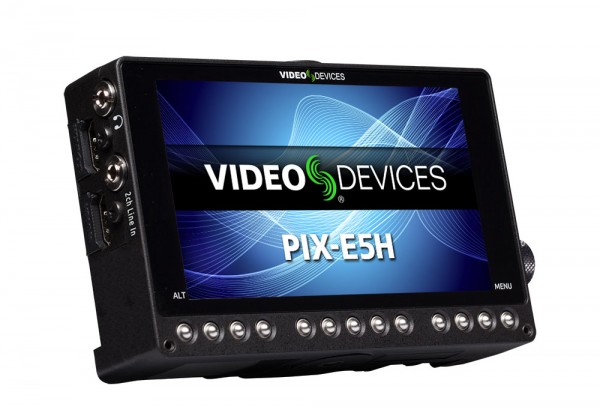 The first two units share a 5-inch, 500nit IPS Full HD 1080p display with 441ppi, which makes for an incredibly detailed and rich image, and feature a wide array of professional image control features such as:
Waveform Monitor
Vectorscope
Histogram
TapZoom™
Peaking
Zebras
False Color
Frame Markers
Four Way View
In addition to the shipping update, Video Devices also released a new firmware update 1.04 which adds some very useful features. See details below.
Firmware Update
Firmware v1.04 is now available to download for the PIX-E5 & PIX-E5H. You can download the firmware and see installation instructions at the following link:CLICK HERE .
New Features include:
HDMI Record Start/Stop triggers from Sony and Canon cameras.
HDMI Input channels increased from two to four.
HDMI Output channels increased from two to eight.
Ability to record from 3G-SDI Level B sources at 1080p50/59.94/60.
500GB Samsung 850 EVO mSata Drive added to Approved Media List.
Video Devices PIX-E5H Features and Benefits:
IPS, 500 nit, 1920×1080, 441 ppi LCD display
4K ProRes recording up to ProRes 422 10bit
2x and 4x TapZoom – which you can move to any part of the screen
Gorilla Glass 2 Protected Screen
Solid Die-Cast Chassis Construction
Records onto non-proprietary mSATA SSD Drives
Physical buttons
Powered by 2 x Sony style L series NP-F batteries
Perfect for HDMI cameras like – Canon XC10, Sony A7s, Sony A7RII and others
B&H Links:
PIX-E5H 5″ 4K Recording Video Monitor – $1,195
PIX-E5 5″ 4K Recording Video Monitor – $1,395
PIX-E7 7″ 4K Recording Video Monitor – $1,595
Adorama Links:
PIX-E5H 4K Recorder/monitor – $1,195
PIX-E5 SDI 4K Recorder/Monitor – $1,395
PIX-E7 – 7-Inch 4K Recorder/Monitor – $1,595
GET the ULTIMATE DAVINCI RESOLVE 16 COURSE BUNDLE for just $97! Sale Ends July 9th, 11:59pm PT