Alongside the Canon XC15 and flagship EOS C700 4K camera announcement, Canon also slotted in a couple of more announcements that kind of got lost in the sea of new product announcements prior to the start of IBC 2016. Canon is showing a very serious commitment, not only just to 4K acquisition with their new 4K cameras like the C700 and C300 Mark II before it, and new CN-E 18-80mm compact servo lens, but also on the monitoring side. The Japanese lens, camera, and printer maker announced they will be bringing two new 4K monitors to market. One of them is a top-of-the-line 4K HDR monitor dubbed the DP-V2420.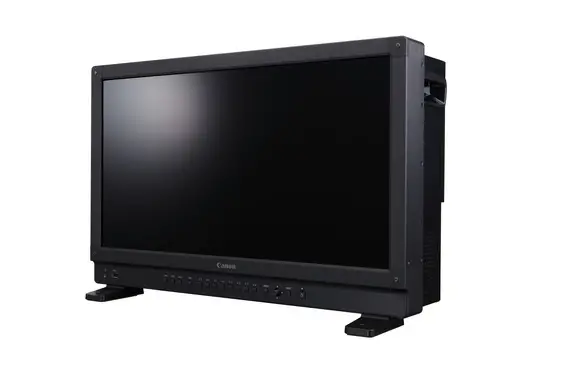 The Canon DP-V2420 is a 24 inch display, which is currently billed as Canon's flagship 4K reference display, and has been developed in response to the diverse requirements in leading-edge broadcast and cinema production workflows. The new 24 inch 4K monitor supports the new TU-R BT.2100 standard for HDR image parameters, and as a high-luminance reference display is is capable of producing incredible colour reproduction. With an expanded dynamic range, the contrast between the light and dark areas of an image is increased, enabling a sense of three-dimensionality.
The display's built-in de-bayer is able to show native 4K RAW footage direct from compatible Cinema EOS cameras (ie. Canon EOS C700, C500 and C300 Mark II), saving costs on an external de-bayer unit and dramatically improving 4K workflows.
Canon DP-V2420 Highlights
4096 x 2160 10-bit IPS LCD Display 193 ppi
Quad 3G-SDI in and out / HDMI Input
Supports HDR standards, SMPTE ST 2084 and HLG (Hybrid Log Gamma)
Qualifies as a Dolby Vision mastering monitor
HDR/SDR 2 Split-Screen Display Function
HDR Compatible Waveform Monitor Display
Camera Link-Up Feature for seamless integration with C500, C300 Mark II, and ARRI Alexa SXT
Canon Log/Canon Log2/Canon Log3 and the ARRI Log C presets supported
On-set LUT and Grading Support
ACES 1.0 Support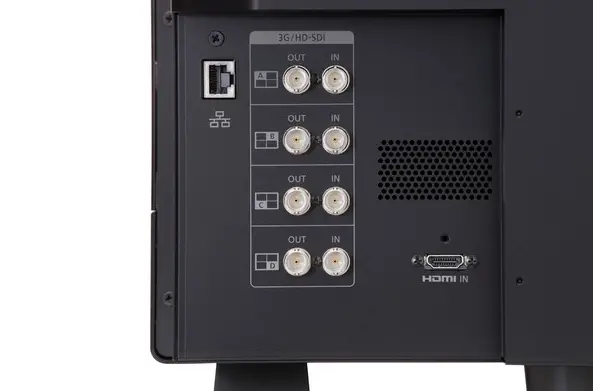 The innovative Canon-designed RGB LED backlight with its 10-bit IPS panel insures a wide-viewing angle, and the anti-glare coating helps improve on-set visibility. It also features a specially developed image-processing engine to help produce uniform brightness. The DP-V2420 utilizes the same high image quality technology found in Canon's other reference displays so you can rely on a consistent look throughout the entire workflow, using any combination from the Canon Display line.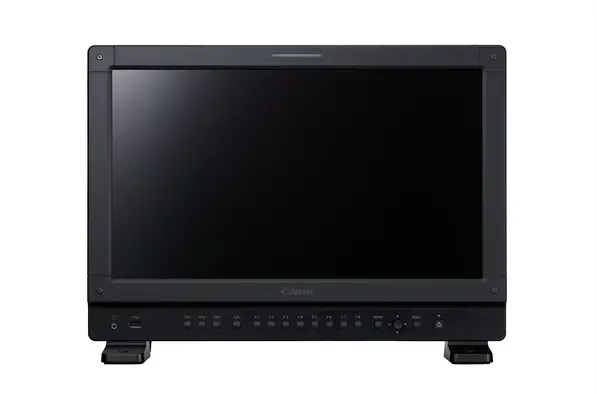 The smaller 17-inch DP-V1710 was the other monitor announcement. The UHD monitor is capable of delivering stunning 3840 x 2160 resolution in a compact body, and is also the broadcast industry's first 4K (UHD) 17-inch professional display. Weighing just 8 kg (approx 16 lbs.), it's perfect for on-location shooting, whilst the size and ability to use with 19-inch rack-mounts makes it ideal for use in outside broadcasting vans with limited space.
The DP-V1710 supports HD/3G and 6G-SDI interfaces, enabling it to handle a 4K signal with a single cable. Optimised to support HDR EOTFs, the DP-V1710 delivers the level of black luminance performance demanded for broadcasting, supporting professionals who create Full HD, 4K, and HDR content.
The pricing of the 24-inch 4K HDR monitor is around the $32,000 mark, while the 17-inch UHD monitor will sell in the range of $13,500 USD.
Speaking of Canon's commitment to 4K, their latest flagship EOS C700 4K camera is the Canon's first camera to require a dedicated Raw recorder, for which the company partnered up with 4K raw specialist Codex. This is how the Codex CDX-36150 (pictured above) was born.
When attached to the back of the C700, the Canon beast will record uncompressed 10-bit or 12-bit 4K RAW up to 120 fps and 2K ProRes up to 240 fps. The CDX-36150 features a slimmer and lighter design compared to previous Raw recorders the company has made before for other cameras such as ARRI Alexa and Panasonic Varicam 35.
Codex will offer 2 version of the Raw recorder depending on whether you want to use your V-Lock or Anton Bauer Gold Mount batteries, as a battery place it integrated at the back of the unit.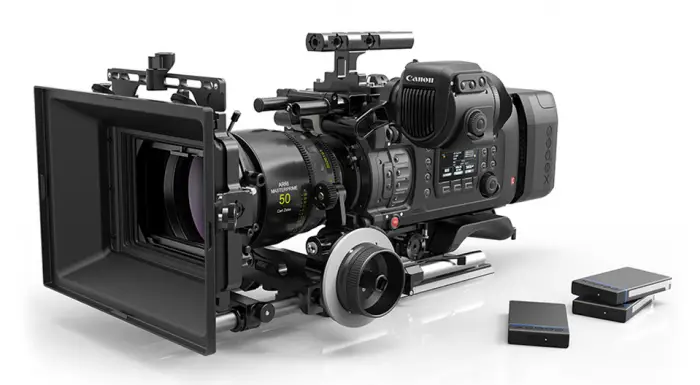 The C700 Raw recorder uses one Codex Capture Drive 2.0 (1 TB or 2 TB capacity), just like in the case with other Codex 4K Rarw recorders for Alexa and VariCam35. The most interesting aspect of the new CDX- 36150 4K Raw recorder however is the price – apparently this recorder will cost around (only) $6,000, which is quite a bit cheaper than what previous Codex recorders have been priced at in the past.
For the record – the new Sony AXS-R7 4K Raw recorder for their F5 and F55 will cost around $8,000.
Claim your copy of DAVINCI RESOLVE - SIMPLIFIED COURSE with 50% off! Get Instant Access!