2017 started with quite the bang – the Panasonic GH5 was announced officially last week, which has the potential to change quite a few lives. This week we have something a bit different; however, I believe equally important. I am talking about the recent launch of MotoCrane – the world's first universal automotive camera crane system. If you have joined us on our Facebook page, you've probably seen the promo teaser video I shared about the MotoCrane.
In short, the MotoCrane is a complete, modular system that mounts to any vehicle in less than 30 minutes. It is rated to 80mph and allows cinematographers, camera operators, grips, and DP's to move the camera like never before.
"When I started my career in film school, shooting from a car was a constant challenge. I was naturally drawn to the speed and energy of the footage but it was unsafe, uncomfortable and difficult to achieve. There was so much time and energy spent on keeping myself alive, that I couldn't really focus on being an artist. I knew there must be a better way. Russian Arms were out of reach and there wasn't anything else out there. So Scott and I decided to change the game." – Zach Nelson, CEO, MotoCrane
The MotoCrane uses  its own stabilized head that can keep up with the breakneck speeds the system is rated for. The stabilized head on the MotoCrane is called the ACRO Head and it featuring a fully enclosed camera tray, state-of-the-art sensors, and custom encoded brushless motors.
MotoCrane has been designed so that filmmakers can use it all day without the hassle of swapping out heavy batteries. The entire system is continuously powered by the vehicle's 12V accessory adapter. Rated for 100 amps of peak current, the ultra-capacitors can supply whatever MotoCrane demands. The ACRO's 200W D-Tap port can also supply power to your camera and accessories.
With the MotoCrane you also get a lightweight wire rope isolator to effectively remove the vibrations of the road. Users can add or remove wire ropes to optimize isolation for your camera.
At high speeds, wind fairings are needed for balanced aerodynamics.  This ensures consistent performance whether traveling fast or slow.  Quick-lock counterweights can be added or subtracted to perfectly counter your camera package. In-app feedback lets you know if you need to adjust counterweight.
The MotoCrane features some truly beefy 110mm motors that have the power and precision to put the camera where you want it, while moving at fast speeds.
The MotoCrane uses an ATLIS base, which can be adjusted to accommodate a variety of roof shapes and sizes of different vehicles.  The industrial suction cups alone will keep your rig in place. The strap harness distributes the load to the car and provides an additional layer of security.
This automotive crane is constructed of high-quality durable materials such as carbon fibre, aluminium, or steel.  A high strength-to-weight ratio delivers outstanding strength with a low handling weight. With a dark carbon weave and matte black anodizing, the system is non-reflective and resistant to corrosion and built to maintain a sleek and discrete aesthetic.
MotoCrane Features
110mm custom brushless motors w/ encoders
200W D-Tap power output
Dual lens control motor drivers
HDMI Input for zero-latency 4:2:2 streaming
25lbs payload capacity
Tool-less adjustment
Aluminum + Carbon Fiber construction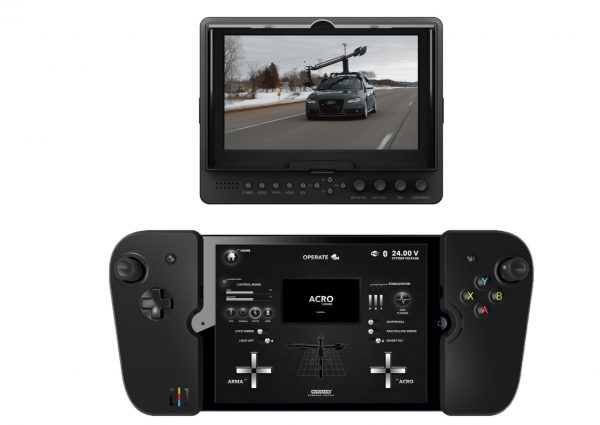 MotoCrane also offers its own zero-latency wireless HD monitoring and FIZ control via a gaming controller-inspired remote control. Their Command Central iOS app puts every setting at the Operators fingertips as to accommodate fluent and quick changes on the go.
In the real world, automotive crane systems like this are way too expensive to hire, let alone buy. A beefed up SUV with a Russian Arm is a dedicated vehicle that cost thousands per day to hire with specialist operators making sure you get smooth shots at crazy speeds.
The MotoCrane is set to change this perception, much like innovative companies such as DJI (with their Ronin family of stabilisers) and FreeFly Systems (and their Movi and now Movi Pro) who enable image makers to create fascinating smooth shots while running, walking, or skateboarding every day.
Since now we technically have all the camera technology we need – there are too many cheap cameras capable of world class images that can be projected on gigantic screens and look suave).
And for the past couple of years for the most part – movement on foot in the form of sliders or 3-axis hand held stabilizers have been pretty much sorted; and with aerial photography advancing with lighting speed (just look at the DJI Inspire 2) looks like on of the last filmmaking frontiers to "conquer" and shatter the proverbial glass ceiling – is camera movement from moving objects – especially cars.
Such shots will inevitably up the production value of your short film, low budget feature or music video. A crane shot from a moving vehicle is a must for any car commercial, and now thanks to the innovators at MotoCrane, it can finally be affordable enough for productions working on a tight budget.
MotoCrane Tech Specifications
PERFORMANCE
Max Speed – 80 MPH
Max Acceleration – 1G lateral, longitudinal
Lens Height from Roof – 3′ above, 3′ below
Boom Length – 6′ from centre, 9′ total
Max Controlled Speeds

ARMA: 4 sec 360º Swing
ACRO: 1 sec 360º Pan
VEHICLE
Power Input – Cigarette Lighter; 12V/10amp (fused in cable)
Roof – Flat, glossy mounting points (non-fabric, non-glass)
ATLIS Area – 2.5'x2.5′ MIN, 4'x4′ MAX
Suction Cups – 6 inch diameter, 70 lb load rating each (x4)
Security Harness – Straps to wheel fenders rated to 300 lbs each (x4)
GENERAL
Included Accessories – iPad, Gamevice, HD Monitor, 1x Lens Control
Free iOS App – Coming soon. Free future software updates
Certifications – CE, RoHS, UL
Max Payload – 25 lbs
Operating Temp – Minimum -30ºF / Max: 120ºF  *Over-heat protection
Weather – Water resistant
Range of Motion

ARMA: Unlimited Rotation, 30 deg up, 45 down
ACRO: Unlimited Rotation, Tilt & Roll: 180 deg
MECHANICAL
SYSTEM – 95 lbs unloaded, 170 lbs fully loaded (including max payload),
ATLIS Base – 35 lb unloaded weight
ARMA Boom – 50 lbs unloaded weight
ACRO Head – 10 lbs unloaded weight
ELECTRICAL
Wireless – Long-range RF, Bluetooth Low-Energy, Wi-Fi
Energy Storage – 2 Ultra-capacitors, 100 amp peak output
Intra-Module Connectors – None / automatic
ATLIS Connections – 12V in, SDI out
ACRO Connections – HDMI, SDI, 2x LIMO Connectors (Lens Control), D-Tap
Accessory Power – 200W D-Tap
Internal System Voltage – 24V
Supported Cameras
Red EPIC, Scarlet, Raven, Weapon, Dragon
ARRI Alexa Mini,
Blackmagic URSA Mini,
Sony FS5/FS7/F5/F55/F3/A7s
Canon C100, C300, C500, 1D C, 5D MkI-III
Panasonic GH3, GH4, and Panasonic GH5
Pricing details and release date have not yet been finalised. For more info on pre-orders, which will start soon and latest details best to follow MotoCrane on Instagram, Twitter and Facebook.
[via MotoCrane]
Claim your copy of DAVINCI RESOLVE - SIMPLIFIED COURSE with 50% off! Get Instant Access!