Firmware Version 1.0.7.1.00 now allows Canon C300 Mark II users to completely disable noise reduction and thus remove unwanted motion artefacts. There was a way before this firmware to "technically" TURN OFF Noise reduction, but even then, the camera still applies a small amount, which can often degrade your image.
Now with a new [-1] setting (sitting below OFF), users can completely disable the in-camera noise reduction in the Canon C300 Mark II and get a more artefact-free image. Keep in mind, that by doing so, you will get more noise in the shadow and blacks in underexposed areas of the frame.
In camera Noise reduction is often implemented not just by Canon, but pretty much all major manufacturers to ensure that users, who prefer to get pretty images out of the camera without much, if any, post-processing get relatively noise-free images.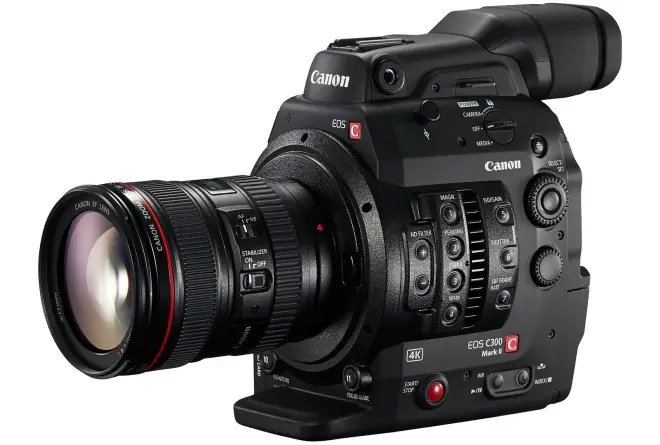 From experience, most of us, who prefer to use some form of LOG or flat picture profile for further grading in post, know that such profiles can be often a bit noisy and require post-production "denoising" by plugins such as Neat Video or similar. However, built-in noise reduction often introduces unwanted image degradation such as loss of detail,
Canon C300 II Firmware ver. 1.0.7.1.00 Details
Fixes a phenomenon in which, depending on usage conditions, the camera freezes when a VPG130 CFast card is used simultaneously with a non VPG130 CFast card. *1
Adds a [-1] *3 option to the [Noise Reduction] setting under Custom Picture Settings to completely cancel the effects of noise reduction. *2
Fixes the panel light control mechanism of the viewfinder.
*1 This applies to cameras equipped with Firmware Version 1.0.6.1.00
*2 This applies to cameras equipped with Firmware Version 1.0.4.1.00 – 1.0.6.1.00.
*3 On cameras equipped with Firmware Version 1.0.4.1.00 or later, even if the [Noise Reduction] setting is set to [Off], a small amount of noise reduction is still applied. If the [-1] setting is selected, no noise reduction is applied, so the amount of noise will increase compared to when the [Off] setting is selected. Furthermore, when displaying the metadata of clips captured with the [-1] setting using Canon XF Utility Ver. 2.1 – 3.2, the [Noise Reduction] setting will be displayed as blank.
Caution:
You cannot perform the firmware update using CFast 2.0 cards. Please use a commercially available SD/SDHC/SDXC memory card that is 64MB or more for the firmware update.
Firmware version 1.0.7.1.00 is for updating Cinema EOS C300 Mark II cameras running firmware version 1.0.0.1.00 – 1.0.6.1.00. If your camera's firmware is already version 1.0.7.1.00, it is not necessary to update the firmware. Once the camera is updated to the latest version, it cannot be restored to a previous version.
For further information, please refer to the latest version of the unit's Instruction Manual that is released with the firmware update.
Download links:
Patrick Zadrobilek from NTown Productions have written an excellent blog post detailing the C300 II/Canon C700 noise reduction problems and the artefacts that it can introduce so definitely check it out when you have some time.
He also posted a "before/after" example using the latest firmware version 1.0.7.1.00 on gadgetflux.net; pay close attention to the weird ghosting lines above the edge of his shirt.
And here is an "after" image with NR at -1 (or this time disabled):
I don't have access to a C300 Mark II at the moment, but I found this video that was done by Mosaico Media testing the latest firmware.
We [Mosaico Media] took our C300 Mark II to the office for the latest firmware upgrade. This firmware mainly addresses the noise reduction setting in-camera. It is intended to remove unwanted motion artifacts in the noise profile.

We decided to put it to the test and see how well the artifacts hold up.

We're very pleased, but the images speak for themselves. There is still noise, which is more apparent as the sun begins to set, although it's much finer and pleasing to see than before. We think it's closer to a film grain than ugly digital noise. The noise isn't noticeable at all during the day shots. Let us know what you think!

We recommend you watch in 4K! You may only have a 1080 monitor so you won't get the pixels but the 4K features less compression.

Camera specs/settings:
Nikkor 85mm f/2
Nikkor 35mm f/2

1920 x 1080 12 bit
23.976 fps
2000 ISO
180 shutter
Canon Log 3

Graded in Davinci Resolve 14
Do we have any C300 II users out there? Have you updated to the latest firmware? And, if so, do you see any improvements in "artefacting" when noise reduction is cranked down to -1?
[via Cinema5D/Gadgetflux]
Claim your copy of DAVINCI RESOLVE - SIMPLIFIED COURSE with 50% off! Get Instant Access!