World-renowned pro audio equipment maker Sound Devices announced their brand new line of compact audio recorders – the MixPre Series at this year's NAB 2017 trade show in Las Vegas. The two models – MixPre-6 and MixPre-3 feature integrated USB audio interface, high performance Kashmir pre-amps, and overall the recorders have been designed specifically for indie video productions.
The lightweight and compact 3-input/5-track MixPre-3 and 6-input/8-track Sound Devices Mix-Pre 6 boast USB audio streaming, a rugged build that one has come to expect from Sound Devices, a slick touchscreen, and a variety of power options. The MixPre-6 feature a -130dBV noise floor, analog limiters, and new 32-bit A-to-D converters. According to Sound Devices, both models are the only portable product on the market that can simultaneously be used as a recorder, mixer, and USB audio interface.
Back in August, the MixPre-3 and MixPre-6 received a firmware update v1.11, and now Sound Devices is rolling out a new firmware v1.20, which adds 4-channel linking on the MixPre-6 and an "input delay" feature to the MixPre-3 (this feature has already been made available on the bigger MixPre-6).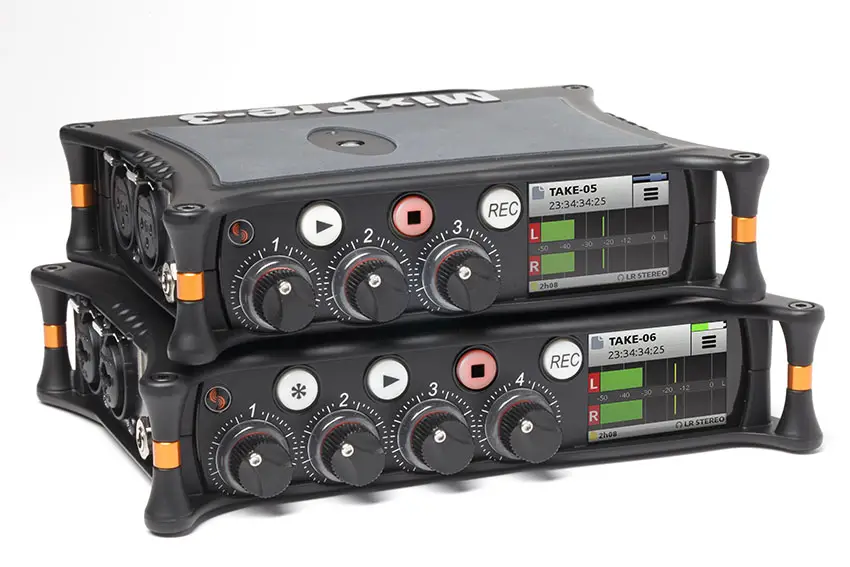 New Features in Firmware v1.20 (MixPre-6 only!)
The MixPre-6 now offers 4-channel linking. (This feature is only available on the MixPre-6.)

To link channels 1-4:
Ensure System > Mode is set to Advanced, or if using Custom mode, that Channel is set to Advanced.
Push the channel 1 knob to access that Channel screen.
On page 3, tap Linking and select 1-4.
When channels 1-4 are linked, gain, fader, limiters, track arming, low cut filters, and input delay are all linked and controlled from Channel 1 screen and knob.
Note: Available options vary based on set mode.
Input Delay, a feature already available on the MixPre-6, is now supported on the MixPre-3. Available on channels 1-3, adjustable from 0 to 30 ms in 1 ms increments.
Changes:
In this firmware, the Linking feature was moved from Custom Setup > Gain > Advanced to Custom Setup > Channel > Advanced. This change now lets you link inputs while still having the option of one or two gain stages.
Users wanting to link inputs, but control all levels from the front-panel channel 1 knob should set System > Mode to Custom and then in Custom Setup, set Gain to Basic and Channel to Advanced.
Users wanting to link inputs with two gain stages while in Custom mode, ensure that Gain and Channel are both set to Advanced. Then, you can adjust gain levels for linked channels from the Channel 1 screen and adjust fader levels for linked channels with the Channel 1 knob.
Bug Fixes and other improvements:
Corrected offset in timecode file stamps when using external LTC via the 3.5 mm Aux Input.
Limiter Indicator would not properly show activity after unlinking input channels.
Input delay for linked channels 1-2 incorrectly applied to linked channels 3-4 after power cycle.
Gain not correctly applied to MS-linked line level inputs.
Aux gain fader range display issues.
Playback issue where isolated tracks were not routed correctly to outputs.
For those of you, who are yet unfamiliar with the Sound Devices MixPre series recorders, I recommend you check out the short video below by Sound Devices: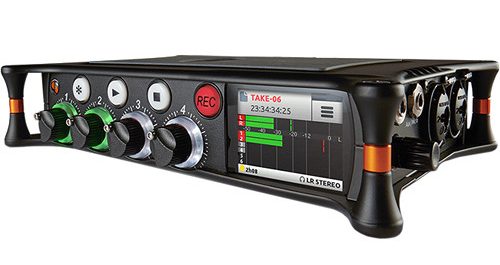 Sound Devices MixPre-6 Features
Kashmir Microphone Preamps
USB Audio-Recording Interface
Small Stature Fits Most Environments
Navigation with Basic and Advanced Modes
Ring LED Metering per Channel
Built-In 1/4″-20 Mount for Videographers
Feed Timecode via HDMI & 1/8″ Inputs
Uses AA or Sony L-Mount Li-Ion Batteries
MX-4AA Battery Sled (No Batteries)
2 x USB Type-A to 1 x USB Type-C Y-Cable
Price: $899 at B&H
Sound Devices have an older Mix-Pre D pre-amp that I have used on a few occasions, and it is a solid piece of kit. The new MixPre-3 and 6 are even better from what I've been told by sound recordists friends in the industry and by the looks of things, the MixPre-3 will probably be next on my audio gear purchase list.
For my purposes, the MixPre-3 will fit me better (plus it is a bit cheaper at $649 USD compared to the MixPre-6), as I rarely need to record more than 2 people at the same time when I am recording interviews for example, however for some of you out there the MixPre-6 will be a better fit as it does offer a bit more functionality and more inputs.
Head over Sound Devices to download firmware v1.20.
Claim your copy of DAVINCI RESOLVE 16 - SIMPLIFIED COURSE with 50% off! Get Instant Access!