More often than not, for one-man band shooters, getting decent wireless audio at events or from moving subjects can become a cumbersome task. There's no shortage of audio recorders out there, but when you have to be mobile and very light on your rig, juggling another piece of gear that is often bigger than the camera things often get complicated.
However, Zoom has a new pocket-friendly audio recorder that videographers who often shoot events, weddings, and all sorts of crazy and unexpected happenings, can surely benefit from. The Zoom H4n was one of the staples of the so-called "DSLR Revolution" (damn, I feel old just saying that now…) as it was one of the most popular affordable audio recorders on the market at that time that offered decent pro audio. And just like we've moved on quite a bit since the end of the last decade image-wise, so has the way we capture audio for video.
Zoom also started to make bigger, more advanced multi-track recorders such as the Zoom F8 and more recently the Zoom F4. targeting a more advanced user. However, the market for super compact audio recorders have been a wild west for a while. Since the days of the H4n, Zoom have also been busy bringing out the upgraded H4n Pro, (which we covered here), and the Zoom H6 handy recorder, but the F1 feels more at home with event shooters due to its unique "pocket-able" size.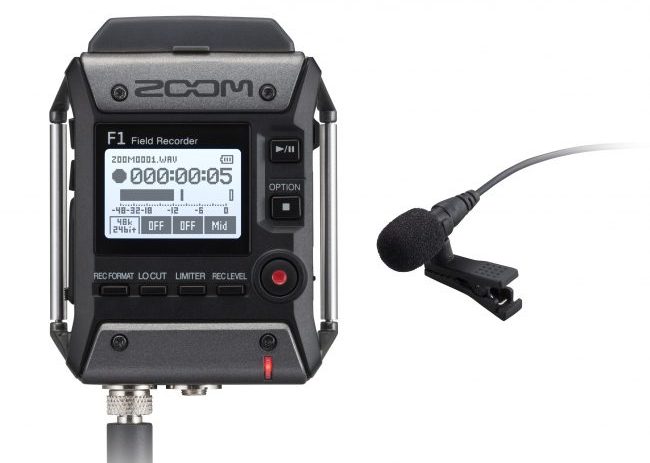 The Zoom F1 is available in two versions – one with a Shotgun mic attachment, and one with a lav mic so is can be easily placed on your subject leaving you to focus on capturing great images.
In either package, the F1 recorder is the same – it can capture pro quality audio (24bit/96 kHz) in either broadcast WAV or a variety of MP3 flavours, and has easy to access one-touch controls. The F1 is also compatible with a variety of Zoom-made attachments such as Stereo X/Y capsule, various shotgun capsule, a Mid Side capsule and more via a proprietary 10-pin connection system. Those of you who have used the Zoom H6 should be familiar.
Zoom F1 Features and Highlights
2-channel discreet audio recorder
Compatible with Zoom mic capsules via 10-pin connector:

SSH-6 Stereo shotgun capsule
XYH-6 Stereo X/Y Capsule
MSH-6 Stereo mid-side capsule
XYH-5 Stereo X/Y capsule
EXH-6 Dual combo input capsule
SGH-6 Mono shotgun capsule

Supports up to 24-bit/96 kHz audio in WAV/MP3
One-touch button controls
1.25" monochrome LCD display
Rec Hold function to avoid accidental operation of buttons
Stereo ⅛" Mic/Line In mini phone jack with Plug-in power (2.5V)
Stereo ⅛" Phone/Line Output jack with dedicated volume control
Built-in limiter and auto level control to avoid clipping
Pre-Record function
Tone generator for calibrating audio levels between the F1 and a DSLR

without the need for an attenuator cable!

Sound marker function that outputs quick tone to make syncing audio and video easy
Records directly to micro SD and SDHC cards up to 32 GB
​Micro USB port

Can be used as an audio interface with computer or iOS device

​Runs on only 2 standard AAA alkaline, Lithium, or NiMH rechargeable batteries

AC adapter (AD-17) also available

Up to 10 hours of operation with alkaline batteries (when using lavalier)
Zoom F1 + Lavalier Mic:
Zoom F1 + Shotgun Mic: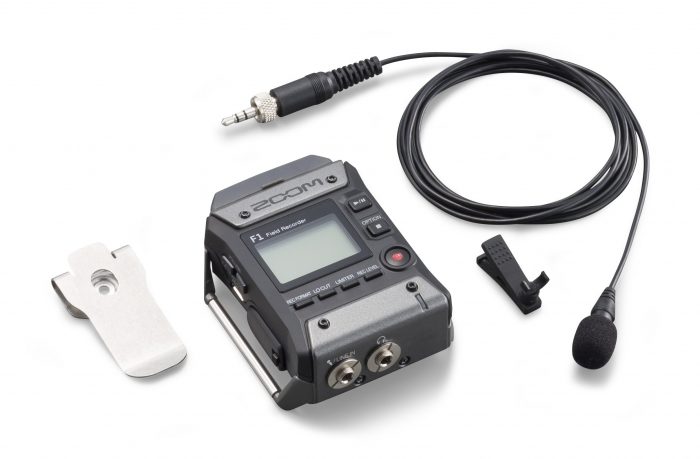 ZOOM F1 + LAV MIC – what's included:
F1 Field Recorder
LMF-1 Lavalier microphone
WSL-1 Windscreen
MCL-1 Mic clip
BCF-1 Belt clip
2 AAA batteries
Quick guide
Price: $199 at B&H
ZOOM F1 + SHOTGUN MIC:
F1 Field Recorder
SGH-6 Shotgun Microphone
SMF-1 Shock mount
WSS-6 Windscreen
SMC-1 Stereo Mini Cable for Camera
2 x AAA Batteries
Price: $249.99 at B&H
So, what do you guys think? Any event shooters out there thinking of getting this? At $199 it is priced within reach for most, and you also get a lav mic, which I think is a really good deal. I will do my best to check this out hopefully at BVE 2018 in London towards the end of February.
For more details and full specs head over to Zoom.
Claim your copy of DAVINCI RESOLVE 16 - SIMPLIFIED COURSE with 50% off! Get Instant Access!