The long-awaited Sony CFexpress TOUGH Series memory cards have popped up in the new releases section on B&H and are now available for pre-order starting at $220 for the base CFexpress 128GB capacity.
Sony announced the development of what essentially is the next generation XQD cards back in the Spring, when we also saw the announcements of other media card makers such as Delkin, Sandisk, and Angelbird, each of whom threw their names in the hat and proclaimed they will be releasing their own CFexpress cards soon.
The new CFexpress cards boasts ultra-fast read speeds of up to 1700MB/s and write speeds up to 1480 MB/s along with a more rugged build design specifically tailored for the new generation of high resolution stills and video cameras.
Sony CFexpress TOUGH Features
Super-fast 1700MB/s read and 1480MB/s write speed
PCIe Gen 3 bus for faster data transfer
TOUGH-badged for high reliability in extreme conditions
Requires new Sony CFexpress MRW-G1 card reader – $99.99 at B&H
Pricing/Capacities:
The Sony CFexpress Type B shares the same size and overall design with the current XQD form factor, however, what's new here is that CFExpress is based on PCIe Gen 3, a new specification which adopts the latest interface standardised by the CompactFlash Association.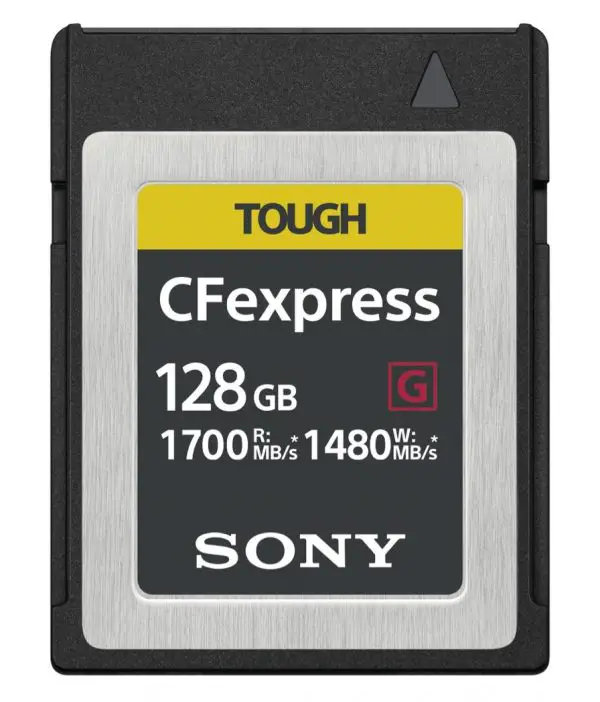 The TOUGH label indicates superior strength and ruggedness – making these new CFexpress cards able to withstand 70N of force in bend (three times the standard), and five times greater withstanding falls from up to 5m high. The new card is also temperature proof, X-ray proof, anti-static and has a UV guard so it can perfectly support use in challenging environments.
Alongisde the new CFexpress Type B cards, Sony also announced a new CFexpress Card Reader, MRW-G1, optimised for the new format memory cards. This reader is also compatible with Sony XQD card G series and M series memory cards.
However, at this stage it is not clear when, if ever, the new CFexpress cards will be compatible with existing Sony (and third party) mirrorless and pro camcorders using XQD cards such as the Sony FS7.
Chances are for some like the FS7, which has been a smashing success for Sony, there may be a firmware update in the future to allow users to take advantage of the new CFexpress cards, but there also may be on-board camera processing limitations, so nothing is known for sure yet.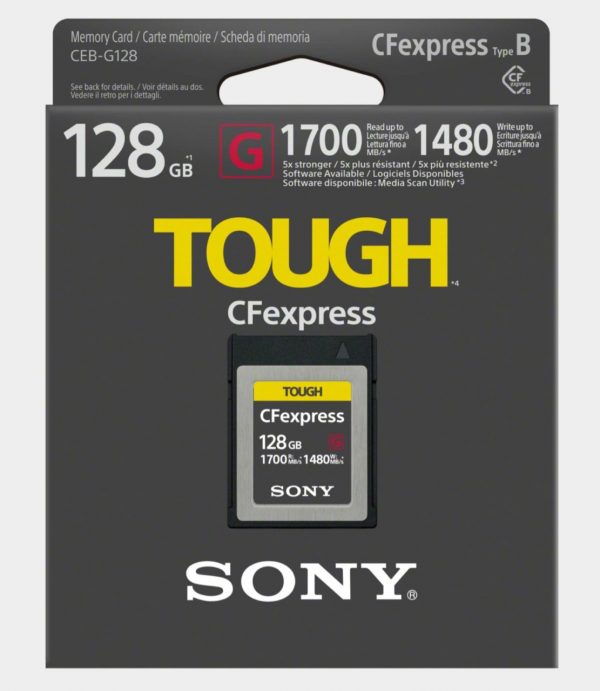 It is also possible that the new Sony FX9, which strangely enough uses the same XQD cards as the FS7/FS7 M2, may eventually be able to use CFexpress cards, but again, this will be up to Sony and a possible firmware update.
Ironically, Sony are yet to come out with a CFexpress capable camera, but Canon already have the C500 Mark II out the gate with dual CFexpress cards slots… What a time to be alive!
Disclaimer: As an Amazon Associate partner and participant in B&H and Adorama Affiliate programmes, we earn a small comission from each purchase made through the affiliate links listed above at no additional cost to you.
Claim your copy of DAVINCI RESOLVE - SIMPLIFIED COURSE with 50% off! Get Instant Access!