The San Fran based Filmpower have been mostly known for their popular – Nebula Series single grip camera stabilizers such as the Nebula 5100 Slant and the Nebula 4300 however, they recently made the jump into the challenging world of LED lights with their new SHiNYO Smart LED light Pad. The "Light Pad" ultra-thin, but rigid design is not something new, we've reported on similar lights from companies such as LEDGO in the past (check out our post here), however the SHiNYO offers bi-colour adjustment, wireless control system, and can be operated by a touchscreen .
SHiNYO P3D light, is as the name suggests shaped as an iPad, with a thickness of just 22mm; the ultra narrow edge design gives you a more ergonomic feel, while the aluminium shell provides excellent heat dissipation and durability. The SHiNYO offers also a back OLED screen shows the data status, also the luminous buttons which can be operated in the darkness.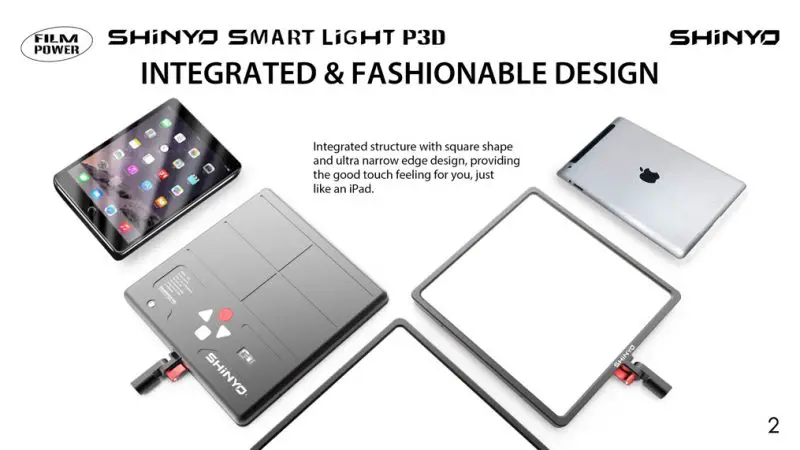 The Filmpower SHiNYO P3D features a new built-in lithium battery and can even be controlled via a smart watch app. While the Filmpower SHiNYO P3D has no external batteries, the built-in Lithium-Ion battery has a huge 10000 mAh capacity, equal to about a single V-mount 150 WH battery or 4 x Sony NP-F970 batteries, giving users a decent 3-6 hours runtime depending on brightness levels.
The SHiNYO P3D offers wireless control over brightness, colour temperature and sets parameter on a 1.5-inch touchscreen of smart watch.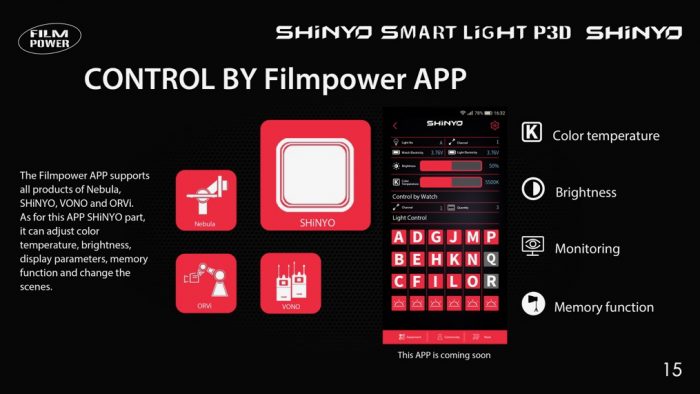 Intelligent control system — The SHiNYO Link network deployment, which supports 16 channels, each channel 6 lights, allows for up to 256 lights to be controlled.
Using the latest forth-generation LED light guide technology, SHiNYO offers high lighting efficiency output up to 92%, making the light keeps soft and uniform, while offering a high colour rendering performance (CRI 96).
Last year, Filmpower updated their smart device app adding the follow focus function in it, and now the new brand SHiNYO also benefits from the upgrade. The new app supports the Nebula, SHiNYO, VONO, and ORVi.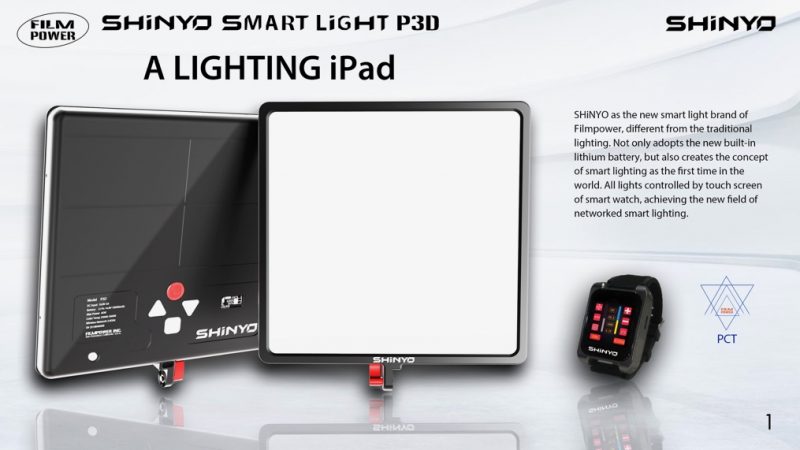 SHiNYO P3D Light Highlights
Ultra-thin & lightweight design, Thickness 22mm
Full Aluminum Shell with excellent heat dissipation
Wireless control 256 lights' data on a 1.5-inch touchscreen
Built-in Li-battery 10,000 mAh for 3-6 hours working time
Original double-light connection: Multiple lighting modes
Luminous buttons / back OLED screen
A New networked smart lighting system—SHiNYO link (Watch & APP)
The latest light guide LED – more soft & uniform
Filmpower APP for all products of Nebula, SHiNYO, VONO, ORVi
Bi-Colour and adjustable Temperature:
High Colour Rendering Index (CRI): 96
LGP high lighting efficiency: 92%
APP memory function for different shooting scenes
SHiNYO P3D is in pre-sale now with a price of $899. Learn more and/or order directly from the manufacturer here: https://filmpower.us
Claim your copy of DAVINCI RESOLVE - SIMPLIFIED COURSE with 50% off! Get Instant Access!