At NAB 2018, Canon expanded their Cinema EOS lineup by announcing a full-frame version of the C700. The new Canon EOS C700 FF features a newly developed 20.8 megapixel CMOS sensor capable of pumping out 5.9K/60p raw to a dedicated Codex Raw recorder attached to the back of the camera. In a world were every single major camera maker (except Panasonic for the moment) are "going large" with Full-Frame sensors (and beyond) in their top end models (Sony VENICE, RED Weapon 8K Monstro VV, ARRI Alexa LF), Canon seeks to also leverage their expertise in image capture and optics to deliver a high-end industry workhorse.
Nancy Schreiber, ASC is recently took out the Canon C700 FF for a spin on a real world, on-set and on-location production with experienced Director Nigel Dick for the short promo "A Dishful of Dollars", where she aimed to put the new camera through its paces testing out dynamic range, skin tones, noise performance and overall usability.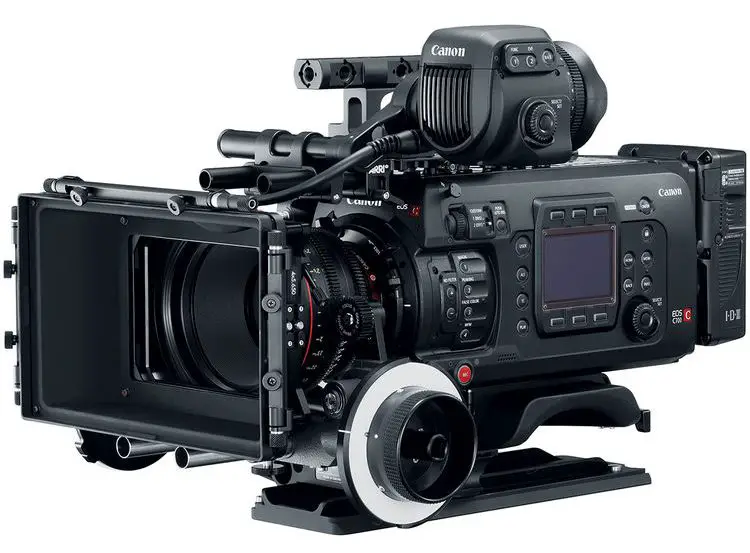 The short film was shot with a variety of spherical and anamorphic lenses including:
Canon EF 70-200mm
Angenieux 30-72mm, 44-440mm, 56-152mm
Zeiss 28-80mm
Leica 24mm, 70mm, 120mm, 180mm
Hawk Prime 50mm, 60mm, 80mm, 100mm, 135mm, 250mm
See "A Dishful of Dollars" shot on Canon EOS C700 FF below.
Canon C700 FF Frame Rates/Highlights
New 20.8 MP DCI 17:9 Full-Frame (38.1 x 20.1mm) CMOS Sensor
Dual Pixel AF
EF or PL Mount
Triple DIGIC DV 5 Processing
4:3 Anamorphic support
Raw externally, XF-AVC and ProRes onto CFast 2.0 cards internally
5.9K/60p Raw to dedicated Codex recorder (CDX-36150)
4K Raw up to 72fps (S35)
4K ProRes/XF-AVC up to 60fps (Full-Frame)
2K/168fps in ProRes (Super 16mm mode)
Available: July 2018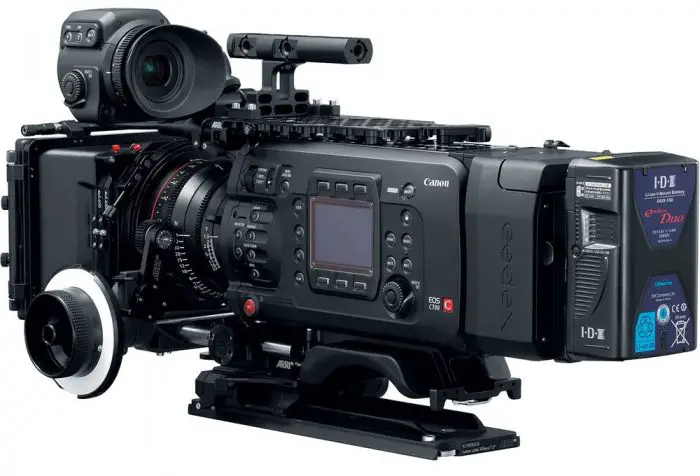 The 4:3 Anamorphic support combined with the 5.9K Raw output gives the C700 FF a huge canvas, which can deliver some seriously good looking 4K deliverables to satisfy the current UHD and 4K DCI requirements for cinema exhibition and/or Amazon/Netflix.
Behind the Scenes:
The Canon C700 FF also offers Canon Log 2, Canon Log 3 and Canon "Log for a "wide colour tonality" exceeding 15 stops of dynamic range and a wide colour gamut meeting ITU-R BT.2020 standards according to Canon.
Recording resolutions and frame rates include the already mentioned 5.9K/60 fps Raw recording (to Codec CDX-36150), 4K Raw up to 72 fps (in 24p mode), 4K ProRes up to 60 fps and 2K ProRes up to 168 fps (in Super 16mm mode). ProRes options include 4444XQ and 4444, which are the highest 12bit options for this codec available at the moment.
The C700 FF also offers a really sweet built-in ND filter system up to 10 stops, which can come quite handy in situations where you want a bit more of a bare-bones setup.
Boxing Scene BTS:
Motorcycle Scene BTS:
The Canon EOS C700 FF EF and EOS C700 FF PL are scheduled to be available in July 2018 for an estimated MSRP of $33,000. For more information and full specs on the EOS C700 FF please visit: usa.canon.com/provideo.
Claim your copy of DAVINCI RESOLVE - SIMPLIFIED COURSE with 50% off! Get Instant Access!