Sony really wants you to know how awesome their latest big firmware update v2.0 for the VENICE camera really is. And rightfully so, after many years and predecessor CineAlta's like the F35 and F65, it seems that the VENICE is more than just the natural evolution of digital motion picture acquisition technology.
Everything about it feels different – just look at the name – VENICE! It's new, it's bold, it's very (dare I saw it) "Alexa"-like… it's definitely not your traditional Sony camera name, not even close. Sony love their "F" designations for top-end CineAlta cameras, but if there is one thing their marketing department has learned over the years – is that marking a top-of-the line camera carrying the name of a legendary tourist destination that most people have only seen on postcards is a hell of a lot easier compared to trying to make an "F_inser number_insert number" sound cool and less "engineer"-y in that ol' familiar Sony way.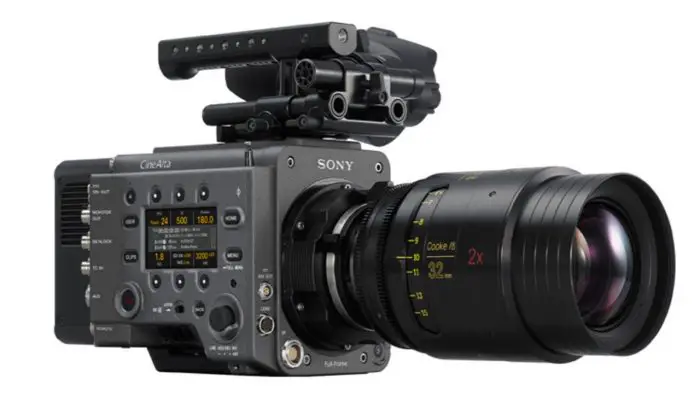 But nope, the VENICE is a different kind of Sony camera; it's cool and all the cool DPs are using it. Deal with it.
But enough about the name, you've seen the camera at trade shows, some of you have even shot projects with it, hell – some of you even own it; and it seems that the overall perception I am hearing is that everyone loves that thing. I've seen it projected at a Zeiss Supreme event and the footage looks stupendously good.
So, for those of you new to the VENICE looking for a brief, but well informative overview of the new features and added functionality in Sony VENICE Firmware v2.0, check out the video below with Peter Crithary from Sony.
Sony VENICE Firmware 2.0 Key New Features
Dual Base ISO 500/2500
Load your own 3D LUTs
E-mount is now active
New Sensor Modes including:

4K 6:5 Anamorphic
4K 4:3 Anamorphic 25p 29p
6K 1.85:1
6K 17:9

Variable Speed Shooting Mode supported
Surround View mode for:

4K 17:9 (DCI 4K)
3.8K 16:9 (UHD)
4K 4:3 Anamorphic

Auto WB supported
High/Low Key exposure tool
ProRes recording to SxS cards
To read about Sony VENICE Firmware 2.0 head over to my previous post here.
In the video above, Peter Crithary mentions a rather popular music video that Claudio Miranda, ASC shot recently on the VENICE (the same Claudio Miranda, who also shot DIG – one of the promo short films shot on the VENICE for the VENICE).
To read more about his cinematography process and the "making of" Maroon 5 + Cardi B's GIRLS LIKE YOU music video you should check out the full interview and BTS shots over at FDTimes.com
Oh, yeah, I almost forgot – James Cameron will shoot probably nineteen planned sequels to Avatar on the VENICE, in case any of you still care about the "immersive experience" that (was) Avatar…
Sony VENICE Highlights
Full-Frame 36 x 24mm CMOS Sensor (Large Format)
15+ stops Dynamic Range
Interchange-able Sensor Block

for future sensor upgrades (user serviceable)

6K Full-Frame 3:2 mode (6048 x 4032)
4K Anamorphic 4:3 and 6:5 (4096 x 3432)
4K Super 35 mode (window)
Support for FF & S35 spherical lenses
Support for FF & S35 Anamorphic lenses
8-step Mechanical Built-in ND filter (8 Stops ND)
PL mount (Cooke i technology supported)
Locking E-mount
Recording Codecs/Formats:

X-OCN Compressed Raw onto AXS-R7 Raw Recorder
4K XAVC – Class480/300
ProRes HQ/422/LT
MPEG HD

Recording Media – SxS cards, AXS cards for RAW (external recorder)
Price: £37,000/$45,000 Body
6K Full-Frame – License Only – approx. €6,000 to buy
Anamorphic Mode – License Only – €4,000 (or around €10K for both)

There will be also rental options for day/week/month for both

Compatible with existing CineAlta accessories:
Sony also recently released a new update for their RAW Viewer software. See what's new below.
Sony RAW Viewer version 3.1 Update adds:
Support Sony VENICE firmware 2.0 X-OCN format
Support OpenEXR export with data compression
Support Playlist and EDL export feature
Download Sony Raw Viewer v3.1 here.
In case you haven't updated your Raw Viewer in a while, as a reminder the previous update v3.0 also added support for:
RAW Viewer 3.0:
Support for VENICE/CineAlta RAW/X-OCN format
Support for aspect marker display or burn-in for export
Improved resize/crop function
Improved XAVC encode picture quality for HDR
Improved white balance adjustment behavior (Kelvin/Tint)
Improved user interface
Learn everything you ever wanted to know about the VENICE by going to http://pro.sony/VENICE
Claim your copy of DAVINCI RESOLVE - SIMPLIFIED COURSE with 50% off! Get Instant Access!