IBC 2018 is only 5 weeks away and I can't wait to go to Amsterdam again, but in the meantime I have some catchup to do. Back in June I went to the Media Production Show 2018 trade show exhibition in West London, shot some footage, took some notes and just found the time to edit it all together and do a recap of the kit I saw for those of you who maybe didn't go, or have never heard of it before.
This was the third year for the Media Production Show and I was there again to catch up with some friends from both side of the industry – manufacturers, distributors and also pros working in the field daily with the imaging tools on display. I was not paid to do this, this isn't a sponsored post, I am not shilling the show or anything, I am simply a doing a much overdue recap of a smaller regional show that isn't generally covered as much as other bigger events in the UK.
All shot with my Panasonic GH5s + Sigma 18-35mm f1.8 Art combo and split into 2 parts so as to not bore you too much.
Most of you non-UK readers are probably not familiar with MPS; it is a 2 day showcase of the latest technology, acquisition & post-production kit, content distribution and trends in the UK broadcast industry.
For those of you in the UK, if you have ever been to BVE in ExCel, it is a similar exhibition, but smaller and this year, as the prior edition, used the Kensington Olympia venue, which I find quite a lot easier to get to as it is located in the western part of Central London of sorts, compared to ExCel all the way on the East side of town.
While the Media Production Show is not as targeted, or rather specialised, as something like BSC Expo, which is more oriented towards TV/Film equipment – big cranes, big cameras, high-end cine lenses and all the cool kit and high-end lights that go around them, I find MPS to be a bit more chill and not as hectic as BVE and BSC can get sometimes.
If you have missed BVE this year, then MPS is a much more relaxed alternative and you get basically the same kit. You can check out some of my BVE 2018 coverage and BSC Expo videos I did from earlier in the year here.
Anyway, back to MPS. So, what sort of kit did I see at the show floor? Here is a quick and dirty summary.
PANASONIC
Panasonic had a huge stand, like they do at BVE, and their had a few EVA1 cameras with Atomos kit around them as well as the new CoreSWX Nano-VBR98 OEM battery, which has a D-tap output and a 4-stage LED for status among other things. You can read more about this battery in my other post here.
ATOMOS
Atomos had a huge presence at the Global Distribution (their UK distributor) stand and I even got a chance to see the new and yet to be released Atomos Ninja V 5-inch 4K/60p HDMI recorder/HDR monitor. It didn't have any firmware, so it couldn't be powered on, which was understandable as Atomos are presumably still making tweaks to it, but it shows a lot of promise. The Ninja V will be able to take the upcoming AtomX accessories and new SSDs, and with the new 1TB SSD you can expect about 2.5hrs of 4K recording according to Atomos.
I am looking forward to seeing a fully working production unit at IBC 2018 in Amsterdam in a few weeks time.
KINEFINITY MAVO 6K
Yes, ProAV had a huge hit on their hands with the Kinefinity Mavo 6K – their stand was rammed on Day 1 and I didn't even get a chance to get some b-roll until Day 2. They also had the Kinefinity Terra 4K on display as well. Both appear to be very capable budget-friendly cinema cameras starting from £6K mark body only (for the Mavo), and even more affordable at around £3200 for the previous Terra 4K model.
ProAV are the authorised Kinefinity dealer in for these cameras in the UK, so if you are interested in picking one, you should head over to their website here.
QUASAR SCIENCE RGBX "RAINBOW" LEDs
These were probably my favourite piece of kit I found at MPS 2018. Going by model numbers Q25-R, Q50-R and Q100-R, each corresponding to a 2ft, 4ft, and 8ft versions respectively, the Quasar Science Q-LED Rainbow RBGX feature a separate chip for white light giving you a high quality 2000K-6000K light without getting mixed with the RGB components. The Q-LED Quasar Science Rainbow LEDs, hence the name, give you a 360 degree palette of saturated colour options to get whatever colour you want, including built-in presents for Blue, Cyan, Green, Yellow, Orange, Red, and others.
At the same time you get built in Wireless DMX, also wired DMX support, 10v-26v DC power option so you can power them in the field from a battery, as well as built-in Effects such as Fire, Police Sirens, Paparazzi and others.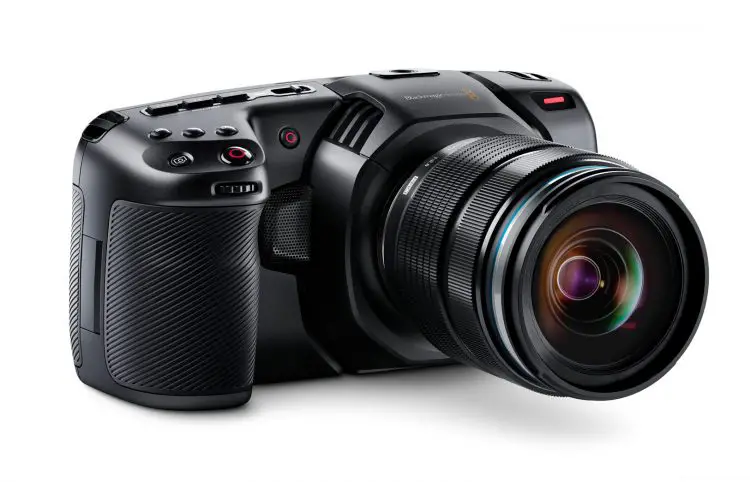 Notable absence – the Blackmagic Pocket Cinema Camera 4K was surprisingly nowhere to be found. I was really looking forward to seeing one in person, but I had no luck. Holdan UK, who distribute Blackmagic Design products in the UK did not have one and neither did any of the authorised dealers, who had stands at the show.
I guess I'll have to wait until IBC 2018 to see one.
Did you attend MPS 2018? If so, what were some of your favourite bits of kit you saw?
Claim your copy of DAVINCI RESOLVE - SIMPLIFIED COURSE with 50% off! Get Instant Access!